Postcard from Paris: Here's looking at you Philadelphia
June 15, 2010

By JoAnn Greco
For PlanPhilly
Is there anyone who doesn't love Paris? No matter how many times I visit — and this time it amounted to one half-day and one evening — I come away impressed with its beauty and civility. Thanks to an education program even the dog poop has disappeared.
The wonders of the City of Light have been much-heralded, so there's no need to revisit them here. Instead, for this brief postcard, I thought I'd share ten broad takeaways. Yes, we don't have an Eiffel Tower and no, our rivers aren't as eminently crossable as the Seine. But we could easily adapt —oh, all right, copy! — these lessons for our own fair city:
• A few gazillion grains of sand. For the past eight summers, the banks of the Seine have been turned into Paris Plage, a month-long program that adds beaches, deck chairs, ice cream vendors, concert stages, and more recently, boat rentals and docking facilities. When I visited in May, some of this was already in place — but the festivities really get going in mid-July when the summer doldrums hit town. (Since this nicely coincides with the fabled Parisien exodus, it's not clear whether it's mostly tourists that wind up sunning and funning, but what difference does that make?)

• Lighten up. Philly got the lighting bug a few years ago — boy, does the top of the Wanamaker Building look awesome! — but we could do better. (We are, incidentally, one of just two American cities — the other is San Jose — that belongs to LUCI, or Lighting Community Urban International, a consortium of international cities dedicated to using lighting to good advantage,www.luciassociation.org). The kind of floodlighting they do in Paris and other European cities really has impact; by contrast, our efforts often seem tepid and makeshift.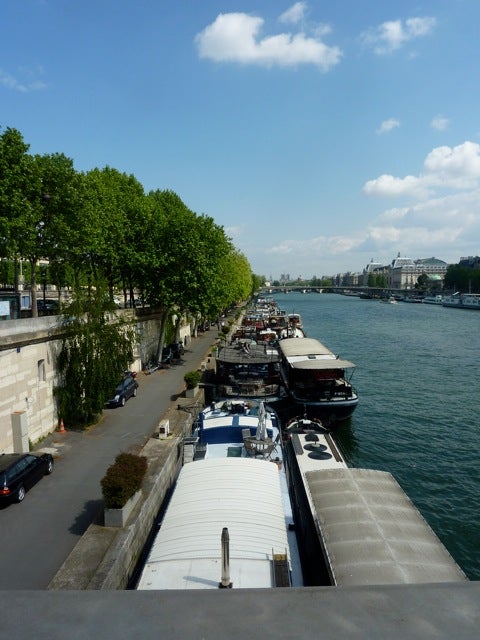 • Street furniture can be iconic. The kiosks, Metro stations, tree grates, and street lamps of Paris are uniform and distinctive. Our mishmash of attempts mark the city as a place that constantly tries but can never settle on one look for long. As we put the whole shebang out to bid once again, now's our opportunity to really shine.

• And speaking of icons. . . . Let's decide once and for all on what's going to be Philadelphia's signature icon! City Hall? Love Park? Rittenhouse Square? We need a central gathering place, an Eiffel Tower, that signals "Philly". And once we figure out what that is, we need to get the word out.
• Get Biking. Talk of bike sharing is on every city's lips, and Paris led the way three years ago with what became the first such large-scale (and tremendously successful) effort. Velib stations are available every few blocks and maybe it's my imagination, but Paris did seem quieter and less congested. The program is still working out kinks — accidents, breakdowns — but it seems to make just good common sense.
• Take It (Everything) to the Streets. As with many world class cities, Paris is all about streetlife. (On this front, Philly is cursed by its blessing of home ownership, I think. Tiny apartments force people outside.) An incredible assemblage of street food is on hand, ever-varied, and ever-present. Our food trucks and beloved cupcake lady go way beyond the usual American offerings — hot dogs and ice cream — but why not some creperies, or frites? And, how about continuing the offerings into the late hours? The line outside one creperie cart was 10-deep at 11:30 p.m. when I caught the last light show at the Eiffel Tower.
• Pop Up Museums? Paris excels at the tiny house museum here, the quirky collection there. And it's taken a cue from places like London, New York, and Tokyo, by creating limited-run exhibitions and art installations in empty storefronts and on public plazas. With the Barnes coming to the Parkway, we're further pursuing the ghettoizing of our visual arts (as we already do with the performing arts). This year's PhilaGrafika was a good example of spreading the wealth. But more has to be done away from the BFP and the Historic District.
• Hotel Scene Wanted. Some of the best dining, the liveliest cabarets, and the most happening bars in Paris are located in its hotels. That's true of a lot of cities these days, but it's certainly not the case in Philly. The arrival of last year's Palomar and this year's Le Meredien may be finally changing the tide. But we need more than two see-and-be-seen hotel lobbies to shake things up.
• Keep Clean. It's true, they do hose down the sidewalks every morning in Paris. But the city's sparkle really comes from the daily efforts of its citizens. Shining metal, wiping glass, and scrubbing stone is a daily ritual among shopkeepers. Philly's services tries valiantly, I know, to keep up, but unless they can invest more in these efforts, it'll be hard to get citizens to chip in.
• Mimic Le Metro. Forget about art in the Louvre Station, and never mind Metro's electronic cards. The best thing about this city's 110-year-old system is its communication skills. Electronic readouts inform straphangers of which trains are on their way and when they're expected to arrive. Announcements are clear and repeated. With 16 lines to our, umm, two, this system is so far ahead of us, we might as well be riding horses and buggies.
Previous postcards: Detroit Part 1, Austin, China, San Francisco, Germany, Pittsburgh, New Orleans, New York City, Boston, San Antonio, Minneapolis, Detroit Part 2, Templehof, Chicago, Italy, St. Louis, Houston.