Plans for BRT-lite along Roosevelt Boulevard taking shape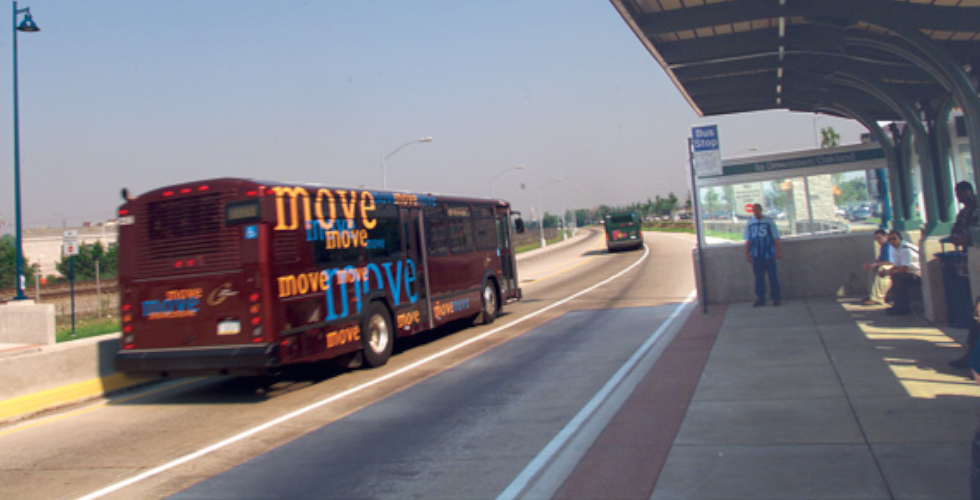 According to a forthcoming study by the Delaware Valley Regional Planning Commission and a Request for Proposal from the Mayor's Office for Transportation and Utilities for a "Roosevelt Boulevard Multimodal Corridor Program", the first step in overhauling Northeast Philadelphia's heavily trafficked road will be an Enhanced Bus System (EBS).
EBS is better known in industry parlance as "BRT-lite," referring to Bus Rapid Transit, wherein buses are given their own dedicated lanes, signal prioritization, stations and even special branding – essentially making a bus operate as much like a light rail system – such as the Norristown High Speed Line – as possible, without laying down rail tracks. Like many transit options, BRT first became popular abroad but has been slowly gaining popularity in the States.
Pittsburgh is home to the country's first BRT system, the South Busway, built in 1977. Since then, only a few other cities have adopted BRT, despite the fact that proponents say it is a cheaper, more efficient way of providing rapid transit. L.A.'s Orange Line has been considered a major success.
As Sandy Smith highlighted recently in PhillyMag, the dream of building a heavy rapid transit system along Roosevelt Boulevard has existed for almost as long as the road itself. Whether a subway or an elevated rail line, proposals have come and gone with circadian regularity. In 2008, the DVRPC listed the heavy rail project as one of ten that could transform Philadelphia, writing, "much of the development along Roosevelt Boulevard has a suburban-style strip development character, and the Boulevard itself is a predominantly high volume, high speed traffic artery that splits northeast Philadelphia in two. Supported by the rail extension, the Roosevelt Boulevard corridor will become a mixed use urban corridor that works for pedestrians, bicyclists, buses, and rail transit: a place where residents and workers can comfortably walk or bicycle to and from new stations." Travel time from the far northeast to City Hall would be cut from 60 minutes to 32 minutes.
But, as Smith noted in his article, this project has remained mired in the realm of fantasy thanks to the $3 billion – $4.6 billion price tag.
The DVRPC's soon-to-be-released study, pithily entitled "Alternatives Development for Roosevelt Boulevard Transit Enhancements", marks a chance of course of sorts for the regional planning agency. While not abandoning that long-term vision for a transformative heavy transit project set forth in earlier plans, the forthcoming DVRPC study – a draft of which was obtained and reviewed by PlanPhilly – recommends some intermediary steps first, namely the preliminary development of a pair of EBS lines.
THE EBS AND FLOWS OF TRAFFIC ALONG ROOSEVELT BOULEVARD
DVRPC is recommending two new, "enhanced" bus lines: an "A" line operating between Neshaminy Mall to Frankford Transportation Center (FTC) and a "B" line operating between the FTC and the Wissahickon Transportation Center (WTC). The EBS-A line would have 9 stops along the route and the EBS-B line would have 7.
Both would use re-branded SEPTA articulated buses (in DC, a similar BRT-lite is known as the Circulator). The stops would feature high-capacity shelters with digital passenger information – something more like a stop on the Norristown High Speed Line than a regular bus shelter. Fare collection would also operate more like a train than a bus – you would pay or validate your fare before you got on, allowing for multi-door boarding, which is faster. Most importantly, the EBS lines would get transit signal priority – lights would change as the bus approached, limiting the number of red lights.
The DVRPC estimates that the EBS-A line would take 33 minutes to make the trip between Neshaminy Mall and FTC – the Route 14 bus currently takes an average of 47 minutes. It would attract about 9,000 daily riders, half of which would be new SEPTA bus riders.
The EBS-B line would reduce the time between the Frankford and Wissahickon Transportation Centers to 26 minutes, compared to 39 minutes for the Route R bus. It would attract about 8,500 daily riders, of which 1,500 would be new SEPTA riders
The most attractive part of an EBS system is its price tag. The DVRPC estimates that the two lines would cost about $10 million. That's a rounding error compared to a $4.6 billion price tag for a subway line.
Even just a "full" BRT system operating at-grade in Roosevelt's median would cost around $500 million.
The DVRPC study estimated that a BRT would gain around 26,000 riders – significantly more than the 17,500 estimated using the EBS system.
To be clear, the EBS lines would be just one part of the larger Multimodal Study proposals MOTU requested and are now reviewing. The EBS would be a short-term goal in this bigger vision of a redeveloped Roosevelt Boulevard that could include BRT a little bit further down the line, and maybe heavy rail transit after that.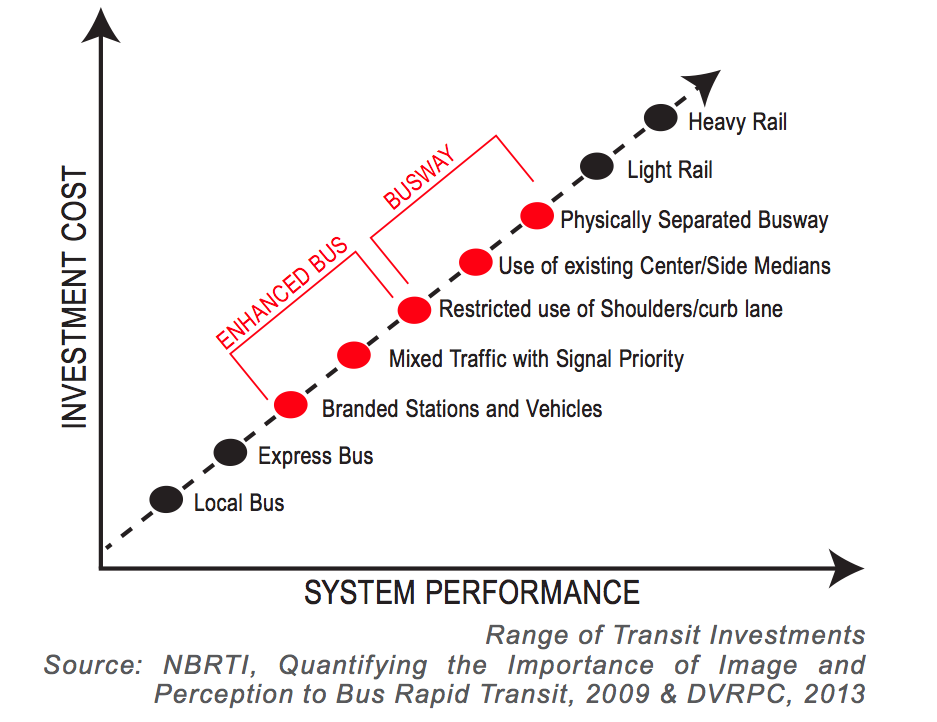 RESTARTING AN OLD CONVERSATION
The MOTU RFP explicitly endorses this EBS-first approach, requiring respondents to incorporate the DVRPC's recommendations as a preliminary step in order to "break through [the] 'analysis paralysis'" that has defined nearly every attempt to build transit along the Boulevard.
The idea with starting small – besides providing area residents some traffic relief – is to start building up good will and interest in a larger, more transformative project.
Philadelphia's long standing inability to pull off the truly transformative project – whether it's capping the Vine Street Expressway, rerouting I-95 to open up the waterfront again, or building transit infrastructure along Roosevelt Boulevard – has left the city's big dreamers in tears for decades. Seemingly not since Edmund Bacon tore down the Chinese Wall has there been a massive transportation project that's transformed the city for the better.
Often it's money – those $4.6 billion and $500 million price tags – that gets the blame. Philadelphia is a city with a lot of needs, and not a lot of money. But in the Harvard Business Review recently, Professor Rosabeth Moss Kanter argued that it's the failure to build coalitions that often dooms these big projects.
"To get BRT underway in Chicago involved work across city departments, which would have to coordinate fixing water pipes with changing road surfaces, and levels of government, which would coordinate funding. It involved signing up over 30 large employers, civic organizations, and specialized labor and ethnic organizations. It involved countless listening sessions in neighborhoods to hear objections. The attention to coalition building paid off; dissenters were eventually drowned out by the overwhelming support."
With luck, EBS will be the first step in building the grass roots support for what could be a transformative project for the Northeast.
WHYY is your source for fact-based, in-depth journalism and information. As a nonprofit organization, we rely on financial support from readers like you. Please give today.