Planning officials put proposed community outreach rules on hold
The proposed regulation was initially introduced as a public-safety minded response to a recent North Philadelphia housefire that killed four residents of a rooming house.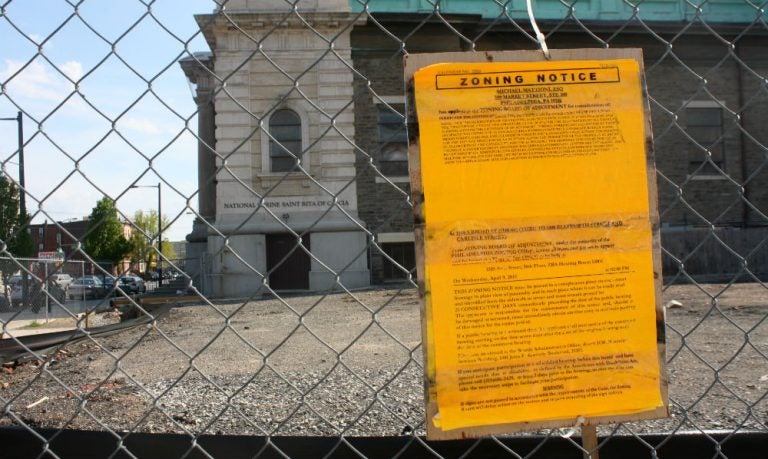 On Tuesday, the Philadelphia Planning Commission put a hold on City Council legislation intended to overhaul community notification requirements about zoning changes. The proposed regulation was initially introduced as a public-safety minded response to a recent North Philadelphia housefire that killed four residents of a rooming house.
The bill, introduced by Councilwoman Cindy Bass, met with skepticism from commissioners who feared it would called it "burdensome" and "onerous." The legislation as it is now written would—among other things—require developers to send up to two rounds of certified mail to neighbors in a 250-foot radius of a property seeking a zoning change. Currently the law just requires notification by regular mail or hand delivery.
Each certified letter would cost $3.50 to send, potentially adding thousands to a project's costs. Before the commission even had a chance to fully express all of their concerns about the new regulation, Bass's office had already begun to roll back the proposed requirement.
A representative from Bass's office, Christian Matozzo, told the commissioners that they actually meant a "certificate of mailing"—which costs $1.40 per letter. He said recipients wouldn't have to go to the post office and sign for it, and that the legislation was being "refined" to reflect that distinction.
"It's basically a receipt," said Matozzo, explaining that Bass is very concerned with frequent he-said-she-said arguments between residents and developers over zoning notices.
"When I send this, I would pay and get a receipt from the clerk at the time of the mailing," said Matozzo. "I could then present it and say 'see I sent this to your address at this specific date and time.'"
"We understand that [the bill doesn't say that] and we are working with Planning and other city agencies to refine the legislation," he added.
The legislation would also require the Planning Commission to send mailers alerting any household affected by City Council remapping bills and establish a new kind of signage alerting neighbors to zoning changes that will be larger and easier to read. The new signage would replace the orange stickers that developers or property owners are now required to post on sites asking for relief from the Zoning Board of Adjustment.
The bill would also ensure that cases dismissed by the zoning board cannot be brought again for a year afterwards. As the law now stands, only cases that are defeated face a one-year delay before re-submission. Lastly, the bill would require every resident of a multi-family building be alerted to zoning changes, instead of just posting a notice in the lobby.
Despite Matozzo's reassurances that the certified mail requirement would be dropped, the Planning Commission largely focused on the legislation's notification requirement–which many considered possibly burdensome even after Bass's office clarified its mistake.
"I'm sorry to beat this horse to death," said Commissioner Cheryl Gaston, a zoning attorney with Spruce Law. "But we keep saying we need to provide more notice, but no matter how much you provide it never seems to be enough."
Veteran zoning lawyer Ron Patterson agreed with Gaston, noting that between 50 to 85 percent of the (non-certified) letters his firm sends to near neighbors are returned. He has never once heard back from a neighbor with questions. But zoning meetings are usually still packed, meaning residents find out about the proposals through their local community group or from signage on the building.
Architect Ian Toner, who also sits on the East Passyunk Crossing zoning committee, reminded the committee that most people who come before their local community groups with are just looking to add a roof deck or tweak a backyard. Those small alteration would have to go through the same rigorous, and expensive, mailing process as a developer looking for a multi-family variance.
"Most of my clients are indihiahl home owners [making] very small changes that require the very same process from beginning to end that these enormous towers require," said Toner. "It's the notice process that stresses everyone out. I'm on both sides of this and I'm still not sure what's supposed to happen."
There were influential voices who spoke in support of Bass's legislation as well, or at least in support of the broader notion that notification law needs to be tweaked.
"We often hear from constituents that they didn't know about the community meeting and that is a very big deal to the council president," said Jeffrey Young, legislative counsel with City Council President Darrell Clarke's office.
"I've been in countless meetings where people say 'I wasn't notified,'" said Jihad Ali, with the controversial Southwest District Services. "We can't say all developers are unscrupulous, but it's not right we are giving him the responsibility to inform us so we can be informed to fight against him."
The Planning Commission voted to place a 45 day hold on the bill. That action precludes a final passage vote in City Council, but would not prevent it from going to the Rules Committee for consideration.
WHYY is your source for fact-based, in-depth journalism and information. As a nonprofit organization, we rely on financial support from readers like you. Please give today.