Placement of new shelter sparks confrontation at briefing on Kensington opioid crisis
Tensions flared Friday over Philadelphia's plans to build another shelter for people addicted to opioids in Kensington.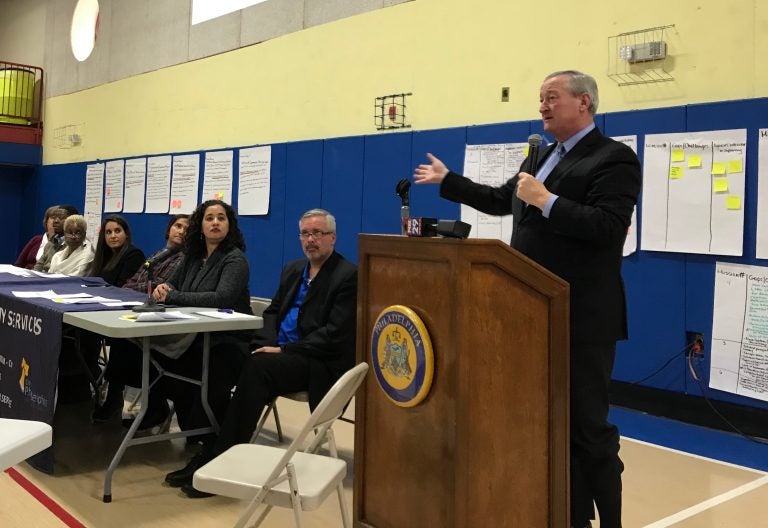 Tensions flared Friday over Philadelphia's plans to build another shelter for people addicted to opioids in the Kensington neighborhood as Mayor Jim Kenney and other officials presented an update on their emergency plan to address the opioid crisis.
The briefing marked the city's deadline for achieving a list of immediate goals under the Philadelphia Resilience Project, a wide-ranging plan to improve quality of life for residents in Kensington and tend to the needs of people struggling with addiction. But a confrontation over the new shelter highlighted divisions between city officials and neighborhood residents over how to pursue those two priorities.
One of the first goals under the plan was finding a site for the shelter. A location was supposed to have been selected by Friday. But, facing some opposition, the city was still working out where to put it.
"We have to find just the right location that doesn't have a negative impact on the neighborhood, but is easy enough to access so that people actually will come in," said Liz Hersh, the city's homeless services director.
Philadelphia calls the new shelter a "navigation center" because it's meant to be a way station to addiction treatment, long-term housing, and other services that help people get healthy and back on their feet. Navigation centers have been key to the city's plan to clear homeless encampments under bridges along Lehigh Ave. It's been trying to find a site within a mile of one tent city that remains after the city swept campers from the Frankford Avenue bridge on Thursday.
But City Councilwoman Maria Quiñones-Sánchez, who represents Kensington, confronted city officials over their plan.
"These sites have to be equally distributed in the entire city," she said. "You cannot — you cannot set up any more sites in Kensington."
Quiñones-Sánchez has opposed bringing more services to the neighborhood, fearing they will draw more drug users and create even more chaos. It's a view that many of her constituents share.
"They're shooting needles in their neck, standing right out on the sidewalk," said Donna Aument, 71. "My grandson's seeing this. The kids are seeing it."
The city has two shelters in Kensington already that admit active drug users, one not far from where Aument lives. But, in a neighborhood where several hundred live on the street, the facilities together can accommodate only 80 people.
City officials said they'll have a harder time getting drug users to utilize a shelter that's farther away.
"We cannot compel people to come in, we have to attract them in," Hersh said.
Many drug users, trapped in the grip of addiction and agonizing withdrawal symptoms, are reluctant to go to a shelter that's far away from where they buy drugs.
Though it missed a deadline for siting the shelter, officials touted other achievements, such as a neighborhood-wide cleanup and clearing the Frankford Avenue bridge.
The city has committed to open the new navigation center by the end of the year. It may need the additional beds when it clears the tent city at Emerald Street in January — the last and largest of the major encampments.
WHYY is your source for fact-based, in-depth journalism and information. As a nonprofit organization, we rely on financial support from readers like you. Please give today.