Pizza with a mission: Inside the hot Philly restaurant fighting recidivism
Philly pizza spot earns plaudits for Detroit-style pies and a mission to staff the operation with only formerly incarcerated people.
Listen
3:56
In mid-September, Philadelphia's Down North Pizza won praise for being one of the best restaurants in the country from Bon Appétit Magazine and CBS Mornings.
Executive chef Michael Carter was featured prominently, dishing up Detroit-style pizza and talking about the restaurant's mission to staff the operation with only formerly incarcerated people.
The next day, he said a parole agent called and asked him to come in.
"I haven't been inside a parole office in over three years. My old agent is like, 'Why is he here?'" said Carter.
The answer: The office had looked over his case and found a technical violation from 2017. Carter spent 12 years in and out of prison, starting at age 16, before becoming a successful chef. He uses his own personal testimony when urging employers to hire people who've been behind bars.
The call could have been a coincidence, but given his experience with the criminal justice system, Carter said it felt like an old pattern, one where past mistakes can derail efforts to thrive lawfully in society.
"The system is doing what it's supposed to do," he said. "It's sucking us dry."
Amid a square pie trend, Down North Pizza has dominated the field. In addition to Bon Appétit's "Heads of the Table" list, the New York Times recently named Down North one of the 50 best restaurants in the country and Philadelphia Magazine has shouted out the Strawberry Mansion establishment as having the best square pie in the city.
With each write-up come new fans, asking for whatever pizza they saw pictured with the story. The best-seller used to be the Roc the Mic, topped with beef pepperoni and the restaurant's signature "norf sauce," a secret tomato blend that is sweet, smoky, and spicy. Now, it's the Uptown Vibes, after the New York Times praised the vegetarian pie, laden with julienned peppers, sauteed mushrooms, kale, red onions.
But the success of Down North, said owner Muhammad Abdul-Hadi, is merely a vehicle for the mission.
"We are all living proof that you can build a business around the formerly incarcerated," he said.
'More than just pizza'
There is no shortage of people who have spent time in prison in Philadelphia, a city which has had one of the highest incarceration rates in the nation.
The Philadelphia Reentry Coalition estimates that approximately 25,000 people are released from jail or prison and return to Philadelphia each year. Of that number, about a third are rearrested within a year, with young people most likely to be locked up again.
Pre-pandemic, the unemployment rate for formerly incarcerated people was already 27%, higher than the rest of the population, according to the Prison Policy Institute. Issues getting paperwork and identification cards sorted out, and business closures in sectors such as food service likely made things worse, reported USA Today and PBS NewsHour.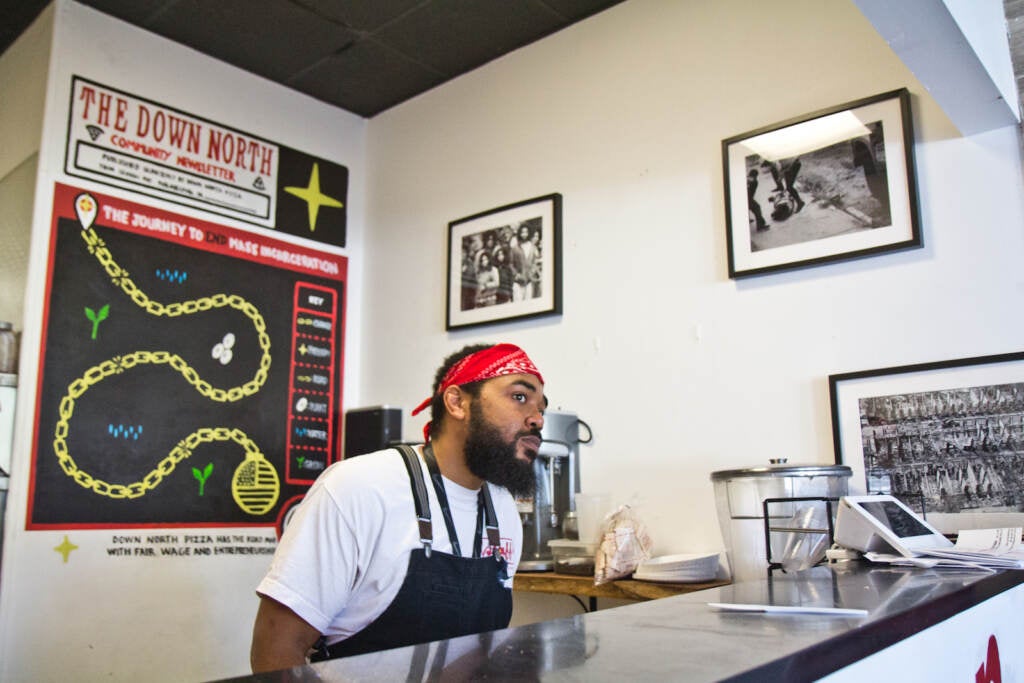 In Strawberry Mansion, where Down North Pizza is located, the problem is acute. It's one of several neighborhoods where more than 1,000 people return from prison annually, according to the Philadelphia Reentry Coalition.
Building a novel business model aimed at breaking cycles of recidivism took more than two years.
Abdul-Hadi bought the building that is now Down North Pizza in 2015, and thought about flipping it as a real estate profit. Instead, he sat on it. Meanwhile, he studied criminal justice at Temple University, and had his own interaction with the system. In 2020, he pleaded guilty as one of 11 defendants in a federal insurance fraud case and served time on house arrest. Abdul-Hadi says he got caught up "doing business with the wrong people."
He credits his ability to pay for an attorney with helping him get through that experience without being even worse off, and said he does not like to bring up his experience as compared to some on his staff, who served much longer terms. Still, he feels the stigma.
"Even though I look at myself from privilege, that doesn't mean society does," he said. "I'm a felon, too."
Starting a business by and for formerly incarcerated people came with challenges. Abdul-Hadi said he self-funded the entire enterprise, at one point starting a GoFundMe to raise cash. For a time, local chef-activist Kurt Evans was a co-founder but is no longer involved.
The company had a soft opening on Nov. 20, 2020, and an official opening on March 19, 2021.
Day-to-day, the business is set up to combat many of the pitfalls of working post-incarceration. Wages start at $15 per hour, and the two apartments above the restaurant are available for workers in order to sidestep housing discrimination commonly faced by formerly incarcerated people.
Down North Pizza also connects its staff with pro bono legal representation by John F. Rooney — who is now representing Carter in appealing the parole office's decision to reopen his case. Comment on the case from the Pennsylvania Parole Board is pending.
All these conditions help combat recidivism, said kitchen staff, who know firsthand what it's like to be discriminated against post-release.
Sous chef Jamar "Mar" Johnson said he was terminated more than once after a new employer processed a background check. He also described workplaces that used his history as a reason to pay him less than other kitchen staff.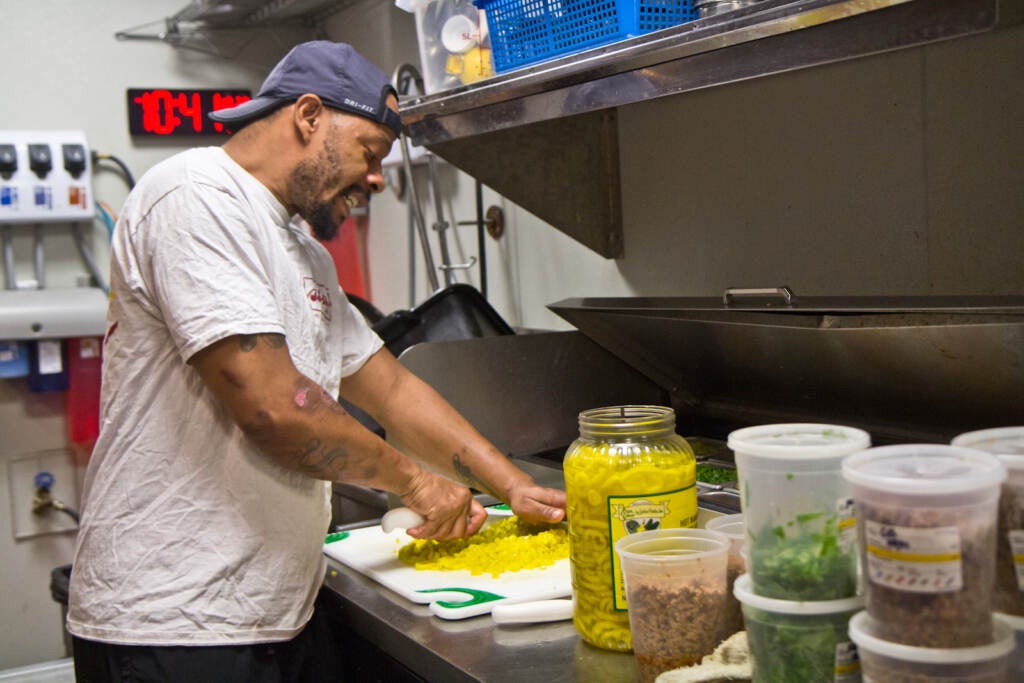 "I recently worked for a company where, I'm not gonna say the name out loud, the dishwasher made more than me," he said.
In addition to the stigma, there is the reality of living under supervision.
Philadelphia had the highest rate of what critics call "mass supervision," with people on either probation or parole, as of 2018. New policies implemented under District Attorney Larry Krasner have shrunk that number by about a third.
During yearslong probation or parole terms, technical violations that can land someone back in jail include failing to contact a parole or probation office as instructed, missing curfew at a halfway house, or failing to complete a drug or alcohol counseling program.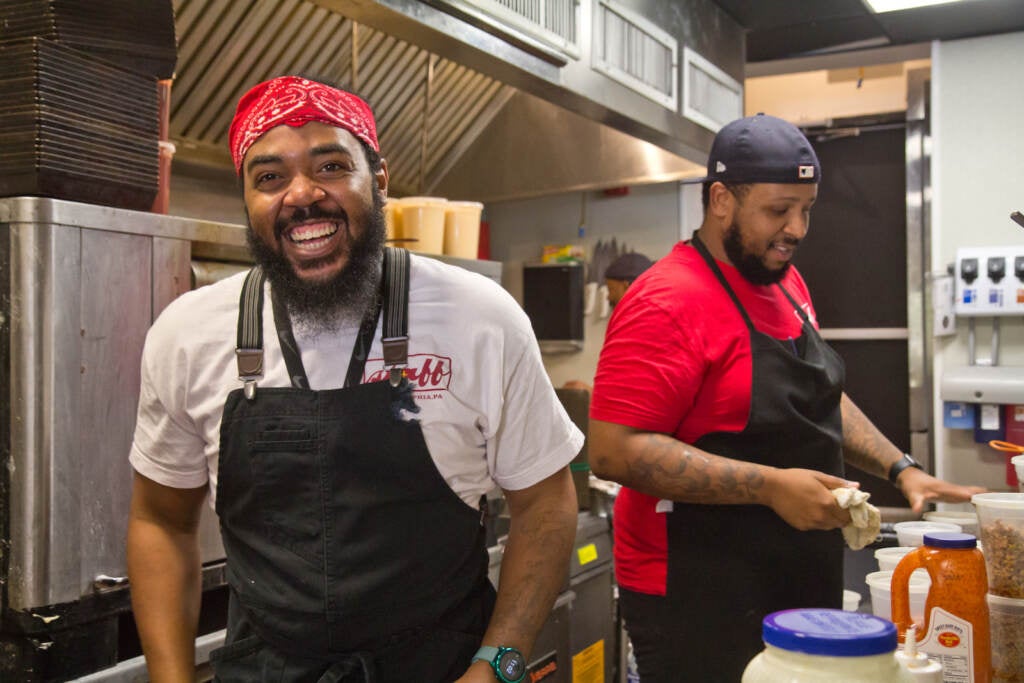 The logistics of meeting those terms can interfere with the ability to find work and support a family. About six or seven years ago, Carter said his house caught on fire and he missed some visits, landing him in hot water with his parole officer.
"'I don't have nowhere to live,'" Carter recalled telling the officer. These rules can make it hard to fully escape the justice system. Carter is 35, but is still dealing with the aftermath of an aggravated assault with a deadly weapon case from when he was 19, and for which he served a 7-year sentence.
In the kitchen, Johnson, Carter, sous chef Myles Jackson and the rest of the staff, can joke about the problems they see in the justice system — the fees they must pay, the rules they must follow — without feelings of fear or shame. At other workplaces, they said it was common to hide those parts of their lives.
When he first got out of prison, "I had to lie," said Carter.
In prison, he worked in the kitchens, helping to prepare three meals a day for thousands. But to get a job on the outside, it took an instructor from his time at the Art Institute of Philadelphia's culinary program to help him spin that experience.
"She told me that I was an expert in mass quantity production … I'm like, 'What? Alright, cool.' Put it on my resume, and boom I'm in there," he said.
Having those shared experiences has led to a more collaborative workplace culture, said staff. The group is quick to share credit, noting that Jackson has contributed some recipes to the menu, such as the Break You Off, a special featuring lamb sausage, whipped ricotta, basil, honey lemon, and za'atar.
"We're looking out for us because if we don't take care of us no one else will," said Johnson. "That's the reason why Down North was established. It's much more than just pizza, it's a whole message."

WHYY is one of over 20 news organizations producing Broke in Philly, a collaborative reporting project on solutions to poverty and the city's push towards economic justice. Follow us at @BrokeInPhilly.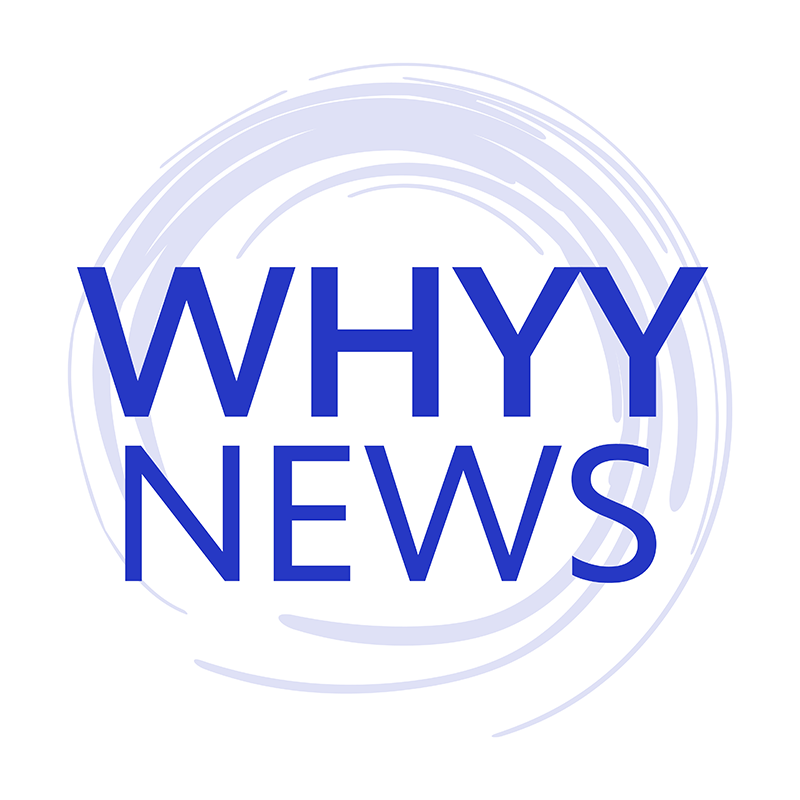 Get daily updates from WHYY News!
WHYY is your source for fact-based, in-depth journalism and information. As a nonprofit organization, we rely on financial support from readers like you. Please give today.