Piazza in Northern Liberties to get a dedicated parking garage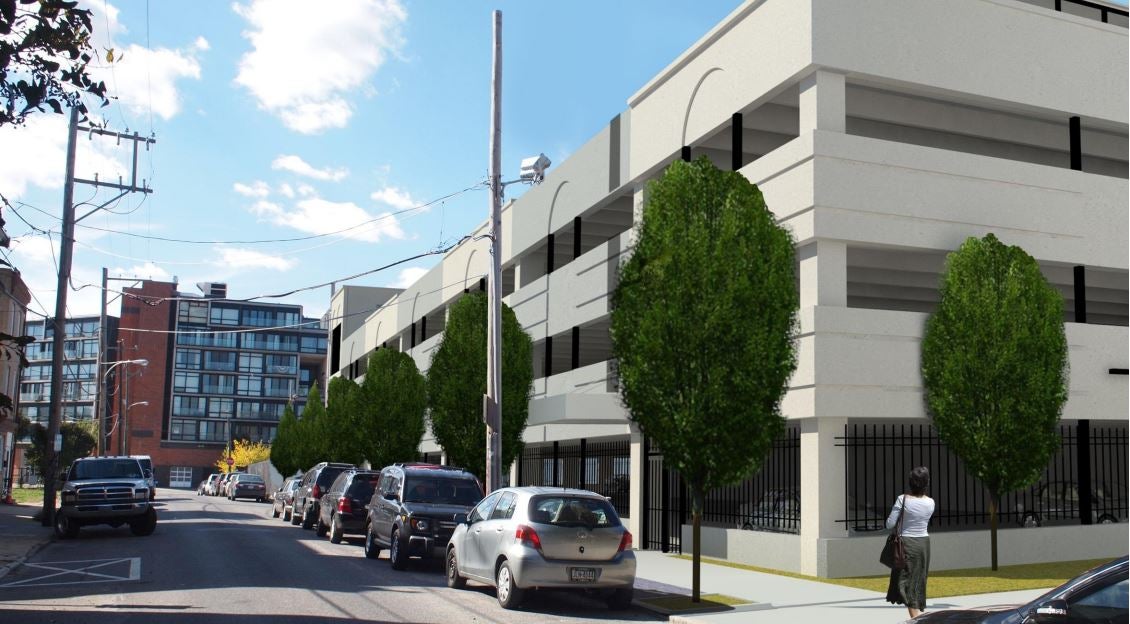 A four-story, 300-car parking garage will be built behind the Piazza at Schmidt's in Northern Liberties after the proposal was vetted on Tuesday by the Civic Design Review Committee, a board that monitors the public-realm impacts of major development projects.
The parking spaces will be dedicated to residents of the Piazza, the mixed-use residential and retail project built by Bart Blatstein of Tower Investments. Blatstein sold the property where the garage will be built, at 145 West Wildey Street, to Kushner Companies last year. That company is owned by Jared Kushner, the son-in-law of Donald Trump.
The garage is designed by Tim Haahs & Associates, a local parking-garage design and engineering firm. It will also include 35 bicycle parking spaces. The site is currently used for surface parking. It is zoned CMX-3, a commercial zoning category, and will need variances for open area, reservoir spaces and loading spaces from the zoning board.
Committee members questioned the need for ornamental arches planned for the corners of the garage, which Matthew Carpenter, a representative for the architect, said would situate the building into the context of the surrounding area. (The garage is surrounded, on different sides, by an apartment building, a vacant lot, row houses and a dog park, and the Piazza.)
"There's a purpose in life for utilitarian buildings, and this is clearly a utilitarian building," said Nancy Rogo-Trainer, the chair of the committee. "… The simpler you keep it, the more recessive it will be."
Larry Friedman, a representative of Northern Liberties Neighborhood Association, agreed. The arches reminded him of artificial flowers.
Anita Toby-Lager, a landscape architect, also had questions about a proposed narrow strip of grass between the sidewalk and one wall of the garage. The designers' representative said the strip satisfies a certain city requirement, but Toby-Lager said it would make more sense to simply extend the sidewalk to the garage wall.
"A very narrow strip of green maybe satisfies some requirement," she said, "but it's going to look like hell in a very short amount of time" if it isn't maintained vigilantly.
See the plans for the garage here.
WHYY is your source for fact-based, in-depth journalism and information. As a nonprofit organization, we rely on financial support from readers like you. Please give today.