Philly youth making their own way in the classical world
Young people are learning the notes and bolts of running their own orchestra in Philadelphia.
In Philadelphia, a young person determined to play classical music is not without opportunities.
There is the All City Orchestra run by the school district; the 79-year old Philadelphia Youth Orchestra with its three ensembles and a teaching program called Tune Up Philadelphia; an independent teaching ensemble called Play On! Philly created by a graduate of the Curtis Institute of Music; and various performance groups overseen by Settlement Music school.
It was only a matter of time before students themselves jumped the nest and started their own thing.
The Center City Chamber Orchestra was launched last year by four high school students who wanted more than what is offered by youth orchestras created by adults.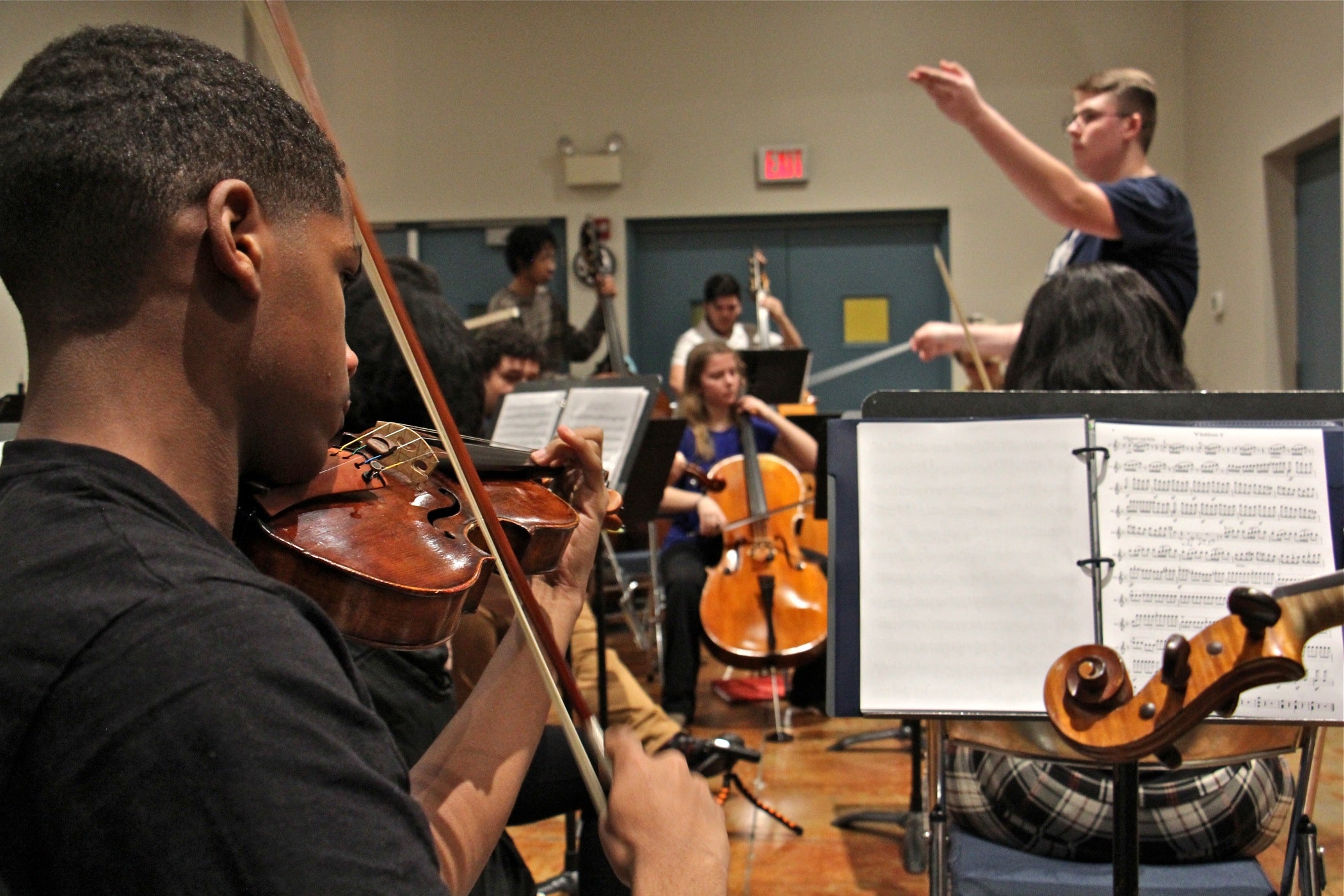 "PYO and the Philadelphia Sinfonia, these are great organizations," said Oleksandr Kashlyuk, 18.
But he he believes he can better prepare himself for a career in music as a co-founder of Center City Chamber Orchestra.
"Not just as a person who plays the notes, but as a person who knows the inside and outside of the business, how to run an orchestra," he said.
The Center City Chamber Orchestra will perform Saturday at the Trinity Center on Rittenhouse Square. The ensemble will play selections by Bach, Beethoven, Brahms, and Bartok. With a nod to Sesame Street — and, perhaps, their own youth — they have called it "Brought to You by the Letter B."
Its first concert, last summer, featured 12 players. This weekend's concert, its second, is significantly larger with 40 musicians.
Since starting the ensemble last year as a senior in high school, Kashlyuk has graduated to the San Francisco Conservatory of Music. He is studying bassoon.
He also wants to conduct. So does his co-founder, Davey Hiester, but youth orchestras run by adults tend to be conducted by adults. There are little to no opportunities for younger people to try their hand at the baton.
"People I've talked to at all levels of conducting [say] that, as a young person, you have to create opportunities for yourself," said Hiester.
Hiester quickly learned that running an orchestra is more than commanding the podium. He and his board — all teens — must also secure the venue, wrangle the musicians, do the advertising, set up the refreshments, and arrange the chairs.
"There's a lot we didn't foresee. We've become aware of Murphy's Law," he said, referring to the truism that anything that can go wrong, will go wrong. "It's like setting up the chairs, but all the chairs have a mind of their own, and they might run away."
The Center City Chamber Orchestra has received support from Project 440, a classical music organization created by Philadelphia Orchestra assistant principal bassist Joseph Conyers, to help usher young talent into professional careers.
Heister, 18, recently graduated from Central High School and is now a freshman at the University of Texas, Austin, studying bassoon. He is planning a career in classical music, and regards running the Center City Chamber Orchestra as essential to his education.
It's a feeling shared by another co-founder, Marquise Bradley, 17, a senior at Philadelphia High School for Creative and Performing Arts.
"As young people going into music in the 21st century, just being good at your instrument isn't enough," he said.
The popularity of classical music among young people is declining, and Bradley wants to change that. He has ideas about changing the concert format to make it more interactive with the audience.
"We have a lot to say about the classical music world," he said. "These are building blocks. This shows we can expand the reach of classical music, and what it means to be a classical musician in a community."
WHYY is your source for fact-based, in-depth journalism and information. As a nonprofit organization, we rely on financial support from readers like you. Please give today.