Philly's Premier League weekend just a sample of more top soccer to come ahead of 2026 FIFA World Cup
The Linc hosted over 105,000 soccer fans last weekend. There will be plenty more elite competition and community outreach to build momentum for 2026's big event.
Listen
5:53
This past weekend, Lincoln Financial Field briefly set aside its familiar label as the home of the Philadelphia Eagles to host the opening weekend of the first-ever English Premier League Summer Series tournament in the United States.
With the Linc set to be one of the 16 host cities in the U.S., Canada, and Mexico for the upcoming FIFA Men's World Cup, Philadelphians got an early taste of the global soccer coming from now till 2026, on and off the pitch.
Over 105,000 soccer fans traveled from around the nation and the globe to watch three matches over the course of two days.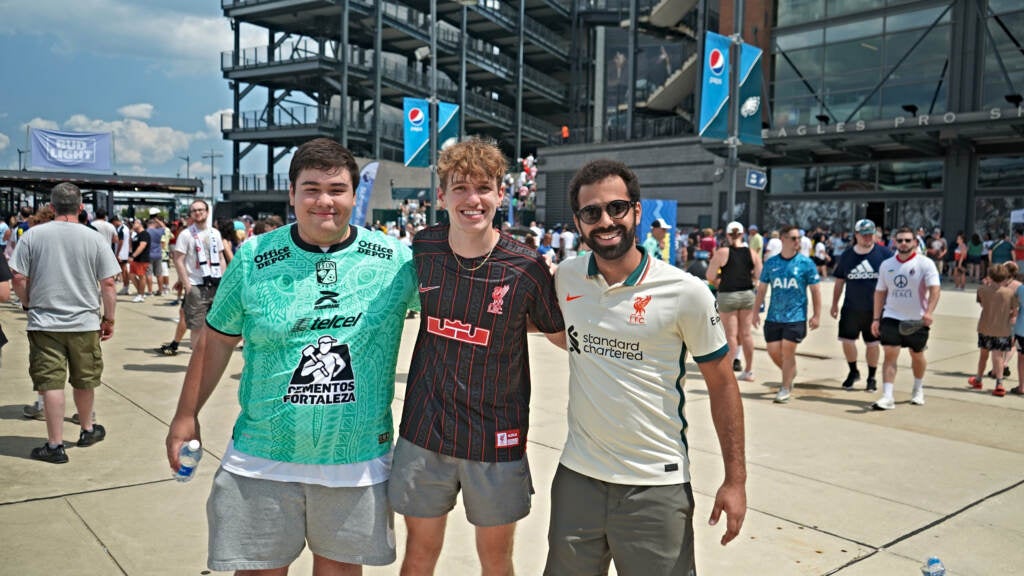 "I've been a fan of [Fulham F.C.] since probably like 2008, 2009," Cam Robinson said Sunday. Robinson lives in Philadelphia and is a member of the team's supporter group in the city. "I thought I wouldn't be able to see them until I flew across the Atlantic … So to find out that they're in my home and down the street, it's like a dream come true."
The Premier League Summer Series launched with an opening match between Chelsea and Brighton & Hove Albion Saturday night. The attendance reached 65,128 and the green and silver seats of the stadium were obscured mostly by the blue home jerseys of both sides, with a significantly greater proportion being Chelsea fans, unsurprisingly.
Some supporters of the London giants may have been disappointed that Hershey-native and U.S. men's national team star Christian Pulisic had left the club for AC Milan in June. But the chance to see the other global superstars of the most-watched league in the U.S. and most of the world live was enough to almost reach the stadium's capacity. Chelsea came back from a goal down to win 4-3 against a Brighton side that finished with 10 men on the field due to a red card.
Sunday's doubleheader was a London derby between Fulham and Brentford, followed by Newcastle United against Birmingham-based Aston Villa. Though none of those teams matched the supporter strength of Chelsea, they all finished in the top 10 of the 20-team Premier League. So exciting matches were expected, and they sure did deliver.
Fulham beat out Brentford 4-3, thanks in part to Harry Wilson's stunning opening goal. Newcastle United and Aston Villa finished in a physical 3-3 draw, as the team's supporters on either end of the stadium competed to out-chant each other and voice their displeasure at every call that didn't go their side's way.
Nial Ledbury, one of five university students who traveled all the way from Newcastle, said that the group had decided two days prior to book a flight for Sunday morning to catch the game, and they had flights to leave the same night.
Their other plans during their brief break between long-distance international flights? Try to "lick the Liberty Bell," Ledbury joked.
Sunday saw a smaller attendance than the day before — 40,232 for both matches combined — but there was a greater variety of soccer jerseys in the stands and around the stadium. Almost every Premier League team in recent seasons was represented. Popular options like the U.S. and Mexico national team jerseys, Argentina, Barcelona, England, the Philadelphia Union, Liverpool, and Manchester United were mixed in with some more obscure options like Eritrea, "Ted Lasso's" AFC Richmond, and even some designs from Philly's recent Icarus Cup soccer festival.
The English proceedings kept some Philly touches. Sixers in-arena host Christian Crosby hyped up the crowd when there was no play happening. The referee's whistle to kick off the matches had to compete with Bill Conti's "Gonna Fly Now" blaring on the stadium speakers. Eagles announcer John Heffernan was on hand to give match updates, which some of the players found entertaining.
"Very enthusiastic in his statements," said Brighton midfielder Adam Lallana. "It's very American, and I quite enjoyed it really."
The home of the Eagles has showcased the round-ball version of football many times before the summer series. In fact, the first ticketed sporting event was a friendly between Manchester United and Barcelona on Aug. 4, 2003.
Since then, the Linc has put on more European club friendlies, served as a temporary home for the Philadelphia Union during its inaugural season in MLS, and hosted matches of the 2003 FIFA Women's World Cup, the 2017 SheBelieves Cup, the Copa América Centenario 2016, and the 2015 CONCACAF Gold Cup final between Mexico and Jamaica.
The weekend visits offered more than a spectacle of relatively affordable top-flight international play for local soccer fans. Brighton and Chelsea participated in soccer camps around Philadelphia, teaching local children skills and giving them a chance to meet players they would have only seen on TV or in the FIFA video game.
"Just seeing these players that are playing at a top level over in Europe and just having them come here and show kids that it's not just about soccer, it's about giving back to the community — And even a community isn't a part of them. So the impact is going to be tremendous for them," said Jonathan Mendoza, soccer coach at Southwark School in South Philadelphia, during Brighton's visit to a Premier League camp at U90 Soccer Center at the Bok Building on Friday, cohosted by local group Soccer Shots.
"I think bringing Chelsea … can only promote the game for the better," said Ylber Mezani, soccer coach at Cristo Rey Philadelphia High School, where Chelsea players visited Monday. "Especially with the World Cup coming. It's an amazing achievement for the city to bring the World Cup here."
Between now and 2026, Philly will continue to see its appetite for the beautiful game whetted with more top-flight competition in the coming weeks, months, and years till the World Cup. Shortly after the Chelsea-Brighton game ended on Saturday night, the Union won its first game of the Leagues Cup, a mid-season competition between U.S., Mexican, and Canadian clubs. They'll face Querétaro F.C. Wednesday night.
The Union may also soon get swept into the media frenzy that is global superstar Lionel Messi's MLS debut season with Inter Miami, if both sides advance to the semifinals on Aug. 15. That match would definitely be a home game for Philadelphia because of the team's superior regular season record.
As for the coming years, venues for the Copa America in 2024, an international competition between South America's best national teams, have not yet been announced.
In July, FIFA announced that the U.S. would also host an expanded 32-team Club World Cup in 2025. The previously annual format of the competition will shift to a four-year cycle and will replace the Confederations Cup, which had previously served as a warm-up tournament for the World Cup. Dates and venues have yet to be confirmed.
All of these upcoming and potential events are great for established soccer fans and the soccer-curious, but it's the pairing with community events that will bring outreach to those who do not know yet about the huge global sporting event that's on the way.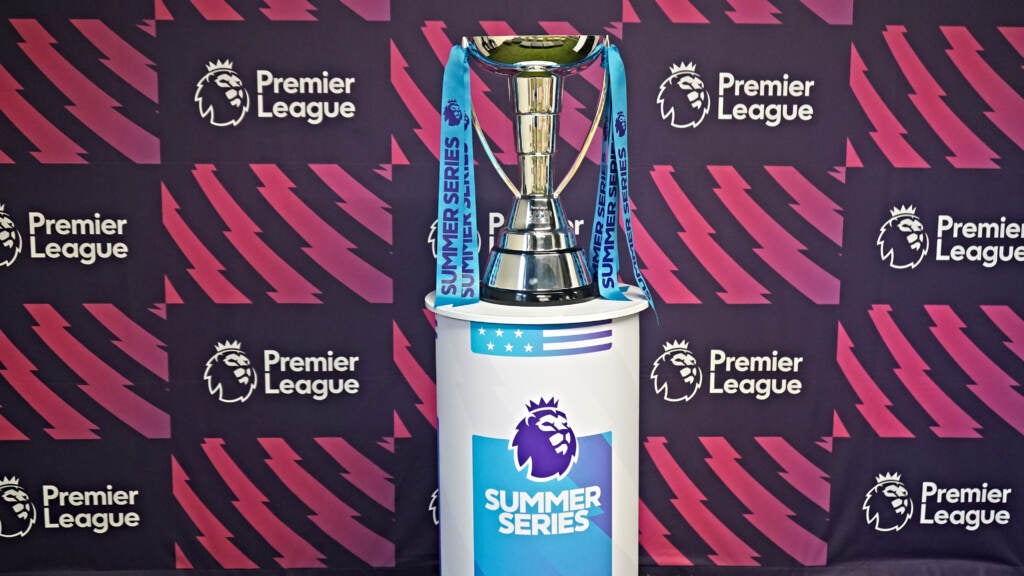 "I think it's imperative that we make sure that folks and neighborhoods who might not necessarily traditionally play soccer understand the significance of what's taking place," Philadelphia City Councilmember Isaiah Thomas said at Monday's Chelsea soccer camp. "So the more we can go into communities and neighborhoods where soccer might not necessarily be the most popular sport and expose them to what a great sport it actually is, and the historic event that's coming to Philadelphia pretty soon, the better."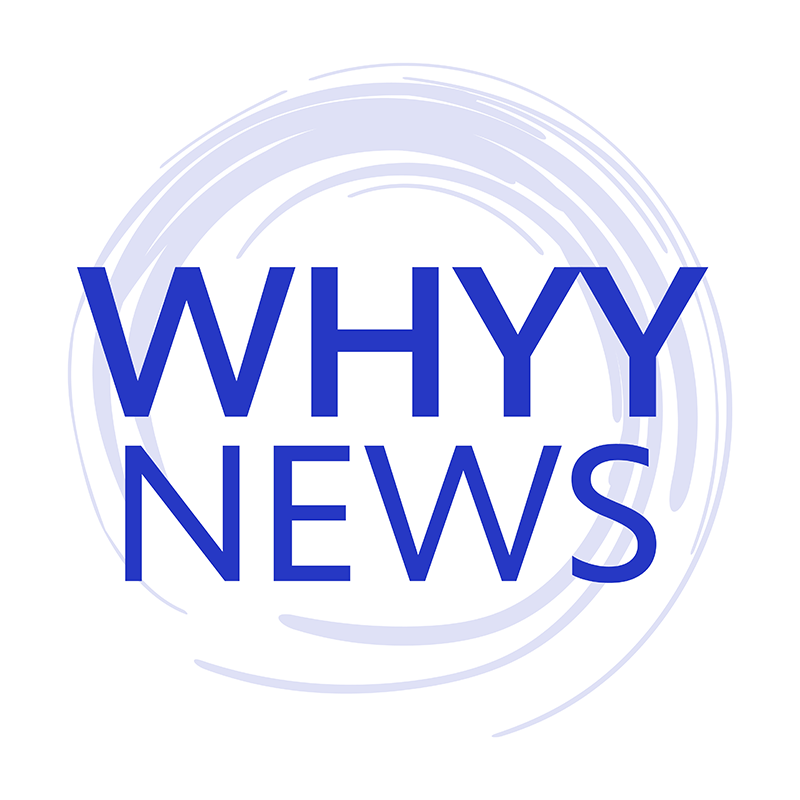 Get daily updates from WHYY News!
WHYY is your source for fact-based, in-depth journalism and information. As a nonprofit organization, we rely on financial support from readers like you. Please give today.