S.N.A.I.L. Gallery is making space for slow art on Instagram
The virtual gallery space embraces artists who are in no hurry to post new work.
Logan Cryer is doing the opposite of what most people tend to want: they are slowing down the internet.
Their S.N.A.I.L. Gallery is an occasional, virtual exhibition of artists' work curated by Cryer via Instagram. The work is organized around a theme, appearing as Instagram posts for only a few weeks. After that, the posts are deleted forever.
"It stands for Stop, Notice, Assess, Imagine, and Leave," said Cryer. "It's a method for looking at artwork."
Much of the work in S.N.A.I.L. shows cannot be seen otherwise online or Instagram, because many of the artists Cryer selects are not aggressive users of social media. They say they know most of the artists personally IRL (in real life).
"They're just really not present online very much. That was part of the reason why I wanted to put them together," said Cryer. "I think they have a certain kind of slowness to their life and to their practice. A very steady kind of, 'I'll share things when I'm ready to share them. In the meantime, I'm just going to do what I do."
Cryer identifies artists that she wants to work with, then looks for qualities that tie them together into a coherent show. Previously, S.N.A.I.L. exhibitions have been about influence ("things we were given and what we let go of"), ritual and rhythmic repetition, anger, environmentalism and collage, and Black surveillance.
The new show, launching Monday, June 27, will be Cryer's sixth S.N.A.I.L. exhibition. "Grapefruit Fantasy" features four artists whose work is related to domesticity.
Artist Gérardine Aldamar works with snapshots of her own family, casual photos from family scrapbooks in which she carefully erases figures who have died.
Aldamar is a first generation American of Haitian parents, with a father in Haiti and a mother who passed away years ago. She was raised in the U.S. primarily by a cousin and extended family members.
One of Aldamar's manipulated photos features an aunt, who has since died, sitting on a bed wearing a dress with an elaborately patterned kente fabric, or African textile. Aldamar extended the fabric so it covers the woman's face.
"I really want to show you my story and how I feel about my family history, but I felt a little bit uncomfortable showing the faces of family members who are no longer with us," said Aldamar. "I would like to be respectful, so I eliminate their faces."
A graduate of Moore College of Art and Design, Aldamar only rarely shows her work. Most recently she was part of WXPN's "Kanaval: Haitian Rhythms" festival last March. She has an online presence but unlike many artists who constantly post work, Aldamar can go several months without putting anything on Instagram.
The description on her Instagram account explains: "things are happening slowly, but they're happening nonetheless."
"A lot of the other artists that I follow, I feel like I'm always seeing something new from them. I made a vow to myself to really take my time when I'm making something," said Aldamar. "When I try to force myself to make new work and pump things out, it doesn't alway end up how I want it to be."
The other works in Grapefruit Fantasy are by Lucia Garzón, who sculpts common domestic objects out of wood in reference to her parents' mixed Italian and Colombian heritage; Nila Devaney's group paintings of family and friends; and food-based collages by Shreshth Khilani, known as a Philadelphia performance artist now based in Brooklyn.
The works in the show tend to evoke the warmth and safety of home life, sometimes veined with anxiety and loss.
"Typically when an artist makes work about home, it usually is based in some type of conflict. Maybe a critique, an exploration of trauma," said Cryer. "But I think with all of these artists, even with that fraught nature, there is still a genuine warmth towards it."
Cryer started S.N.A.I.L. during the COVID-19 pandemic, when a lot of art and performance migrated online as in-person venues were forced to temporarily close.
Like many people, they found online art to be unsatisfying.
"I never found digital exhibitions I was seeing really made me feel connected to the work the way being in-person does," they said. "People were trying to replicate the experience of being in-person. I thought, what if this is an experience that you could only have through a certain online medium, which happened to be Instagram?"
S.N.A.I.L. is designed to be native to how people use Instagram: some of the posts have multiple slides containing text and video, like an Instagram story. The artists are telling stories, and those stories are related, which takes time to understand – more than a scroll swipe.
While S.N.A.I.L. matches the way most people consume Instagram, Cryer hopes it will also change the way people use Instagram, by slowing down.
"You're kind of reacting immediately to something, you're giving a very fast yes or no online, even more so than in person," said Cryer. "Part of what an artist has to do is encourage someone to say Yes to the piece. Sometimes that takes a little bit more time and consideration."
Part of every S.N.A.I.L. is a curatorial essay written by Cryer, released during the course of the online exhibition. They will also conduct artist interviews with all the participants as a group Zoom session, which is later posted publicly.
Both the essay and the artist talk live on in perpetuity on the S.N.A.I.L. website, while the work itself is deleted at the end of the five-week run.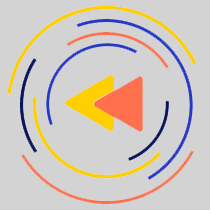 Saturdays just got more interesting.
WHYY is your source for fact-based, in-depth journalism and information. As a nonprofit organization, we rely on financial support from readers like you. Please give today.