Philly schools improving, according to district's yardstick
The School District of Philadelphia is on the upswing — at least according to its own rating system for school quality.
The district released its annual ratings for traditional and charter schools Wednesday, and the average score for city schools rose for the third consecutive year.
The typical city school claimed 42 percent of all available points on the district's School Progress Report rating rubric. That's up from 37 percent last year and 33 percent in 2014-15.
The average charter school scored better than the average district school, but both sectors are on the upswing. The increases roughly coincide with a period of relative fiscal stability for the district.
| | | | |
| --- | --- | --- | --- |
| SPR Report Year | Citywide | District only | Charter only |
| SY 2014-15 | 33% | 31% | 37% |
| SY 2015-16 | 35% | 32% | 41% |
| SY 2016-17 | 37% | 34% | 44% |
| SY 2017-18 | 42% | 40% | 46% |
"The data from our SPR reports confirm what we have known for some time — that our schools across the city are improving in the areas that matter most to student success," said superintendent William Hite.
SPR combines student achievement on state tests, student growth on state tests, attendance figures, suspension rates, and other data to produce a single score for each school. The district uses SPR to call out high performers and intervene at schools it considers lagging. Those interventions can include hiring new staff, replacing administrators, or switching up the curriculum.
Some states have ditched metrics similar to SPR because they say a single score is too reductive and too reliant on test scores. Pennsylvania recently scrapped its school-scoring system, known as SPP.
Others question the statistical reliability of SPR, which measures student growth on tests as well as overall achievement.
Hite, however, believes it's a useful tool that allows the district to compare different kinds of schools with a common measuring stick.
"It's meant to give us information about how we direct investments and supports and who we can learn from," said Hite.
District administrators aren't the only ones emphasizing data.
Shakae Dupre, the principal of Middle Years Alternative school in West Philadelphia, credits her school's dramatic improvement on SPR to a renewed focus on data. Every eight weeks, students take benchmark tests in reading and math. Dupre's teachers share those scores with each other, and with their students.
"You need to know what your data is in order to make it better," she said. "You can't grow if you don't know."
Middle Years Alternative jumped from a 32 percent SPR score in 2015-16 to a 71 percent in 2017-18. Student growth on standardized tests helped drive that spike.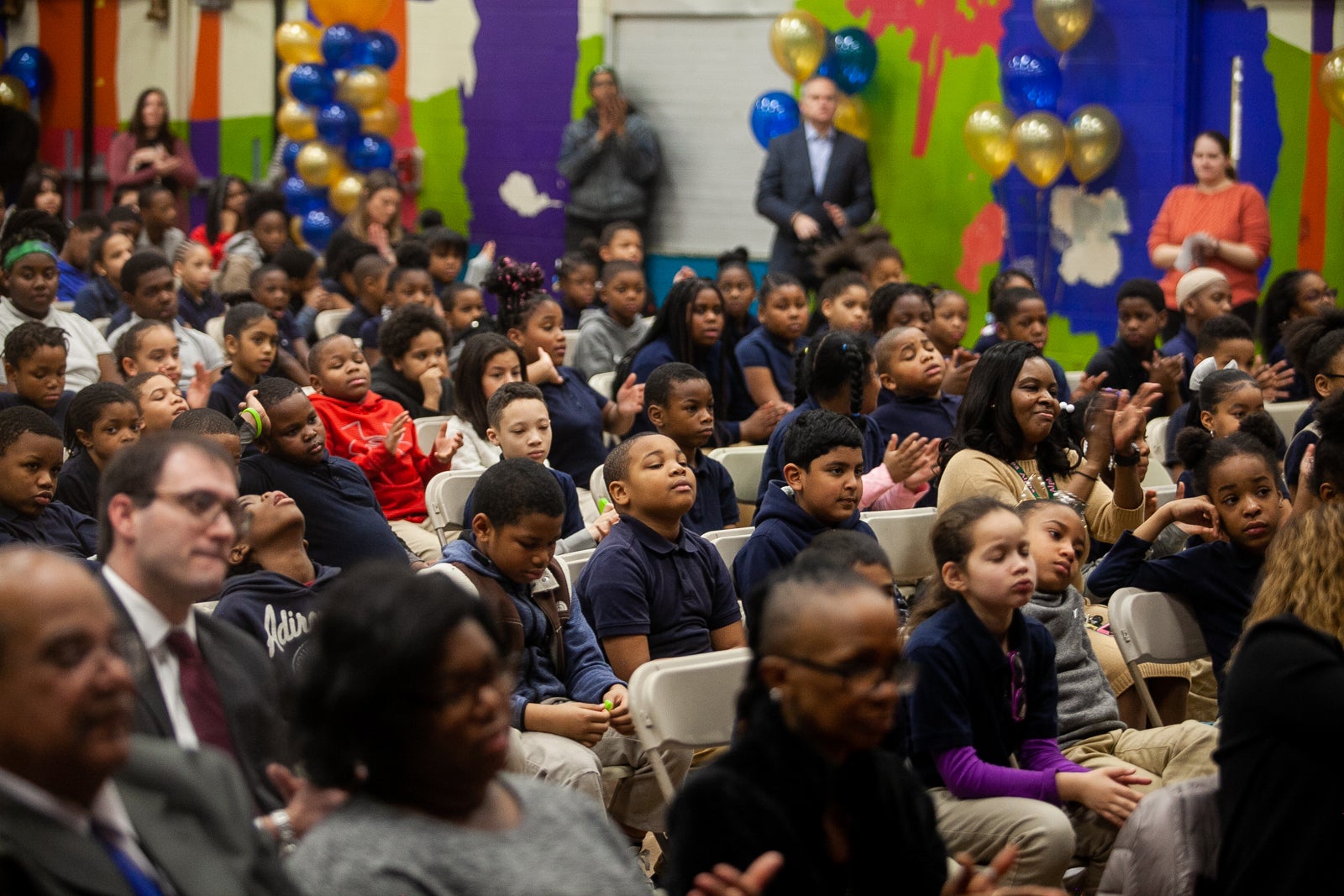 Scores also improved at Hartranft School in North Philadelphia, where principal Jason Lytle points to a change in behavior management. Hartranft embraced a system called PBIS, which calls on teachers to reward and incentivize good behavior just as vigilantly as they punish bad behavior.
The "school climate" portion of Hartranft's progress report ticked up each of the last three years, and its overall SPR score went from 7 to 47 percent over that same time.
"We've seen increases beyond belief," Lytle said. "Every time we set the bar high, the students reach that bar."
The school district also released its latest graduation rates. In 2017-18, the four-year graduation rate was 69 percent, up two percentage points from the year prior.