Philly mob figure 'Skinny Joey' Merlino gets two years in federal prison for gambling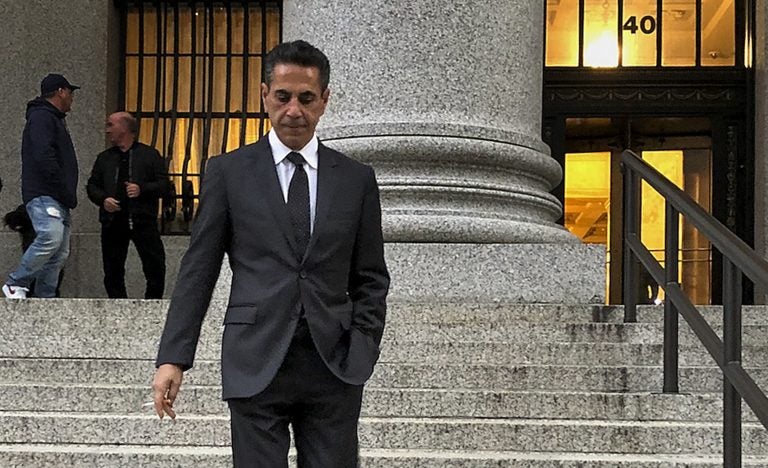 Joey Merlino, a former Philadelphia mob boss, was sentenced Wednesday in Manhattan to two years in federal prison for operating an illegal gambling business.
The sentence, first reported by the Philadelphia Inquirer, is the maximum possible penalty for the 1990s-era mob kingpin who pleaded guilty to one count of unlawfully transmitting gambling wagers across state lines.
Federal prosecutors pushed for the harshest sentence, saying in a recent court filing that "compulsive gambling is a dangerous addiction that can have a significant deleterious effect on a person's life. Merlino's offense conduct facilitated that danger."
Merlino, 56, who is known as "Skinny Joey," was arrested along with some 40 others in 2016 as part of a health care fraud prosecution. Authorities alleged the defendants convinced doctors to overbill insurance companies in exchange for kickbacks. Prosecutors said the group's other crimes including loan-sharking, credit card fraud, and extortion. Most of the defendants took plea deals to lesser charges. Merlino, however, fought the charges during a trial that concluded in February.
Part of Merlino's defense was that, during the alleged criminal activity, he was addicted to gambling. As he tried  to operate a new restaurant, he was often out of cash, so he took money from his bookie. Merlino never had a major role in the operation, his attorneys maintained.
The jury could not unanimously agree on a verdict, and Merlino walked free.
"Thank God for the jury," Merlino quipped as he left the courtroom that day.
In an unusual twist, Merlino then agreed to a plea deal on just one of the counts he faced, a gambling charge, as a way of dodging a federal retrial.
It was the first time Merlino, often pictured with slicked-back hair and flashy sunglasses, confessed to criminal activity. Identified by authorities as a former boss of Philadelphia's faction of the La Cosa Nostra, Merlino has a reputation for publicly bad-mouthing federal prosecutors and their seemingly endless pursuit of his activities.
Although he often beat the charges, Merlino had his share of losses.
In 2011, he was released from prison after serving 10 years for racketeering.
He then moved to Florida and opened a now-shuttered restaurant in Boca Raton.
With the FBI trailing him, Merlino was caught hanging out with an alleged mob associate at a Boca Raton cigar bar, a meet-up that triggered a parole violation that was eventually tossed by an appeals court.
In a sentencing memo to the judge, Geoffrey Berman, the U.S. attorney for the Southern District of New York, noted Merlino's many successful court battles with the federal government:
In 1999, he was indicted in an assault on a federal officer and acquitted.
In 2001, a jury found him not guilty of three counts of murder and two counts of attempted murder.
In 2003, he was acquitted of two murder charges.
On Wednesday, U.S. District Judge Richard Sullivan delivered a message that was an apparent nod to the gangster's lifetime of criminal trouble.
"Mr. Merlino, enough," said Sullivan, according to the Inquirer. "Let's move on."