Philly may require all pharmacies to stock overdose-reversal drug naloxone
Fewer than half of Philadelphia pharmacies have the overdose-reversal drug on hand, but city officials Philadelphia wants all of them to stock it at all times.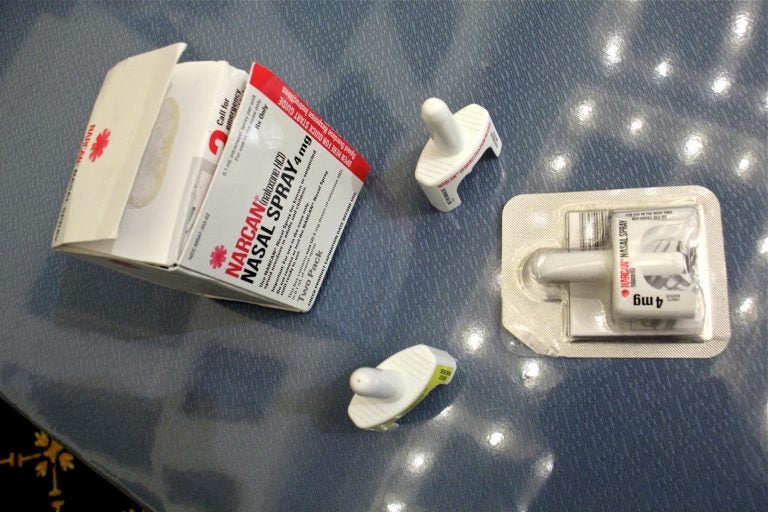 While more than 1,200 people lost their lives to overdoses in Philadelphia last year, the opioid overdose-reversal drug naloxone saved even more. Naloxone, commonly known by its brand name, Narcan, is administered by paramedics, police officers, SEPTA workers, and friends and family of people who use drugs.
To make the drug even more easily available, a City Council committee approved a bill mandating that all pharmacies in Philadelphia stock it. Recent studies show that fewer than half of city pharmacies do carry it.
The legislation is part of the city's promotion and distribution of naloxone. Health Commissioner Dr. Thomas Farley said that, since June of 2017, his department has given out more than 57,000 doses of Narcan to people in a position to administer it.
An overdose can be fatal when oxygen flow is cut off to the brain. Naloxone works by bumping the opioids off the opiate receptors in the brain, restoring the oxygen flow. The medication is usually administered using a nasal spray, and public health officials encourage anyone in the general public to carry and use it in the event of a suspected overdose.
To make naloxone easy to get, Pennsylvania Physician General Dr. Rachel Levine in 2015 signed a statewide standing order that makes naloxone available to anyone at a pharmacy without a prescription. But for that to work, pharmacies have to actually stock the drug.
According to a 2016 report by researchers at the University of Pennsylvania, only about 40 percent of pharmacies in Philadelphia had carried naloxone. The study found that the 19134 ZIP code — which includes the Kensington neighborhood at the center of the opioid epidemic — was the least likely area to stock naloxone.  The Department of Public Health estimates that this year, roughly a quarter of the city's 400 pharmacies don't carry naloxone at any given time.
Tuesday, Philadelphia City Council's Public Health and Human Services Committee unanimously recommended passage of a bill introduced by Councilman Bobby Henon that would require all pharmacies in the city to carry at least two kits of naloxone at all times. The bill would also require that pharmacies post a sign outside the store, notifying shoppers that the drugstore stocks naloxone.
Farley, who testified in favor of the bill, said his department would be responsible for its enforcement, which would entail random checks as well as responses to complaints. Pharmacies would be assessed a $250 fine for each day they were out of compliance with the law.
"Our goal here is for pharmacies to comply and have the medicine in stock," said Farley, who explained the fine is to encourage pharmacies to stock the drug. "They can buy two doses or kits for $250, so it makes much more sense for them to do what the law says and stock the medication than to pay the fine."
No one testified against the bill at the hearing, and Farley said his department doesn't think it was too much of a burden to place on pharmacies.
Councilwoman Cindy Bass, chair of the Public Health and Human Services Committee, said naloxone has become widely accepted among Philadelphians who understand its utility. Any argument that making it more widely available works to enable drug use would be "ridiculous," she said.
"I think that Philadelphians get it," said Bass after the hearing. "We're not just going to let people die on our sidewalks; we're going to do our best to save people when we have the opportunity to do something as simple as this. Why would we not do that?"
Both Farley and Bass stressed that naloxone availability is one approach in a multi-pronged strategy toward combating the opioid crisis in Philadelphia. The bill is expected to be approved by the full Council in the coming weeks and signed into law.
WHYY is your source for fact-based, in-depth journalism and information. As a nonprofit organization, we rely on financial support from readers like you. Please give today.