Popular Philly magnet to share building with low-performing neighborhood high school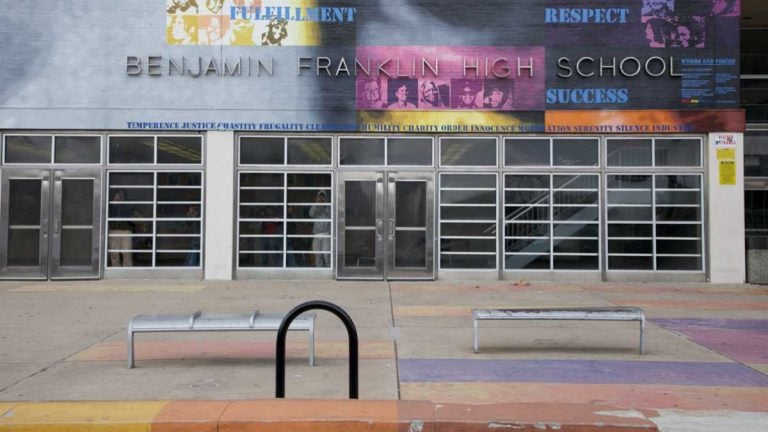 One of Philadelphia's most sought-after magnet schools will "co-locate" with one of its poorest, most low-performing neighborhood high schools.
On Thursday night, the School Reform Commission voted to set in motion the process of moving the selective Science Leadership Academy (SLA) into Benjamin Franklin High School.
The vote means one building will house two schools that are demographically, instructionally, and culturally very different.
The resolution, which passed unanimously without discussion or any comment from commissioners or members of the public, approved a $20 million contract for renovations and upgrades to the Benjamin Franklin building. The co-location will start in the 2019-20 school year.
The significance of the vote went largely unnoticed at a meeting in which the public speakers were focused on taunting SRC members and urging the body to vote itself out of existence so governance of the city's public schools could return to local hands.
Two different schools, one building
In a city that includes some of Pennsylvania's highest-performing and lowest-performing schools, some of its most diverse and some of its most segregated, these schools represent opposite ends of this spectrum.
In the 2015-16 school year, more than 2,200 students from all over Philadelphia vied for 125 spots in SLA's the freshman class. Franklin, which stretches across an entire city block and was built to hold several thousand students, has been steadily losing enrollment as elementary schools closed in its North Philadelphia catchment area and many students opted to go elsewhere.
Two years ago, the school district built an "advanced manufacturing" Career and Technical Education program at Franklin. It also houses a "welcoming center" for newly arrived immigrant students.
A district press release said the design plan for the building "will create a modern, new learning space that will house both high-tech CTE facilities and an innovative inquiry-based school. When completed, the renovated building will be able to serve close to 1,000 students in a prime center city location." It also touted the potential "synergy" between the CTE program and the inquiry learning approach of SLA.
SLA started 12 years ago under the leadership of Chris Lehmann, who is still its CEO, and was at the vanguard of a now growing movement to reinvent the high school experience as more student-driven and project-based. Since its inception, the school has been housed in a space on 21st and Arch Streets to the tune of $1 million in rent each year. The district has long sought to find a less pricey location, preferably in a building it already owns.
Lehmann was quoted in the district's statement as saying that the decision to move to Ben Franklin is is another step in the school's evolution.
"Twelve years ago SLA started out as a dream," the statement said. "With tonight's SRC vote to transform the Ben Franklin complex to house both SLA and a new Ben Franklin, we take the next step in that dream."
Parents and students have expressed a desire to stay in Center City where, they said, the school could take full advantage of its partnership with the Franklin Institute — and, some naysayers have argued, maintain its relative exclusivity and privilege within the district.
SLA has been expanding its model and now has three schools in the city: the original school, SLA Beeber, located in West Philadelphia, and SLA middle school in University City. The SRC also voted Thursday night to add middle school grades to SLA Beeber, expanding it to a 5-12 grade school by 2022. It will start admitting fifth graders next year.
SLA and SLA Beeber have admission standards, but the middle school, which opened this year, is open to all students in the neighborhood.
Lehmann for two years headed the Innovation Network of eight schools that all use a version of project- and inquiry-based education. He stepped down this year and is now CEO of the three SLA schools.
"This project is an exciting opportunity to not only redesign a traditional high school but to create an innovative high school space in the heart of the city," said Christine Borelli, Franklin's principal, in the district's statement. "It will be a powerful synergy of high tech CTE facilities and an innovative inquiry learning program. This gives our students and school community the unique opportunity to positively shape the future of Ben Franklin High School."
In the resolution, the SRC hired the design firm of Stantec Architecture & Engineering LLC. Its press release said that a committee of parents, teachers students and leaders from both schools "will provide input into the building design and guide the planning for bringing two school communities to a single location."
The construction will start this month and take two years to complete. Of the $20 million, between $10 and $12 million is designated for previously planned renovations and repairs to the roof, elevators and windows, while the rest will be for the design and construction of an improved Ben Franklin and the new SLA.
Advocates urge return to local control
While all that went largely unnoticed, most of Thursday's SRC meeting was dedicated to the future of the SRC itself, with dozens of speakers calling for the body's dissolution. The activists chanted, sang, jeered, and repeatedly shouted down SRC members, all in their effort to remove what they say is an unresponsive and unaccountable commission.
A formal campaign — called "Our City, Our Schools" and backed by a coalition of progressive groups — has been urging the SRC to vote itself out of existence this fall. Such a move would require the approval of at least three commissioners and the state's Secretary of Education.
The advocates' urgency stems from political considerations.
In order to remove the SRC before next school year begins, a dissolution vote would have to occur before mid-December. Right now, anti-SRC agitators have a clear opening. Three of the board's five members were appointed by Democrats, including Mayor Jim Kenney and Gov. Tom Wolf, who've said they want Philadelphia returned to local control.
But if the SRC stalls too long and Wolf loses his reelection bid in 2018, his successor could appoint an education secretary that would block any SRC action toward dissolution. Under the law that created the SRC 16 years ago, three members are appointed by the governor and two by the mayor.
Over hours of testimony, speakers pleaded with the commission to act fast. And they didn't resort to flattery, instead lambasting the commissioners for what they called a failed experiment in state oversight.
"You guys don't know how to do your jobs. You're not good at it. And you really, really just need to get the hell out of our city," said community member Dominic Falcone.
Falcone said the SRC had "racist overtones," because it was established by majority-white lawmakers in Harrisburg.
Many speakers decried the district's lack of financial stability during its 15 years under SRC rule, a problem many said state oversight was supposed to help ease.
"Give us the chance to make the changes, steer the ship and choose our own path," said Lori Mazer, parent of a second-grader at Andrew Jackson School in South Philadelphia.
SRC members offered little response to the barrage of criticism outside a brief statement from chairwoman Joyce Wilkerson.
In an interview after the meeting, Wilkerson said the SRC has been looking closely at a governance change and would continue to hold "conversations" about dissolution. But she offered no timetable, even as speaker after speaker taunted her to promise to put a resolution on next month's meeting agenda.
"I think the coming weeks are important," she said. "I think it is timely that we revisit the whole issue of the role of the SRC and the opportunities that may come from more direct local control."
Wilkerson said she looks forward "to having a robust conversation with input, hopefully substantive input, on the issues we'll have to consider."
Wilkerson declined to elaborate on what those issues might be or who exactly would be a part of that robust conversation. She did, however, say Mayor Kenney will have "a critical role."
Since Kenney appointed Wilkerson, it figures he and his staff will be deeply involved in the timing of a dissolution vote and whatever governing body succeeds it. Kenney has endorsed the idea of local control, but always cautiously.
He's said before he worries abolishing the SRC would make it more difficult to squeeze education dollars out of Harrisburg Republicans.
And there are certainly other issues to consider.
A governing shakeup could turn off credit-rating agencies, one of which recently lauded the district's administrative stability. There's also a push to formalize district policies so that a local board couldn't undo certain things the SRC has advocated, according to commissioner Bill Green.
As an example, Green cited the SRC's push to formalize and strengthen the district's authorizing practices around charter schools. Green said the SRC wants everything in writing so that a local politician couldn't undo the SRC's authorization practices without at least going before the public.
"We want the charter office under local control to perform in accordance with [national] standards — not by politics, which is how it performed until five years ago," Green said.
While Green said he favors a return to local control "at the appropriate time," he worries a locally elected or appointed board would be less insulated from transactional politics than the SRC.
"People forget that local control resulted in a lot of politics, a lot of politicians getting charter schools that ultimately failed," Green said.
He was particularly alarmed at the prospect of a locally elected school board, which is the style of governance in most school districts. He believes local school board elections would be low-turnout, and thus, ultimately orchestrated by ward leaders and union donors. In such a scenario, Green argued, the district would spend beyond its means to keep unions happy and run into the same money woes that forced a state takeover 16 years ago.
Although Green thinks, theoretically, local control is the best option, he believes whatever body comes after the SRC will run into the same recurring problems that have plagued Pennsylvania's largest school district for decades. And he believes it all starts with money, namely the district's inability to raise its own.
"Whether it's elected or appointed a local school board without taxing authority will be in the same position as the SRC," Green said. "It can only spend what it gets."
WHYY is your source for fact-based, in-depth journalism and information. As a nonprofit organization, we rely on financial support from readers like you. Please give today.