Sculptural fountain at Philly's Cherry Street Pier is a 16' glass bed of living mussels
"Freshwater" by Jean Shin spotlights the importance of mussels as "ecosystem engineers" keeping our rivers clean.
A new, temporary sculptural fountain has been installed in Philadelphia's Cherry Street Pier that pumps Delaware River water 16 feet above the pier. The water then trickles down through 30 blown-glass pods suspended in the air.
The river water gets cleaned as it moves through the artwork. Inside the glass baubles are freshwater mussels, each of which can clean 10-15 gallons of water a day. The work, "Freshwater," acts as a natural filtration system.
Brooklyn-based artist Jean Shin calls the work a "living laboratory." It was commissioned by Philadelphia Contemporary as part of Water Marks, an multi-year series of sculptural work temporarily installed along the Delaware River.
"People often see the surface of the water but don't have a chance to understand the quality of the water and the habitats that it creates," said Shin. "My fountain at the pier is envisioning an ecosystem that is possible if freshwater mussels could happily cohabitate in the Delaware River."
Historically, freshwater mussels used to happily live in the Delaware River, but now are considered one the most endangered aquatic species.
"We are home to over 300 species of freshwater mussels, out of which 60 to 70% are considered endangered, threatened, or imperiled — going extinct," said Lance Butler, senior scientist with the Philadelphia Water Department's Office of Watersheds.
They have been dying off for several reasons: water pollution, the construction of dams that block the flow of fish upstream, and retail fashion. Mussels had been highly sought after by 19th century manufacturers of shell buttons, to the extent that the bivalves were overharvested.
In a nod to that industrial history, Shin has included vintage shell buttons in the basin at the bottom of the fountain. In her art practice Shin often uses discarded or reclaimed clothing, weaving their inherent personal intimacy into the meaning of her installations.
In this case, she already had these buttons in bulk, waiting for a reason to use them.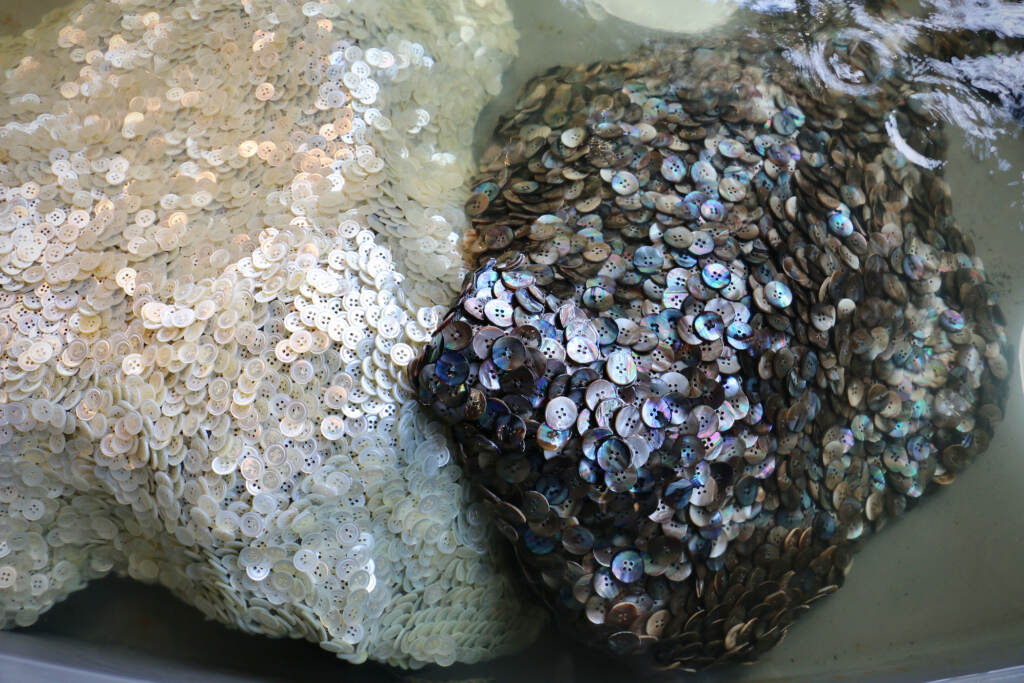 "I had the fortune of discovering these vintage buttons in a warehouse in New Jersey that had been hoarding them, thinking they were incredibly valuable until they got replaced by buttons made of plastic," she said. "No one really wanted them."
There are two species of freshwater mussels in "Freshwater," the Eastern Pondmussel and the Alewife Floater, both native to this area but nowhere near the population they used to have. These specimens were born in the mussel hatchery inside Fairmount Water Works.
Since 2017, marine biologists with the Water Department have been nurturing freshwater mussels in a laboratory, with the intention of forming beds of mussels in Philadelphia area rivers. The repopulation is not just good for endangered mussels, it could also be a natural means of controlling water pollution as "ecosystem engineers."
"We are just starting in the Philadelphia region and in the Delaware basin when it comes to freshwater mussel restoration," said Butler. "We're doing multiple types of studies, whether reintroduction studies, or test studies in stormwater wetlands, or areas that used to have populations of mussels. There's much more scientific research to be done before we start to implement a full-scale restoration plan."
It hasn't helped that much of the last five years, since the mussel hatchery began, has been hampered by uncontrollable forces: the pandemic caused the hatchery to shut down for fear of infection. Then in September 2021, the remnants of Hurricane Ida flooded the hatchery under nine feet of water, destroying much of its equipment.
"Freshwater" came along just as Butler already had a lot on his plate. In the midst of the massive hurricane cleanup and preparing the lab for its first propagation season in three years, Butler got a call from Shin and Philadelphia Contemporary asking if he would participate in the art project.
"When it was initially presented to me, I was, like, 'Wow, that's impossible,'" he said. "Then I'm, like, 'Wow, that's actually a really cool project.' You're marrying art with science, a living exhibit. I got latched onto it."
"After visiting her web page and seeing the work she's done, I knew that she was for real," said Butler. "I knew she was going to pull off something, in my opinion, pretty incredible. And from what I've seen so far, it is."
"Freshwater" will continue trickling and filtering until November 6, with new mussels being rotated in weekly.
WHYY is your source for fact-based, in-depth journalism and information. As a nonprofit organization, we rely on financial support from readers like you. Please give today.