Not your grandmother's bharatanatyam: Indian dance tradition gets modern update in 'Philadholphia'
Philly based Usiloquy Dance Designs gives centuries old Indian dance tradition a modern update in its latest production "Philadholphia."
Listen
6:00
As an immigrant from India, I'm always attracted to art forms that remind me of the country I grew up in. One that I've found in Philadelphia is Usiloquy Dance Design, a contemporary dance company that creates original works rooted in the Indian classical dance style of bharatanatyam. But this is not your grandmother's typical bharatanatyam, according to the group's founder and artistic director Shaily Dadiala.
WHYY host Priyanka Tewari sat down with Dadiala to learn more about the company's latest presentation called "Philadholphia" debuting Saturday, Nov. 12 at Fringe Arts Theatre. Tickets are available on Eventbrite.
Note: This transcript has been edited for clarity. 
So let's talk about "Philadholphia". What can people expect? What is the show all about?
Dadiala: I bet anyone from South Asia or the South Asian diaspora has heard of a dhol. It's a double faced barrel shaped drum [a percussion instrument]. It's an invocation to join fanfare, to be part of a community. I think Philadelphia was established so that dhol could neatly fit in between this beautiful city's name.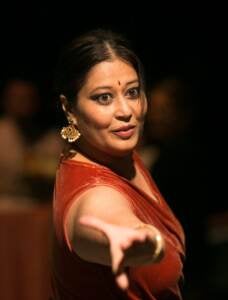 It fits perfectly! "Philadholphia" features a dance performance called chaat. Explain what chaat is? 
Dadiala:  Chaat is something I originally choreographed in 2008-2009. The idea was chaat, this street food, has so many complexities. Then we have this powerful medium, the dance style, that is so many centuries old that we're keeping alive. I wanted to choreograph something that reflected the elements, individual elements that make up a chaat dish: the flavors, the textures, how they are distinct – but also how they all come together harmoniously in the end to make a perfect dish.
"Philadholphia" also features a musical performance by Rini, a New Jersey-based musician who melds her carnatic music background with western influences. So how did that collaboration with Rini come about?
Dadiala:  I had the pleasure of being part of a small, intimate concert where Rini was playing. Rini grew up in a very different part of India than me. She grew up in Chennai, so the language she speaks is very different. Yet it occurred to me that she was doing with carnatic classical music, which is again a very distinct, regimented music style, she was doing with it what I have been doing with bharatanatyam all these years. She wants her culture and her music traditions to be seen for what they are. At the same time she wants to go the extra mile in not alienating diverse audiences. And pushing the music, also that this music can do different things. It can. It doesn't have to be set in stone. I told Rini the Philadelphia audience is very interested and they are invested in different kinds of art forms. They want to learn more. They want to experiment. They want to investigate. And, You have to be seen here with your fellow musicians and I'm so glad she said yes.
What would you say to somebody who's kind of on the fence about checking you guys out and this performance of "Philadholphia"?
Dadiala: I would say you'd surprise yourself. Give us a chance. Although this is carnatic music and bharatanatyam both… very old traditions, centuries old. They have continued, but they also have adapted and changed and transformed with time, just like we have. So people might be slightly surprised about how receptive they are. They might see themselves reflected in the dancers. Ankita, Meghna, Antima, Aney, Meena, Anusha. The things we talk about. One that comes to mind is in one piece we are making an allusion to how Martin Luther King Jr. was inspired by Mahatma Gandhi's salt march. That basic humanity, that human to human connection, is something that we all have a responsibility to look out for. Not be bound simply by geographic decisions. You do not have to have any reference, any knowledge to come and savor this.
WHYY is your source for fact-based, in-depth journalism and information. As a nonprofit organization, we rely on financial support from readers like you. Please give today.