Chew on this: Philly gumball machines dispense poetry and mental health care
Local poet LindoYes! Is distributing free positive poetry and access to city behavioral health resources through nostalgic gumball machines.
Listen
1:24
Philadelphia poet Lindo Jones, known as LindoYes, describes himself as an artist-activist, using his poetry in the service of social justice efforts.
During the widespread demonstrations in Philadelphia in the summer of 2020, LindoYes could be heard reciting his work from the center of protests. He takes inspiration from activist and filmmaker Toni Cade Bambara, who once said the artist's job is to make revolution irresistible.
"What I'm striving to do is make sure that ideas of social change — that I feel as though is so immediately needed — becomes so irresistible that they become as immediate as everything else that we need," he said.
His newest vehicle for change is the gumball machine.
LindoYes has installed three standard, mechanical gumball machines in locations around the city, each stocked with plastic pods which would normally contain a little toy. Instead, the poet has put in each capsule a short, original poem and information on the city of Philadelphia's Mental Health Delegate hotline.
Even the lightest thing
if held for too long,
weighs heavy on the
heart, no one should
carry that weight alone.
The pod also includes a hand-made lapel button of LindoYes' own design stamped with a piece of coarse fabric on the back, a texture that could be soothing to rub during times of high anxiety.
The gumball machines are free, no coins needed.
LindoYes said he must cope with his own mental health problems, including anxiety, and was inspired last summer when the city of Philadelphia launched a 24-hour mental health support line at 215-685-6440.
"I got really excited," he said. "I was like, 'What will make this information more accessible and more fun and more exciting for folks?' What had made me feel that way in the past was gumball machines."
LindoYes recalled as a child growing up in Philadelphia, his grandmother would take him along while shopping for groceries. He admires his grandmother for providing "bread and roses," or sustenance for both body and spirit.
"I grew up in what I would consider a working poor family. We didn't have everything we needed," he said "Every time she would go to the grocery store, [my grandmother] would always invite me — I knew that invitation was for me to get my roses — she would pay the cashier and she'd be like, 'Do you want anything from the gumball machine?' My granny always put aside a dollar or two for me to get something from the gumball machine."
LindoYes hopes other people have similarly warm and nostalgic feelings toward grocery store gumball machines. They are currently in three locations in Philadelphia: the South Philadelphia Community Fridge at the Bok Building at 9th and Mifflin, the Liberation Center on Norris Square in Kensington, and the headquarters of the Painted Bride at 52nd and Market.
He said there is a fourth machine forthcoming shortly in a location to be determined.
The gumball machine is the namesake of LindoYes' one man play, The Gumball Machine, a multi-media performance that premiered at the Painted Bride on November 4. He says poetry is able to put language to feelings that might otherwise be ignored or ridiculed by what he calls toxic masculinity.
"When I don't have access to the language and I'm going through something, it makes it a barrier for me to be able to locate what is causing it," he said. "One of the things that I'm discovering with my emotions is the spectrum of sadness. Sometimes I can be resigned. There's more than just sad and depression. There's being resigned, withdrawn. Then I can start building community with others where I don't feel isolated with my emotions."
For the gumball machine in the Liberation Center in Kensington, the Philadelphia headquarters of the Party for Socialism and Liberation, LindoYes included a poem tailored to the party's mission.
As five fingers come
together to make a fist
we must mimic that
solidarity to have
greater impact.
The label button included in the gumball capsule features a design of a raised fist.
Program director Talia Giles says the poem and the gumball machine are a good fit for the PSL space.
"It connects with working class people because, one, it's really colorful and fun. It's something that a lot of us, especially millennials and us older generations grew up with," said Giles. "A lot of people make assumptions about, 'oh, we have to be serious all the time,' but we can also have fun. It's important for us to have fun as we're building solidarity with each other, as we're building community with each other. It doesn't always have to be super serious."
The Liberation Center recently moved into 147 W. Susquehanna from its previous location a few blocks away at Front and Dauphin. Earlier this year LindoYes performed spoken word poetry for the opening of the party's new headquarters.
The larger space allows the party to have a library filled with books, comfortable seating, and buckets filled with crafting supplies. The poetic gumball machine is within arms reach of an easy chair.
"We recognize the fact that a lot of working class people have families," said Giles. "It's important that we have a space that is inclusive of that, a space not only for adults but also for our youth."
Having fun and taking care are part and parcel of LindoYes' gumball machines.
"How can we make a gentle world that we can walk around barefooted, by doing this internal work of recognizing softness?" he said. "Recognizing how our emotions can be both our sword and shield, something that we can use to defend ourselves against harm as well as allow us to have offense against things that are harming us."
Each gumball machine can have as many as 200 pods inside. LindYes says he has had to restock the South Philly machine since launching it in July, estimating about 500 pods have been distributed with a poem and the behavioral health hotline.

WHYY is one of over 20 news organizations producing Broke in Philly, a collaborative reporting project on solutions to poverty and the city's push towards economic justice. Follow us at @BrokeInPhilly.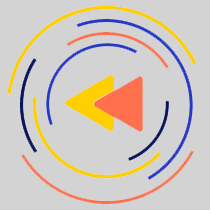 Saturdays just got more interesting.
WHYY is your source for fact-based, in-depth journalism and information. As a nonprofit organization, we rely on financial support from readers like you. Please give today.