Philly bird-watching groups are changing the way we see birds
As spring warms up and birds start to migrate, they will be met by new bird-watching groups that reflect Philadelphia's diversity.
Listen
4:37
Early on a recent Sunday morning, about a dozen people gathered at FDR Park in South Philadelphia to go bird-watching.
Most of them were new to birding. Many did not have their own binoculars. They got a lot of help from their guide, Jason Hall, who distributed loaner binoculars to anyone who needed them. He immediately set up his spotting scope in the parking lot so everyone could get a close look at the large black-backed seagull perched on the roof of the Boathouse.
They walked through the FDR meadows, what used to be a golf course now overgrown into a wild, marshy haven for hungry birds. He told everyone to keep a sharp eye on a very active brown creeper in a nearby tree.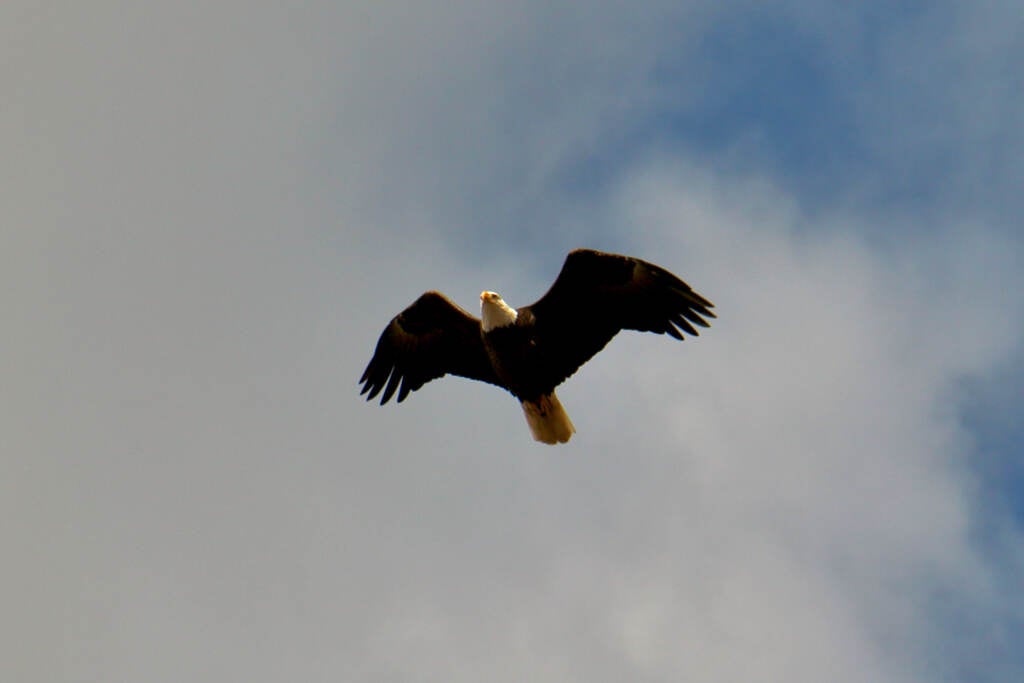 "On this branch right above me. Just look for motion," he said. "There he goes! He just flew a little bit. Look! He went over there. He's at the bottom of the trunk."
This is In Color Birding, a group meant for Black birders. As it happens, the group gathered on this day is mostly white. Other walks are exclusively for Black participants. On the surface it resembles any other guided birding walk, until Hall paused to offer some wisdom on watching a bird eat.
"If you stick around and you're patient, you get this intimate view of what the bird's life is like. If it's doing that stuff in front of you, number one: You should be thankful," he said. "Number two: That means you're entering that bird space in a way that is appropriate because you're not scaring it off. It's still eating its food, right?"
"Think about that as we enter spaces with people that maybe are not like us. They're different from us, right? Is their reaction giving us a clue that we are entering their space inappropriately? And how can we correct ourselves?," he continued before turning to keep walking down the path. "I didn't mean to get too deep. Let's keep looking at birds."
Hall, who is Black, started In Color Birding a year ago because, historically, bird-watching has been an activity predominantly taken up by affluent white men. He created the group to guide Black people into outdoor spaces where they otherwise may not feel welcome. Hall mentioned the incident in New York where a woman called the police on a Black man bird-watching in Central Park.
One of the participants is Katrina Clark, who is also Black and before the pandemic had never imagined herself as an outdoorsy person. She never went hiking or bird-watching. She discovered bird-watching two years ago while forcing herself to go on constitutional walks through West Philadelphia.
Now she can't get outside enough.
"I hated it to be outside, and then I needed it so badly," Clark said. "I really feel like this is what keeps me healthy and happy. And there's…"
She stopped mid-sentence as a bald eagle suddenly crossed the sky.
"Oh look at that. Amazing! There's a bald eagle!" she gushed. "I literally live near bald eagles. How's that possible?"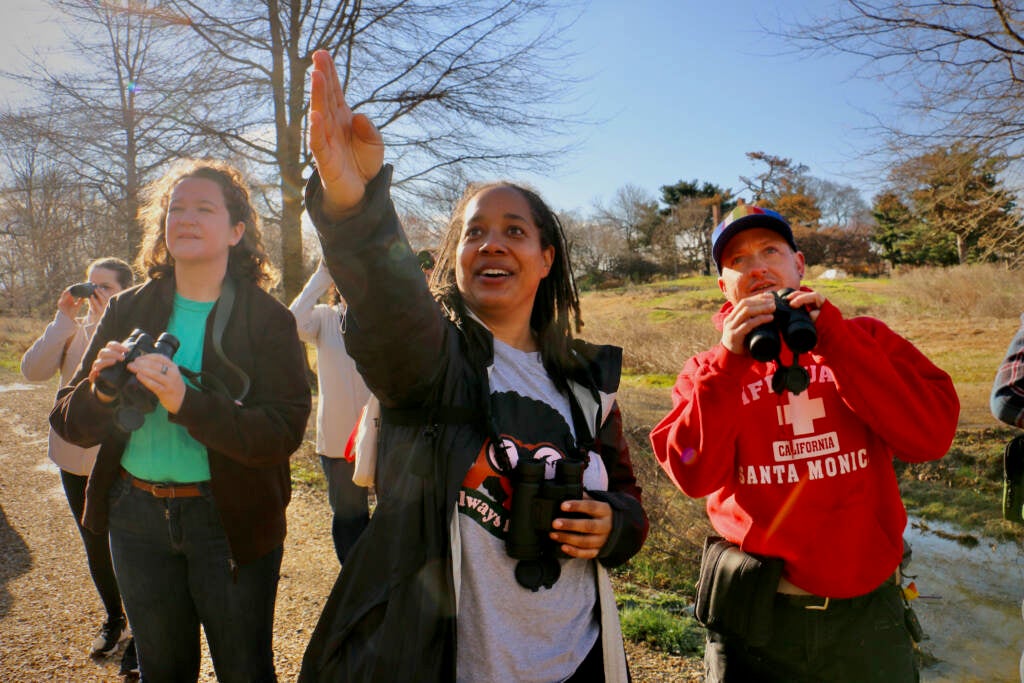 The need to recreate in safe, outdoor spaces caused an unprecedented spike in bird-watching during the pandemic, so much so that it disrupted scientific data collected through bird-watching apps like eBird and Merlin.
The rise in bird-watching may also be changing bird-watching, itself, by expanding and diversifying the people who participate in the hobby with groups like In Color Birding.
The year 2022 has been declared the Year of Birds by the Awbury Arboretum, 56-acres of old-growth trees in the otherwise urban East Germantown neighborhood of Philadelphia. This year most of its programming will be focused on all things birds.
"It's kind of addictive. Birds are kind of like that gateway drug to nature, in some ways for people," said Bill Reaume, a board member of Awbury Arboretum and a bird-watcher for 30 years.
"It's like: 'I saw this, and now I saw this. And now I want to know what tree that bird is on. And now, what's it eating?'" he said. "Birds bring us real personal moments to connect with nature."
Awbury Arboretum is a free and open green space – there are no fences – so it is impossible to accurately track how many people use the space. Nevertheless, Reaume said there has been a noticeable increase in traffic since the pandemic began.
There are at least 150 species of birds identified at the arboretum, and historic records that show the original Quakers who lived there were recording bird sightings in the mid-19th century.
During the Year of Birds, Awbury will host an array of programming, including birding walks, bird-related craft activities, and talks by prominent birders including Hall's "A History of Birding and Ornithology Among Black and Brown Communities," and George Armistad with a tongue-in-cheek title, "Birders: A Field Guide to Birder Behavior in Philadelphia."
The problem with birding is not the birds, but people. Reaume said not only has the activity been populated mostly by privileged white men, but there is a reserved culture to birding: protecting the knowledge you have, and sharing with other birders only when you feel they have something to share with you as well.
"It was weird to me, coming in," Reaume said. "I'm a white male and it wasn't about my race or gender. I was new. There were times I felt like I wasn't necessarily going to be in the conversation."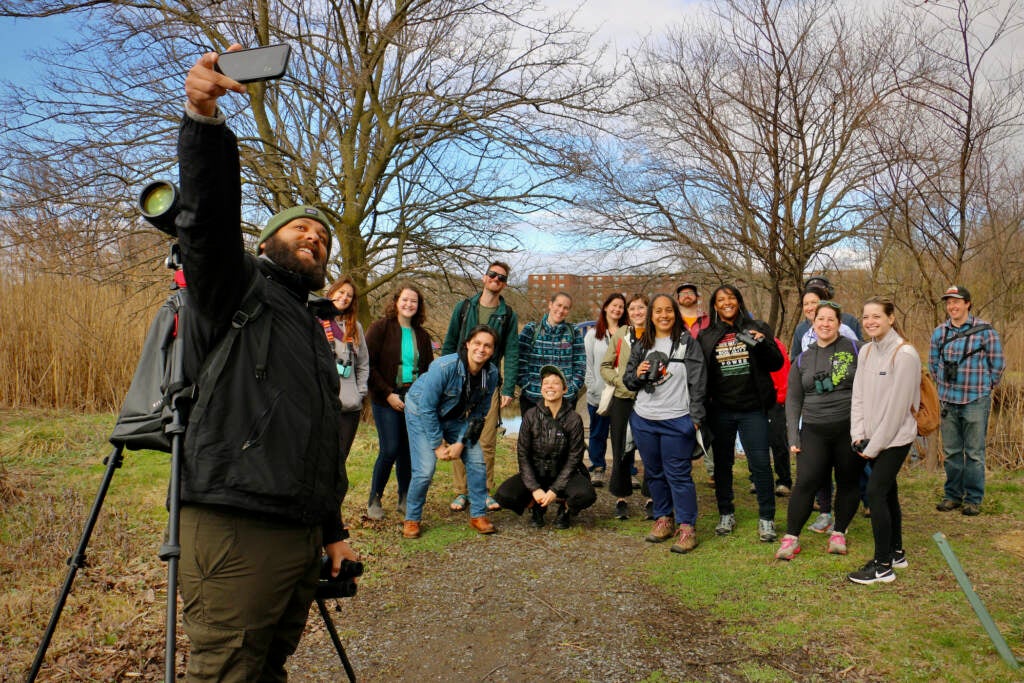 The birding community has started to change. Last year the national Audubon Society appointed its first woman CEO – Elizabeth Gray – since the organization was founded in 1905. New independent groups are forming, like the Feminist Bird Club six years ago, and last year, when In Color Birding was founded along with Philly Queer Birders, created for the LBGTQIA+ community.
Although Queer Birders is open to anyone "who shares our values," said organizer Elise Greenberg, who wanted to create an intentional space where queer people would feel welcomed and supported.
"People want to be with their people," they said.
Greenberg also said birding can be intimidating to the novice who does not have the knowledge or equipment – the high-powered spotting scopes and long-lens cameras – that seasoned birders do. They also are not asking people to travel very far: the walks are conveniently located within Philadelphia, usually in FDR Park, the John Heinz National Wildlife Refuge at Tinicum near the airport, or Fairmount Park.
"It doesn't have to be having a ton of expensive equipment, it doesn't have to be taking pictures. It can literally just be sitting in the woods listening to birds," Greenberg said. "You don't have to keep a list. You don't have to know what birds you're listening to. It's, you know, literally just enjoying birds."
Although Philly Queer Birders is open to anyone, interest has become so high that Greenberg has started restricting the number of people that can come on any one walk. Last December, 50 people showed up for a bird walk. And that was in the winter. As spring weather warms and migration season ramps up, more newbies are expected to come out.
Philly Queer Birders have teamed up with In Color Birding and the Philadelphia chapter of the Feminist Bird Club to create birding events catered to people with disabilities: instead of a bird walk it is a bird sit, where the group stays in one location and watch the birds as they pass by.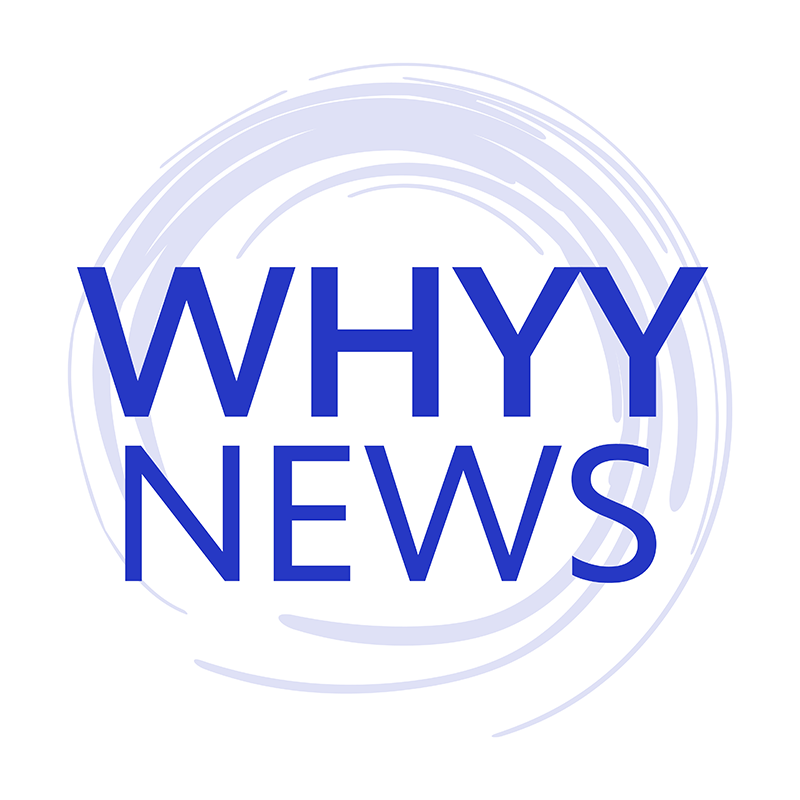 Get daily updates from WHYY News!
WHYY is your source for fact-based, in-depth journalism and information. As a nonprofit organization, we rely on financial support from readers like you. Please give today.