Passage Theatre presents play telling stories of minors sentenced to die in prison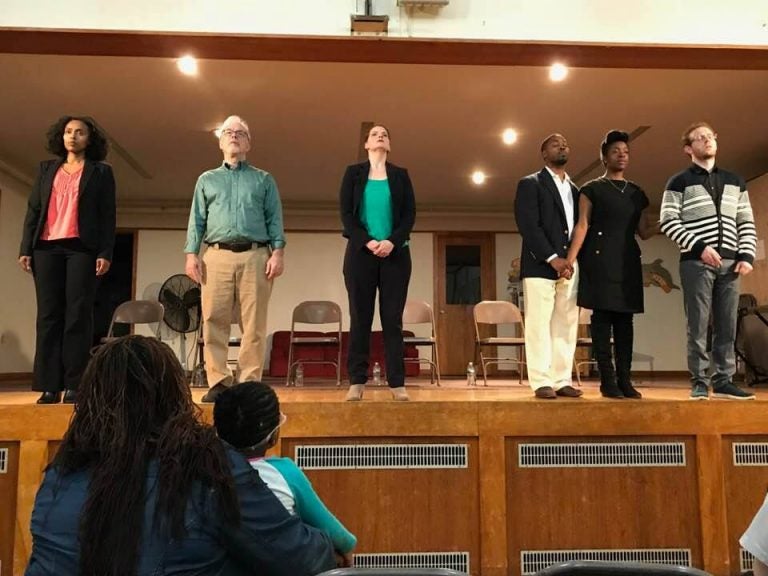 For as long as she can remember, playwright Elizabeth Weill-Greenberg has opposed the death penalty.
"Even when I was little, and my dad first told me about the death penalty, I couldn't believe our own government would execute anyone," she said. "It always seemed inherently wrong. I am not religious, but one thing I believe is that we all have an innate humanity that should be respected."
The United States is the only country in the world that sentences children to die in prison. Weill-Greenberg questions the justice of this in "Life, Death, Life Again: Children Sentenced to Die in Prison." The documentary play shares stories of people sentenced to die in prison for violent crimes committed as children, as well as the story of a victim's son who chose to forgive. It will be performed at Passage Theatre at Mill Hill Playhouse Thursday at 7 p.m. Free tickets can be reserved here.
"By hearing the voices of children impacted by this policy, as well as those who have reconciled with the young person who caused harm, we can begin to imagine a justice system rooted in restoration and possibility, not destruction and hopelessness," said New Jersey Assemblywoman Verlina Reynolds Jackson. She will participate in the post-play discussion, along with a pastor, police, assistant public defender, Weill-Greenberg and others.
Between 2014 to 2017, Weill-Greenberg interviewed people who committed violent crimes as children and were sentenced to die in prison, as well as the families of victims of violent crime who forgave the killers of their loved one. Four of those stories are presented in "Life Death, Life Again," which is being produced by coLAB Arts, a New Brunswick-based nonprofit seeking to create more livable, sustainable environments through art.
The play tells the stories of:
Bill Pelke, the founder of Journey of Hope: From Violence to Healing, an organization made up of murder victim families who oppose the death penalty. In 1985 Pelke's grandmother was murdered by four teenage girls. One, Paula Cooper, 15 at the time, was sentenced to death. While Pelke first supported the sentence, he came to forgive her and worked to overturn her sentence. Cooper was released in 2013; two years later, she took her own life.
Sean Taylor who, at 17, shot at a house and killed one of its occupants. In 1990, he was sentenced to life in prison but was released in 2011. During his incarceration he left the gang he had joined at 14, and committed to transforming his life.
Joe (because he has an active legal case and is still incarcerated, his name and certain identifying details have been changed) who, in the 1990s at age 14, shot the homeowner of a house he had broken into. He was sentenced to life in prison, but is one of thousands affected by the 2016 U.S. Supreme Court decision Montgomery v. Louisiana, which held that a mandatory life sentence without parole should not apply to juveniles convicted of murder.
Underwritten with a grant from the New Jersey Council for the Humanities, "the play is for people to hear these stories and look past headlines of cruel acts of violence," said Weill-Greenberg. "It's important to share these stories, to show that these are real people."
Weill-Greenberg, director of communications for the New Jersey Institute for Social Justice, lectures on wrongful convictions at Rutgers. She has also worked as a case analyst for the Innocence Project, an organization that uses DNA testing to exonerate the wrongly convicted.
During this work, she attended a conference in which exonerees performed monologues about the inhumanity of their incarceration and found herself crying along with the others.
"I kept thinking, do we only care because they're innocent? Would this inhumanity be acceptable if they were guilty? We shouldn't condemn anyone to die in prison, particularly children," she said. "Giving them a second chance at life doesn't necessarily mean you're undermining the value of the victim's life, which is why I also tell a story of forgiveness in the play."
'You do not respond to violence with violence'
Feeling powerless to stop something her heart considered wrong, and guilty for not doing more, Weill-Greenberg worked on the play nights, weekends and while her son slept. She had never written anything like this before. After many rewrites, she posted on Facebook, "Does anyone know how to get a play produced?"
Among the contacts offered was the one at coLAB.
Her son is now 5, and while she has attempted to broach the subject she feels passionate about with him, Weill-Greenberg finds he's more interested in superheroes than in people going to jail.
"I try to gently explain, 'Mommy doesn't believe people should be caged when they make mistakes.' He'll come to these thoughts on his own, and may not have my views. My husband and I can only share our views."
So what, then, would she describe to her son as an appropriate form of justice for juveniles who have committed lethal crimes?
"We can look to other countries with more humane systems, in which dignity and respect are part of the programming, and the goal is return to the community."
She points to Germany, where inmates are permitted to wear their own clothes, cook their own meals and have romantic visits, and the focus is on rehabilitating prisoners so they can return to society. Wardens are often professional psychologists and emphasize therapy over security.
At Norway's Halden Fengsel, often called the world's most humane maximum-­security prison, there are no coils of razor wire, no lethal electric fences, no towers manned by snipers, and yet no prisoner has ever tried to escape. There is no death penalty and no life sentencing in Norway.
"Our system is based on banishment," said Weill-Greenberg. "One of the elements of restorative justice is some kind of reconciliation between the person who has caused the crime and the person who has suffered."
How does one find forgiveness for a brutal act that is clearly wrong and takes away the life of another?
"Bill talks about how it's totally a normal emotion to feel angry after a violent death," she said. "It's normal to feel you want vengeance. He didn't forgive right away, at first he supported the death penalty but eventually he forgave."
A self-described pacifist and atheist, Weill-Greenberg said she is called to this work. "No matter what the circumstances, you do not respond to violence with violence. Sanctioned violence is the most immoral kind of violence there is."
"Life, Death, Life Again" is being performed at Passage Theatre during its run (through Sunday) of "Caged," written and performed by the New Jersey Prison Cooperative and about a family's struggles to overcome poverty, and their experiences in and out of prison.