Paine's Park will open May 22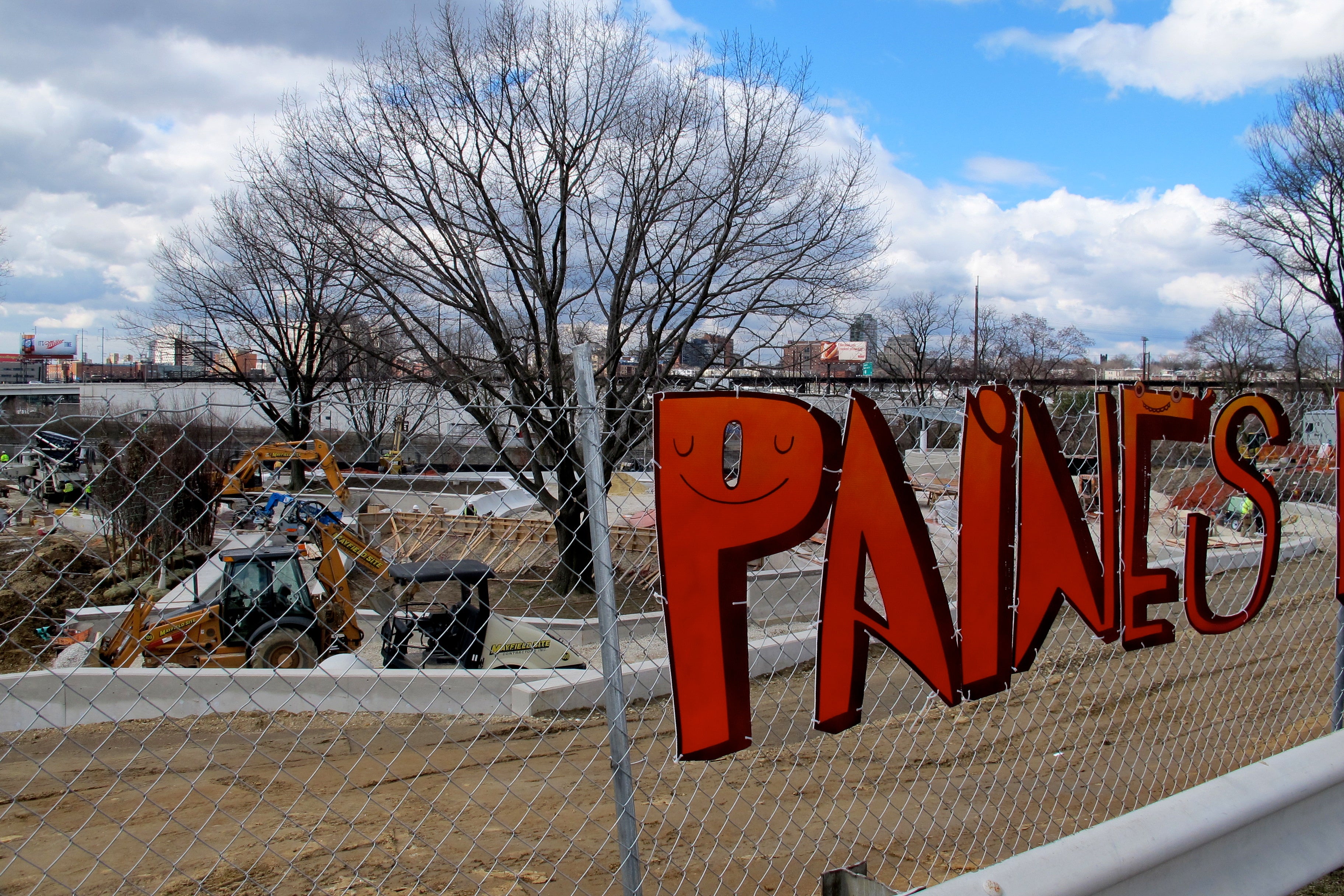 The shape of Paine's Park, the city's new skate-centric public space, is coming clearly into view after six months of construction. Since October crews have worked to create the park on the slope between Eakins Oval and the Schuylkill River Trail. And on Wednesday, May 22 Paine's Park will officially open to the public.
Paine's Park isn't so much a skatepark, but a shared public space where skateboarding is the primary use. In addition to skatable street furniture, there are seating areas and new links between the Parkway and Schuylkill River Trail. The park's designers, Anthony Bracali of Friday Architects/Planners and SkateNerd's Brian Nugent, aimed to replicate the kind of skating environment found in LOVE Park, featuring benches, walls, and rails. The difference is that grinding here won't get you chased by the cops.
And while Paine's Park may not replace LOVE Park or Dilworth Plaza in the hearts of some skaters, pieces of those spaces are part of the new park. Two 20-foot granite slabs salvaged from LOVE Park and eight benches from Dilworth Plaza were incorporated into the design.
Paine's Park cost more than $4.5 million to build (financed through private, city, and state funds) and is a collaborative effort between the city's skateboarding community and government. Last month, Franklin's Paine Skatepark Fund held a successful kickstarter campaign, which surpassed its $10,000 goal to cover the project's remaining soft costs.
"These funds raised will go towards our construction and project management costs, and the funds raised in excess of our goal will help us with our first year programming and maintenance costs," explained Franklin's Paine Skatepark Fund Executive Director Claire Laver in an email.
This project has been more than 10 years in the making, and Laver says it's surreal to see the finish line.
"Every time I walk on site I have to pinch myself," Laver said. "The park is really starting to take shape now that the 360 degree observation deck and central amphitheater are almost complete, and we have flat work and trees going in now too. I'm not yet sure what life after May 22nd looks like."
If you want to experience Paine's Park first hand, everyone is welcome to explore (and skate) the new park on May 22 with a grand ribbon-cutting celebration planned for 4-6pm.
Here's a look at how Paine's Park looks as crews come ever-closer to finishing construction:
(Ashley Hahn, EOTS)

(Ashley Hahn, EOTS)

(Ashley Hahn, EOTS)

(Ashley Hahn, EOTS)

(Ashley Hahn, EOTS)

(Ashley Hahn, EOTS)

Paine Park under construction (file). (Ashley Hahn, EOTS)

Construction is nearly complete on Paine's Park

Paine's Park from the Parkway

(Ashley Hahn, EOTS)
WHYY is your source for fact-based, in-depth journalism and information. As a nonprofit organization, we rely on financial support from readers like you. Please give today.