PAFA's Chuck Close exhibit ends with workshop on the art of protest
Ben Grzenia shows Kristina Murray how to squeegee a silk screen print. (Jonathan Wilson for WHYY)

After silk screening, posters are left to dry. (Jonathan Wilson for WHYY)

Alyssa Ebinger, an MFA student, prepares a silk screen for printing. (Jonathan Wilson for WHYY)

Tamara Weiss carries her protest poster with her as she views the Chuck Close Exhibit. (Jonathan Wilson for WHYY)

William Smith watches Marie Bjerre write a personal message on a poster. (Jonathan Wilson for WHYY)

Noemi Bergere, right, and her brother Tomo color protest posters. (Jonathan Wilson for WHYY)

Ben Grzenia demonstrates how to squeegee a silk screen print. (Jonathan Wilson for WHYY)

Ben Grzenia assists Jessica Aquino in creating a silk screen protest print. (Jonathan Wilson for WHYY)

Stephen Coleman hangs posters on the main staircase of the Hamilton Building. (Jonathan Wilson for WHYY)

On the last day of the Chuck Close Exhibit, MFA printmaking students Candace Jensen left, and Melissa Joseph close the exhibit doors. MFA students and museum staff then proceeded to cover the doors with protest posters. (Jonathan Wilson for WHYY)

MFA students and musem staff members, covered the closed doors to the Chuck Close Exhibit with protest posters. (Jonathan Wilson for WHYY)

Museum Director Brooke Davis Anderson tapes protest posters to the closed doors of the Chuck Close Exhibit. (Jonathan Wilson for WHYY)

The Art World We Want show was displayed adjacent to the exibition of Chuck Close's photographs. (Jonathan Wilson for WHYY)

Post-It Notes on the gallery wall express vistiors' visions of the art world's futre. (Jonathan Wilson for WHYY)
The Pennsylvania Academy of Fine Arts ended its Chuck Close exhibit Sunday with a workshop on the art of protest.
Allegations of sexual misconduct against Close shook the art world last December, when PAFA was already hosting an exhibit of photographs by the artist.
Unlike many institutions, which either quickly removed Close's work or postponed exhibitions, PAFA sought input from students and faculty. The response was to create an interactive show featuring acclaimed women artists from the museum's permanent collection.
The show, "The Art World We Want," went on display in the Frances M. Maguire Gallery, adjacent to the Close exhibit. The public was invited to put their vision of the future of art on post-it notes on one wall of the gallery.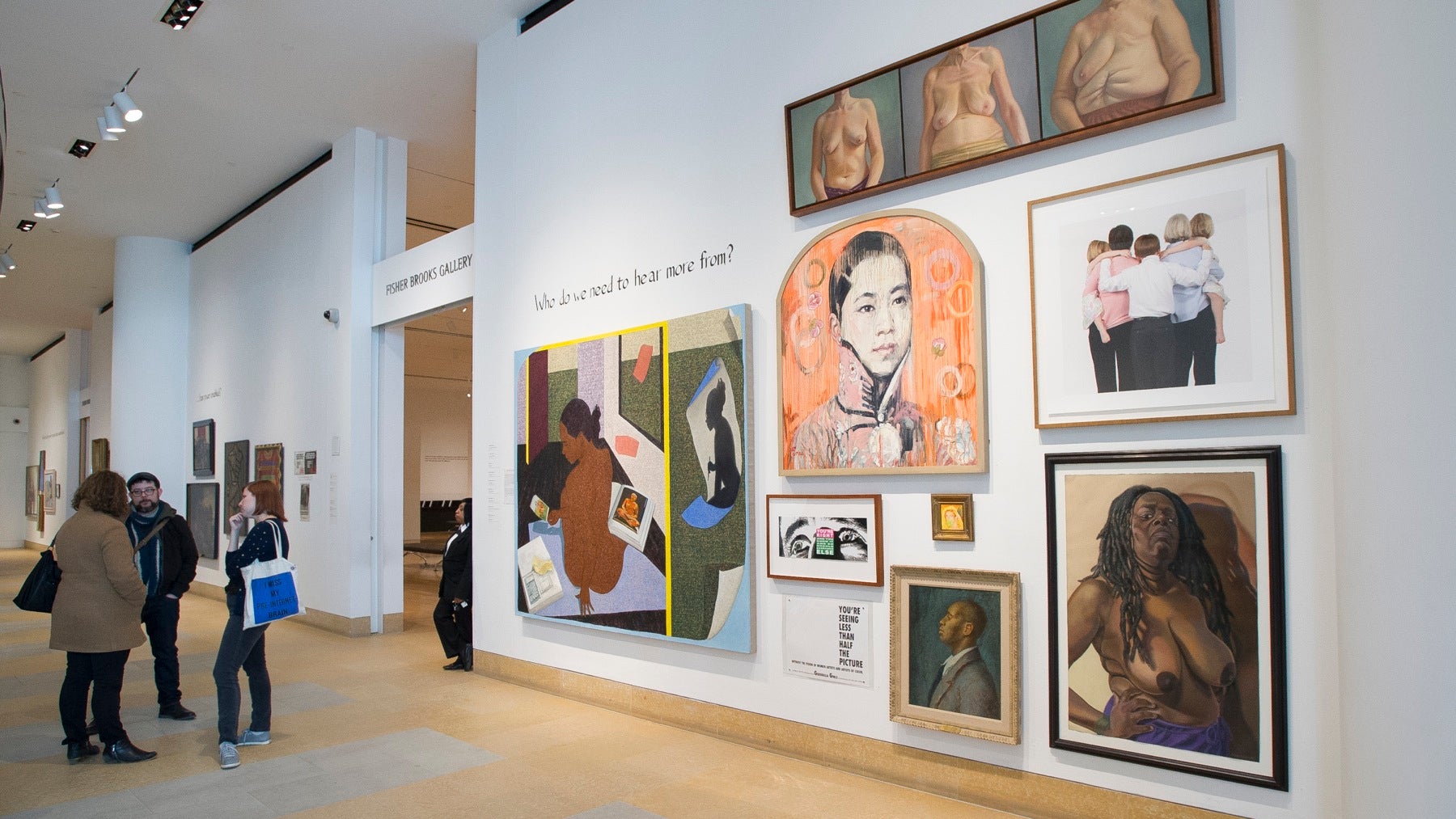 On the closing day of the two exhibits, PAFA printmaking students hosted a workshop for museum visitors, helping them to create their own protest posters. The poster images were created by the Guerilla Girls, a group of anonymous women artists devoted to fighting sexism and racism in the art world.
Fifteen minutes before the museum closed, the doors to the Chuck Close gallery were closed and locked while students and museum staff covered the door with protest posters.
WHYY is your source for fact-based, in-depth journalism and information. As a nonprofit organization, we rely on financial support from readers like you. Please give today.