Pa. officials urge indebted public pension funds to consolidate, change investment strategy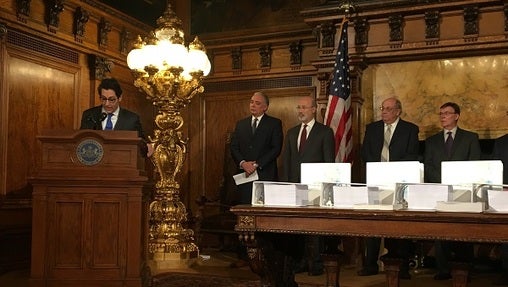 Pennsylvania's treasurer, governor, and a group of lawmakers unveiled a new report Thursday that recommend a slew of changes for the state's two largest public pension funds.
The State Employees Retirement System and Public School Employees Retirement System are — thanks in large part to political decisions to boost pensions more than a decade ago — extremely underfunded.
The state officials think the situation will at least improve if the funds stop paying exorbitant fees to private funds and investment managers.
The practice can be lucrative, but the investments are typically riskier and more expensive than traditional ones.
The report is advising the funds move a lot of their investments to index funds and at the very least, renegotiate their private equity contracts.
It also advises the legislature to approve consolidating the two funds' investment offices as a way to save money.
Treasurer Joe Torsella estimated those changes might save the funds nearly $10 billion over 30 years.
"While we can't control what those markets do, we can control the risk we take, and we can control how much we pay to get those returns," he said of the recommended switch to index funds. "In the long run, that is the, by far, smarter choice that keeps more dollars in our pockets."
The funds are more than $70 billion dollars in debt. The commonwealth is currently devoting about 10 percent of its annual budget to paying it down.