Pa. DAs outline best practices, possible pitfalls for police body cameras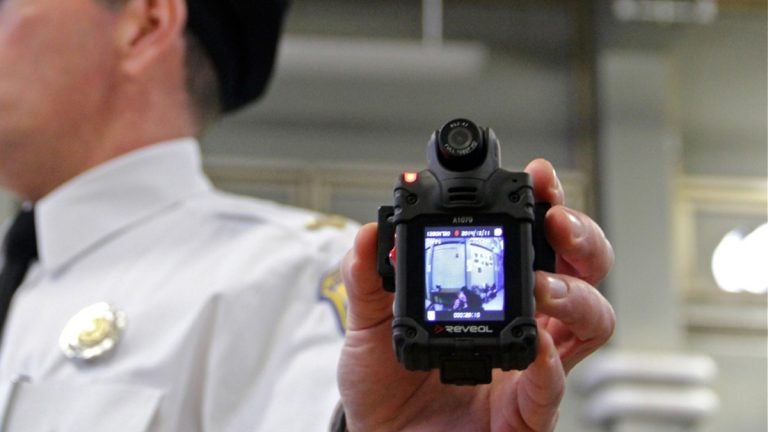 Some Pennsylvania police troopers are slated to start using body cameras later this year.
So, to keep them and other officers across the commonwealth from running afoul of the law or damaging criminal cases, the Pennsylvania District Attorneys Association has released a list of best practices.
The association's rules aren't binding, but they were developed with police feedback, and a representative for the state police said they reflect the department's policies pretty closely.
The guidelines leave the question of when to activate cameras up to individual agencies.
But Chester County District Attorney Tom Hogan — who helped develop the list of best practices — said the cameras should not be turned off during an incident unless there's a reasonable and well-documented reason.
"That protects the integrity of the recording," he said. "There are never any questions about why somebody turned it off, and whoever is watching, they know they captured the whole thing."
The guidelines also lay out how long the footage should be stored, and how.
"Since this is digital evidence, it's not like it's a gun," Hogan said. "Police know how to treat a gun as evidence. They know how to keep it, store it, make sure that it's preserved. But you need to think of these body recordings the same way."
Last summer, the state Legislature passed a law allowing police to record video and audio inside homes, and axed a Wiretap Act requirement that officers announce they're recording.
The move cleared the way for an expansion of the body camera program — as did a $52,000 federal grant the commonwealth received to run a pilot initiative
A number of municipal police departments across Pennsylvania are already using cameras.
WHYY is your source for fact-based, in-depth journalism and information. As a nonprofit organization, we rely on financial support from readers like you. Please give today.