One year after Hurricane Maria, Philly a model for recovery
In the wake of Hurricane Maria, Lydia Adorno and her family came from Manatí, a municipality in the northern coast of Puerto Rico. They now have a row home in NW Philly.
Listen
6:27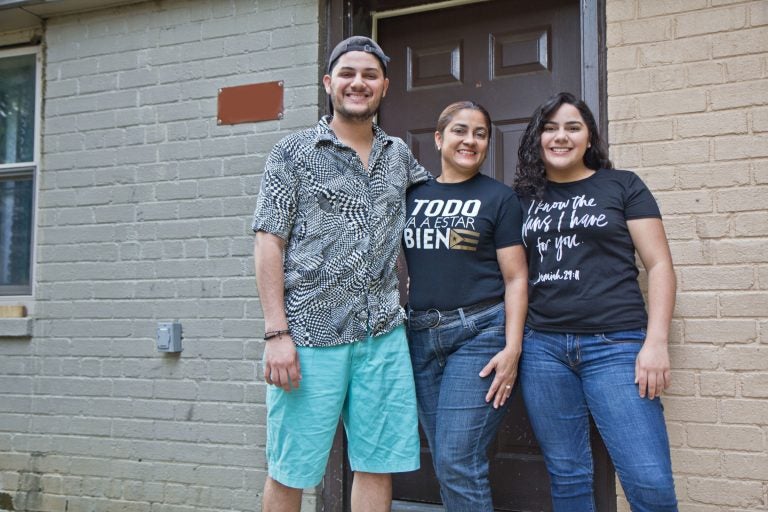 This story originally appeared on PlanPhilly.
—
On Monday night, Lydia Adorno was cooking pasta with her two adult kids in their two-story Philadelphia row house.
Unpacked boxes and suitcases laid on the floor and new mattresses stand next to the stairs. Three days earlier they had moved into the house, located in a public housing complex in the city's Northwest section.
"Today is the first day since November 22nd, that we're going to cook and sit around the table in our home," Adorno said in Spanish.
That's because they haven't had a home since November of 2017. That's when they came from Manatí, a municipality in the northern coast of Puerto Rico. They came to Philly in the wake of Hurricane Maria, which hit one year ago on Thursday. Before the storm, their plan was to eventually migrate to the city to reunite with Pedro Rosario, Lydia's husband, who had come months earlier to work as a chef. But Maria left the kids without college and Lydia, who is a teacher, without a job. So they decided to come.
"This is the stairs and this is the second floor," said Brian Rosario, 23. "And this is my room."
The house has three rooms and a bathroom, which Rosario said feels like a relief and a blessing because finally they can have some privacy. For seven months, Lydia and the kids shared one room in a relative's home, where 10 other people lived. Pedro was staying separately in a room in a church. At some point, they all moved to two rooms in the church.
"And this is my room," said Diane Aileen Rosario.
Without a home, the 20-year-old had missed the little things she used to take for granted — hanging her clothes in a closet, taking her time in the bathroom, or just spending time with her brother, her mom or her dad, with no one else around.
"I love my cousins and my family," she said referring to relatives they were living with. "But you know, there's privacy, like family privacy."
It wasn't just missing her own space that was hard. Diane and Brian both had to quit their studies and join their parents in the working world. All four needed to work in order for the family to escape homelessness, and they were lucky to find jobs.
Hurricane Maria displaced more than 135,000 U.S. citizens from the island to the mainland, leaving tens of thousands of households in situations like the Rosario- Adorno family.  But many of them have not fared as well. That is in part due to policy decisions that have left communities unprepared for disasters like Maria.
After Hurricane Katrina and other big natural disasters affecting U.S. citizens, the federal government officially evacuated survivors and designated several host states eligible for funding to relocate evacuees. But with Hurricane Maria, only Florida got that designation. That left cities like Philadelphia and New York, where thousands of people self-evacuated, in a tough position. There were vouchers from FEMA to house people temporarily in hotel rooms, but beyond that, there were no plans for long-term assistance.
Local officials had to figure out how to ensure that Puerto Ricans fleeing a natural disaster didn't find themselves caught in an economic one, with no housing or income to put a roof over their head or food on the table.
For most cities, the work happened across multiple agencies and organizations with government, Latino community groups and disaster responders working in coordination yet separately. Philadelphia tried a different tactic — coming together to create the Greater Philadelphia Long-Term Recovery Committee, a new non-profit with its own staff and bylaws. That committee has become a one-stop shop for evacuees who need services like housing, jobs, or English classes.
Forming the committee wasn't easy at first. Councilwoman Maria Quiñones Sanchez, who is Puerto Rican and represents a heavily Puerto Rican populated area, said it took leadership, building trust and setting egos aside.
"People recognizing that this was bigger than all us, was hugely important," she said. "There were tons of different efforts, but everybody supported each other. So it wasn't like this is the only group doing this, it didn't matter who was doing what, all of us rallied around all of those efforts because we knew all the little pieces will eventually help us build this unified response."
On Sept. 14, when the FEMA vouchers expired and more than 1,000 families across the nation were evicted from hotels, the collaboration proved its worth.  All of the almost 50 families staying in hotels had already been relocated to permanent housing. No one was sent to homeless shelters — a point of pride for organizers who point to wealthier cities like New York where as of Sept. 14, 187 Puerto Rican evacuee households were in the homeless shelter system.
"This is the City of Brotherly Love, like, that's what we're supposed to do," said Julia Menzo, outreach coordinator for Liberty Lutheran Services, the nonprofit overseeing the committee, referring to the committee's success in placing families in permanent housing. "Everybody uses that cliché about building the plane while you're flying it — it's really what we had to do."
Laura Olson is a research associate at the Center for Disaster and Community Resilience at Jacksonville State University. She said that long-term recovery committees are usually created to help victims of local tragedies, But her team is studying Philadelphia's recovery committee because they think it's the first time this kind of coalition has been specially set up to help displaced communities, far away from where the disaster happened.
"So it's an adaptation of the model, and it's a way to meet the needs of evacuees," Olson said.
She said as long as the federal government continues to offer insufficient funds for people migrating after climate disasters like Maria, cities are going to have to learn ways to respond on their own.
"Future groups in this situation can look at this example of what happened in Philadelphia and say 'Geez, you know, this is great. This is a tool we can use in the future,'" Olson said.
Quiñones said that by having everyone at the same table, the stakeholder groups multiplied their respective organizational capacity and expertise. One of the critical moments, she said, was discovering that the Philadelphia Housing Authority has a super preference stipulation for people displaced by natural disasters. PHA and United States Department of Housing and Urban Development stepped up to the plate and applied the law.
"So things clicked as people thought outside the box and felt an urgency to help folks," Quiñones said.
Menzo said that the collaboration also made the process of applying for assistance easier for Maria's victims.   People seeking help often get referred from one organization to an another, and they have to share personal information over and over again.
"By forming this committee we were able to get some confidentiality agreements and we were able to share information more freely with each other," Menzo said. "But we also had then agreed to the understanding that we were keeping records private."
The information sharing also allowed aid groups to avoid duplicating benefits and prioritize cases based on needs.
For Lydia's family, Philadelphia's welcoming arms have inspired them to turn a song that had been a family favorite, sung regularly in church even before Maria, into something of a mantra.
The lyrics say: "Stay calm, don't lose hope. God gives you blessings even when there are storms."
"It was present all the time, and then, when we get here, we begin to live that," Rosario said.
WHYY is your source for fact-based, in-depth journalism and information. As a nonprofit organization, we rely on financial support from readers like you. Please give today.