One Riverside zoning hearing rescheduled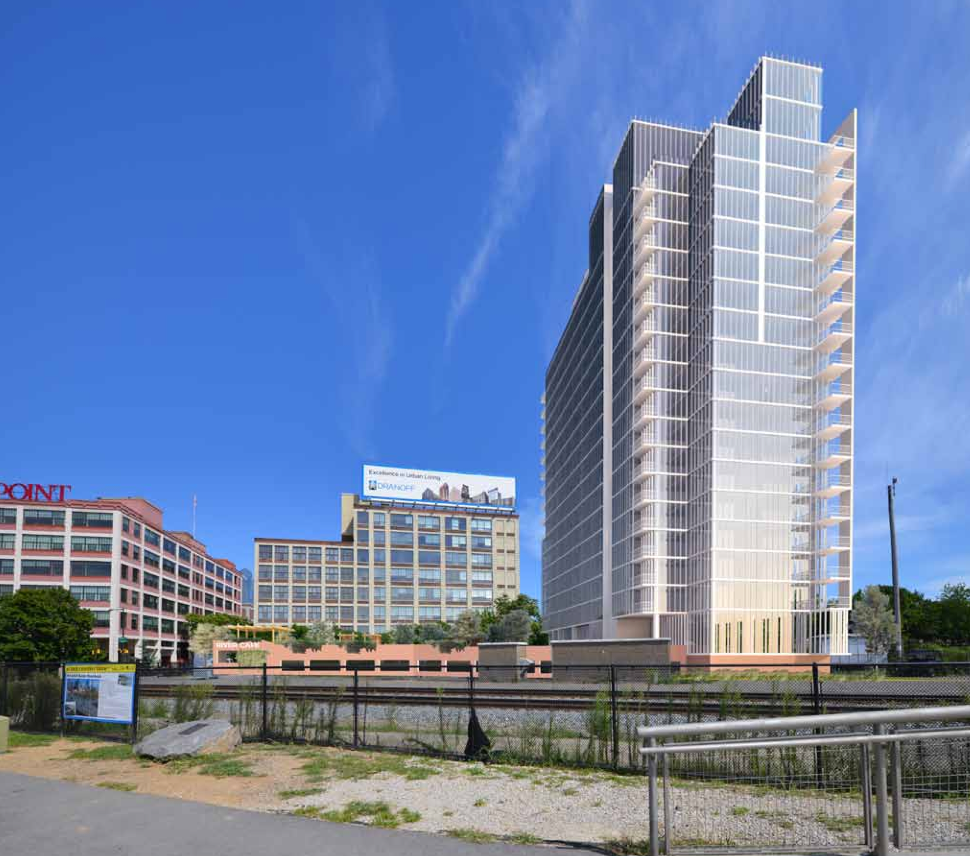 The fight over One Riverside Tower, Carl Dranoff's proposed 21-story apartment complex at 25th and Locust, won't be resolved for at least a month, after the zoning board scheduled a special hearing for an appeal of the project's zoning permit for Wednesday, Nov. 20, at noon. The case was originally scheduled for this week.
In the meantime, the arguments each side intends to make are fairly clear.
Dranoff and his attorney, Peter Kelsen, have maintained all along that the project is allowed by right. The Floor Area Bonus that they claim adds about 26,000 square feet to what is otherwise allowed in an RMX-3 zoning district, and results from their decision to put the parking facilities "underground." The code allows density bonuses for projects that bury the parking facilities, as a way to discourage parking garages at street level and above.
As the project is currently designed, the parking facilities are visible at street level. But the developer contends—and so far, L&I concurs—that the parking garage is actually "below grade" because none of it is higher than the 100-year floodplain.
The appellant, Ted Reed, who lives on 24th Street near Locust, says that's nonsense. If the building were there today, Reed said, you could stand on the street and look directly into a parking garage. It isn't reasonable to conclude that a street-level garage is below ground, he says.
Or, as Reed's attorney Paul Boni put it in a letter to L&I, "the purpose of floor area bonuses generally is 'to encourage certain types of development and the creation of specific amenities in the public interest.' … Here, to have a parking garage that is below a regulatory line on a map but, which in reality is a 1-story building constructed above grade (and obstructing views of the river), is not in the public interest."
At its last meeting, the Central Delaware Advocacy Group heard a presentation from Boni, and was considering weighing in on the project, as it could set a precedent for how parking garages in floodplains are treated. So far, the group has not decided whether to formally take a side.
Reed and some other near neighbors have also created a website with a petition, asking that the underground parking issue be resolved in their favor. Reed's ultimate goal, however, is loftier.
"I don't think the building should even be there," he said.
WHYY is your source for fact-based, in-depth journalism and information. As a nonprofit organization, we rely on financial support from readers like you. Please give today.