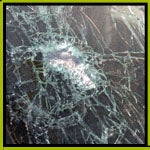 A three-vehicle accident near Modena Tuesday night left one person dead.
Reports say two friends were driving in two separate vehicles on the northbound lanes of the 9800-block of Academy Road around 10:45 p.m. The friends, who were driving next to each other, suddenly collided with a vehicle in the southbound lanes.
Jason Neugbauer, 27, who was driving in the southbound lanes, was pronounced dead shortly after the accident. The two other drivers were treated for minor injuries.
It's unclear how the cars collided, as a median separates the north and south lanes of Academy Road. Authorities say speed may have been a factor, but that the two friends were not racing. Toxicology reports on all three drivers have not been completed.