On the Waterfront: Pier 68 preview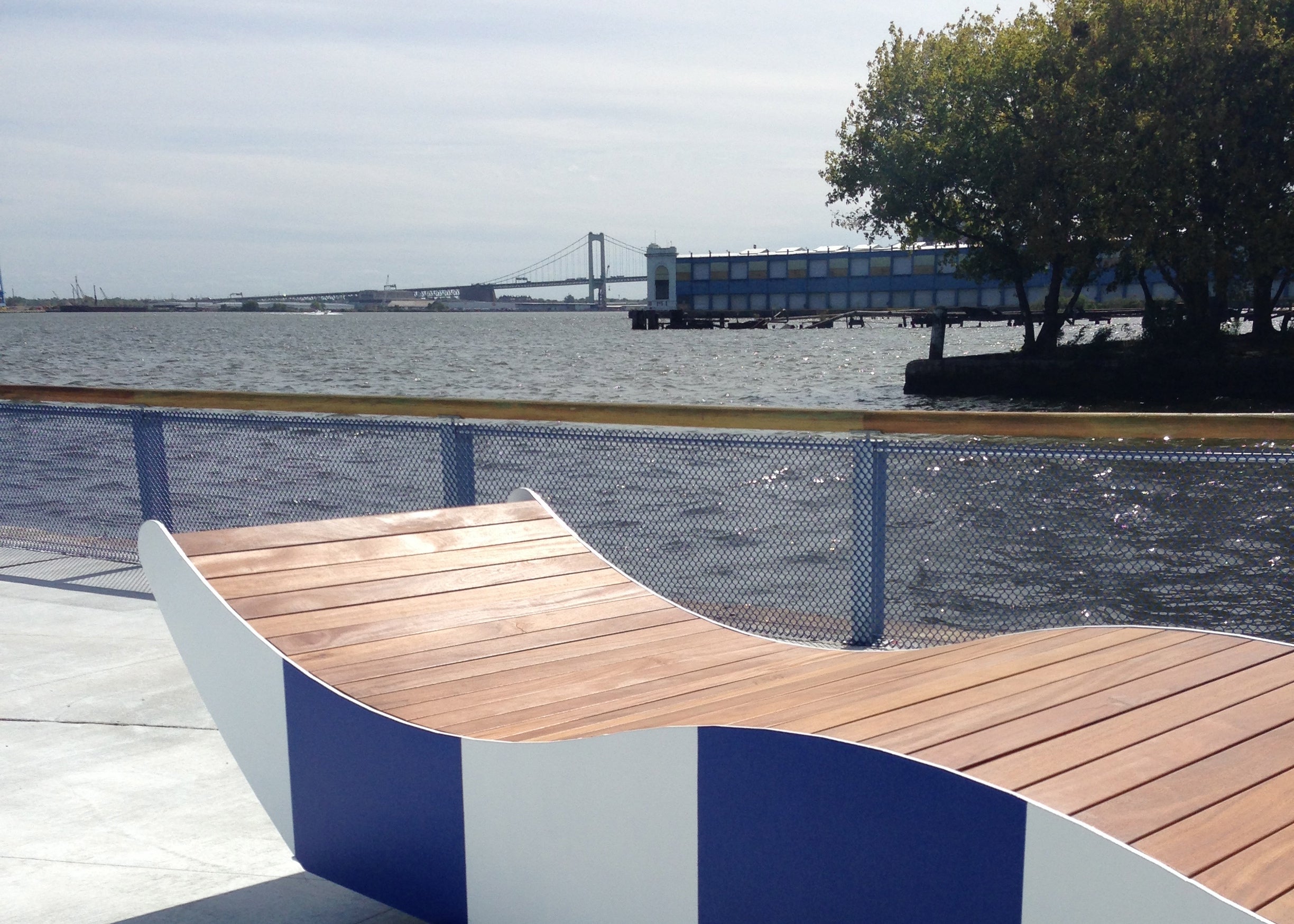 Stand on the service road east of South Philly's Walmart, and you stand at the intersection of the Delaware waterfront's past and future. Time was if you tried to find the river beyond the Pier 70 shopping center, you'd discover a waterfront blocked by chain link fence but no stranger to fishermen, drowned shopping carts, and feral cats. Today this part of the waterfront beckons another look.
Visit this spot now and you're greeted by three tall, tilty poles, painted in nautical blue and white stripes. They mark the gateway to a different world at the end of the shopping center. We're not in the Walmart parking lot anymore.
This is Pier 68, the newest pier park introduced to the Central Delaware Waterfront, set to open to the public this Thursday after nearly two years of focused planning, design, and construction.
Pier 68 Project Funders:
$500,000: PA Department of Conservation and Natural Resources

$450,000: William Penn Foundation

$250,000: PA Department of Community and Economic Development

$250,000: City of Philadelphia

$200,000: Walmart

$75,000: Wells Fargo Environmental Solutions for Communities Grant (through National Fish and Wildlife Service)
Studio Bryan Hanes, the firm perhaps best known locally as designers of Sister Cities Park, recast Pier 68 as a new pier park, informed by community input and the goals of the Master Plan for the Central Delaware. The vision was to create a southern trailhead for the Delaware River Trail, provide a waterfront amenity for passive recreation and fishing, and create new opportunities to experience the river and its rich ecology.
This week finishing touches are being put on the new Pier 68, but I was granted a tour by the Delaware River Waterfront Corporation (DRWC) to preview the new space.
Compared to the other pier parks managed by DRWC, Pier 68's aesthetic is closer kin to the sleek geometries of Race Street Pier than the wild ecological restoration at nearby Washington Avenue Pier. Pier 68's surfaces are smooth, its geometries angular, and its expressions of the river's ecology are restrained. Yet Pier 68 also has playful elements, like fanciful seating, that nod in the direction of Spruce Street Harbor Park.
As you enter Pier 68, past those three striped posts and one of the pier's old mooring bollards given a fresh coat of royal blue paint, you move through a grove of trees – a critical transition zone that ushers visitors from the ocean of strip-mall parking to park space.
(Ashley Hahn/PlanPhilly)

Pier 68 entrance, September 2015

(Ashley Hahn/PlanPhilly)

(Ashley Hahn/PlanPhilly)

(Ashley Hahn/PlanPhilly)
Walk further out onto the pier and an asymmetrical slice through the pier's layered concrete top, fill, timber decking and piles comes into focus. This "aquatic cut" is designed to support a tidal wetlands in the center of the pier. For now it is planted with a golden weeping willow and a variety of plants that like having wet feet are going in – like different types of sedge, swamp sunflower, and buttonbush. With more tides and time, expect the experimental wetlands to flourish and showcase the flora and fauna the river supports.
Along the aquatic cut's northern edge is a path along the water. To its south is an area for picnic tables and benches, nestled between stands of Kentucky coffeetree, multi-stem plane and catalpa trees. As these trees become more established, they'll be a critical place for shade on the otherwise open pier.
(Ashley Hahn/PlanPhilly)

(Ashley Hahn/PlanPhilly)

(Ashley Hahn/PlanPhilly)

(Ashley Hahn/PlanPhilly)

(Ashley Hahn/PlanPhilly)

(Pier 68, September 2015)
Beyond the picnic area is a soft, sloping lawn that stretches out on the pier's southern edge. Pier 68 then opens up to a plaza facing the river with three custom wave-shaped wood and metal benches, built by trainees in the Challenge Program, which teaches construction skills to at-risk youth. The bench tops are slats of cumaru, a tropical hardwood, and the metal bench sides are painted in the park's signature crisp blue and white stripes.
Viewed in profile the curvaceous benches look like the river's rippling surface or gondolas on the water. They are long enough for two people to lounge facing one another, and their form invites skyward gazing and lazy lounging.
At the pier's end are five granite benches facing the water, placed with fishing in mind. The granite blocks are relics recycled from Penn's Landing (though more recently taking up space in Pier 9, the waterfront's ersatz attic), and have been adapted with angled holes to hold angler's poles. The old pier pilings beyond provide welcome habitat for the river's fish, 23 species of which have been found in this area.
In some respects Pier 68's makeover draws advantage from some simple moves. Its pale concrete surface is laid in sharp, angular pads that create interest in an otherwise plain material. The chain link fencing that rings the pier is blue, which from an angle renders the water a brighter hue. The design doesn't skimp but it's important to know a hefty chunk of the approximately $1.8 million budget went to projects we can't see, like cutting 100 feet off the end of the pier and building a new sea wall.
(Ashley Hahn/PlanPhilly)

(Ashley Hahn/PlanPhilly)

(Ashley Hahn/PlanPhilly)

(Ashley Hahn/PlanPhilly)

(Ashley Hahn/PlanPhilly)
The new Pier 68 is a far cry from the landscape of weed trees and decay that characterize other nearby piers. Look further into the past and the shift is even more remarkable. Sugar and immigration, fertilizer and ferries: These are the past lives of the piers along this stretch of the Delaware River.
Reclaiming any urban waterfront, much less one as impenetrable and as industrialized as Philly's, is a marathon not a sprint. DRWC, in partnership with the Natural Lands Trust, is working to assemble the bits and pieces of waterfront land and easements from private owners to create a network of waterfront public spaces connected by a multi-use trail. Perhaps nowhere else on the river are the ideas set forth in the Master Plan For the Central Delaware coming to fruition quicker than the southernmost end, between Pier 68 and Washington Avenue. Next up the trail connecting the two could be upgraded to look more like the Penn Street Trail section in Northern Liberties, and a wetlands park between the two pier parks.
Though Pier 68 seems strange in its current context, a beautiful barnacle dangling off of the Pier 70 shopping center, its presence might help more people experience the waterfront in new ways. It will help if DRWC is able to turn Tasker Street into a "connector street" that reaches back into the neighborhoods west of Columbus Boulevard to create a safe, clear link to the waterfront for residents.
For now, Pier 68 makes the most sense after biking or walking down the short trail from Washington Avenue. Approached from Pier 70 Shopping Center, it's a bit like moving from grayscale Kansas to Technicolor Oz.