October 29: DRWC close to selecting Festival Pier developer | S.S. United States could move to Brooklyn | Complete Streets in the House transpo bill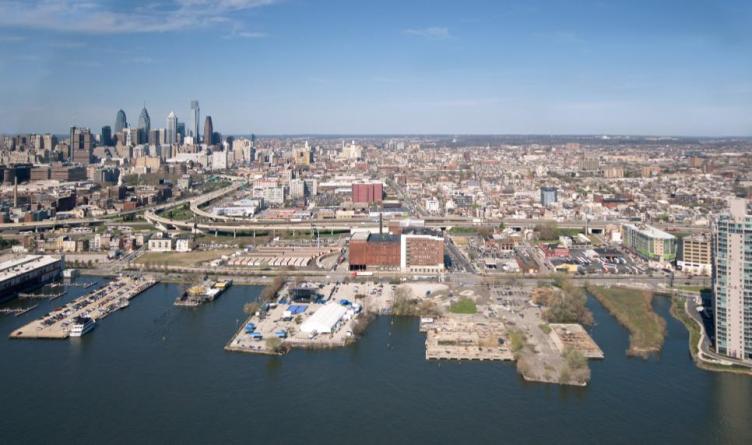 Jefferson Apartment Group and Haverford Properties Inc. are looking like the apparent favorites to develop the Festival Pier site on the Delaware River, reports Jacob Adelman. The team will present its proposal for the site Friday to the Delaware River Waterfront Corporation.
For Throwback Thursday, here's Kellie Patrick Gates's report from 2011 on the pre-development work DRWC has undertaken on the site.
John Quadrozzi, Jr., owner of the Gowanus Bay Terminal, wants to turn the S.S. United States into an office and entertainment complex in the Red Hook section of Brooklyn. If that doesn't happen, it's probably headed for the scrapyard.
The Orinoka Civic House redevelopment project from NKCDC broke ground this Tuesday near the Somerset El station, reports Angelly Carrion. Hidden City writes that the affordable-housing project is aimed at "altering the course of a neighborhood besieged indefinitely by social and economic crisis."
Dave Davies has a sober look at what it would actually take for a non-Republican candidate to win one of the two At-Large Council seats reserved for minority parties.
Councilwoman Jannie Blackwell wants to to uncap the city's liability for water main breaks, reports Tom MacDonald.
West Philly Local wants some advice on traffic-calming solutions for the crash-prone intersection at 46th and Baltimore.
The Kinder Institute at Rice University wants cities to know that, nationally at least, most urban cyclists are working class immigrants, not white hipsters. As this is frequently a topic of debate here in Philly, we're working with Econsult on a look at the local numbers.
Outgoing Bicycle Coalition Executive Director Alex Doty will be stepping into a bit of a sticky situation at the League of American Bicyclists. Advocates concerned with diversity in the cycling movement are questioning why the group chose to appoint Doty instead of conducting an open national search.
National transit advocacy groups haven't found much to like in the House transportation funding bill, but Angie Schmitt says there's at least a nod to Complete Streets.