Nutter, Clarke agree to preliminary plan for JFK Plaza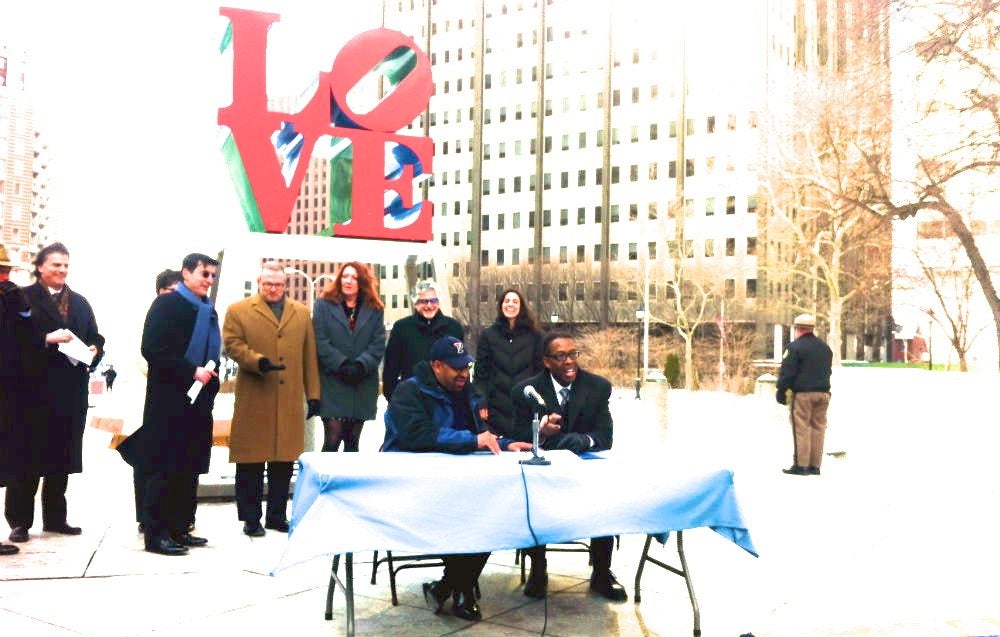 Mayor Michael Nutter and Council President Darrell Clarke met in the shadow of Philadelphia's iconic LOVE statue Monday afternoon to discuss what they are saying is a shared vision for the future of JFK Plaza.
The Nutter administration has been working toward the sale of the garage beneath the plaza, known also as LOVE Park, and had planned to use the proceeds from that sale toward park renovations.
In the fall, Council President Clarke, who supported the garage sale, released a proposal calling for the park renovations to be paid for through leasing some of the land for up to seven restaurants. Clarke wanted to avoid using city funds to pay for the renovations, if possible.
The plan Clarke and Nutter agreed to on Monday is short on formal detail, but would allow for the sale of the garage to move forward. The agreement includes a few overarching goals:
Increase the total amount of green space at the park,

Allot dedicated space for the sale of concessions, as a revenue-generation strategy,

Maintain the diagonal flow of pedestrian traffic (mainly between the corner of 15th Street and JFK Boulevard and the corner of 16th and Arch streets) while opening up all four sides of the park,

Limit steps and various levels,

And incorporate new water features and horticultural elements.
Mayor Nutter also said the city would apply for a $3 million grant through the state Redevelopment Assistance Capital Program (RACP) to be used for park renovations.
The city is also soliciting donations from private sources, and has enlisted Liberty Property Trust to provide "value engineering" consultation free of charge, as part of an effort to minimize the cost of the renovations for taxpayers.
The final agreement is agnostic toward the source of funds for the park renovations, which Nutter and Clarke agreed "will be funded either through the proceeds from the sale of the garage, the capital program, private funding, or any combination thereof."
WHYY is your source for fact-based, in-depth journalism and information. As a nonprofit organization, we rely on financial support from readers like you. Please give today.