Connectivity at the heart of "The New Fairmount Park"
The fact that Fairmount Park attracts seven million visitors each year shows that the park is doing something right. But why let the crown jewel of Philadelphia's park system (and the water source for 1.1 million people) settle for good, when it can be great?
About a year ago, a team from Philadelphia Parks & Recreation, Commission on Parks and Recreation, Fairmount Park Conservancy and PennPraxis* set out to see how East and West Fairmount Park could be improved. After a year of exploration, community engagement and planning – all aimed at increasing quality, access and equity – the team unveiled "The New Fairmount Park" plan at Smith Memorial Playground in East Park on Tuesday.
"The poetry of the plan is looking at how do we connect East and West Park [neighborhoods] more meaningfully, more simply, more beautifully into the park and down to the river," said Michael DiBerardinis, Deputy Mayor for Environmental and Community Resources and Philadelphia Parks and Recreation Commissioner.
Because of the way Fairmount Park developed – parcels of land and separate parks were added and merged together over the course of 50 years – the park can feel disjointed.
"These pieces are not necessarily connected and that became a big theme for us," said PennPraxis Executive Director Harris Steinberg.
The New Fairmount Park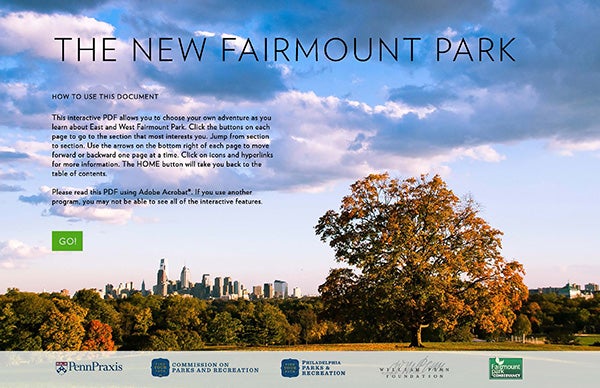 "The New Fairmount Park" is about bridging East and West Fairmount Park, connecting bordering neighborhoods to the park, and recalibrating the park to favor bicycle and pedestrian movement throughout the park.
"This is about access," said Mayor Michael Nutter. "There are so many places that are part of the park system that I think many people have not seen."
The more than 1,000 people who provided input for the plan and the 86 organizations who served as the advisory group made it clear that the communities around Fairmount Park need ways into the park.
To better connect neighborhoods, "The New Fairmount Park" plan envisions building trails along the 16 creeks that flow from communities to the river. Doing so will capitalize on the natural path that these creeks cut from neighborhood "uplands" down to the river. The creeks also offer access to nature and provide water quality teaching opportunities.
"This is really important to a lot of people, particularly these young people in these communities," said City Council President Darrell Clarke.
Once neighbors and visitors are in the park, inadequate trail loops and physical barriers make it hard to circulate.
"Those who use the park, love the park," said Andrew Goodman, who worked with PennPraxis on the project. "They love, for the most part, their section."
To help people discover more of the park, "The New Fairmount Park" calls for creating five trail networks: River, Rim, Ridge, Trolley and Creek. These trails will let bicycles and pedestrians travel throughout the entire park, bridge the watery divide between East and West Park and improve links to the Wissahickon Gateway, the Cynwyd Heritage Trail, Schuylkill Banks and the Mantua Greenway. The hope is to make this trail system a major regional hub for The Circuit – the developing network of regional bike trails.
The plan also aims to tip the scales away from cars and back toward pedestrians and bicycles.
Today there is a discrepancy between auto versus pedestrian and bicycle infrastructure. Eleven percent of the park is dedicated to road space. There are 54 miles of roads and another 19 miles of rail. Four hundred acres of West Park were removed when the Schuylkill Expressway was built.
"It's a park, but in many ways it's a shortcut," Goodman said.
"The New Fairmount Park" calls for removing and redirecting redundant roadways, installing safer crosswalks and building pedestrian bridges.
While people might react to road changes, Goodman said he hopes people see "that that's not how the best park in our system should be used."
The plan addresses specific physical barriers – like Kelly Drive and I-76 – with equally specific recommendations – like installing safe, pedestrian-activated crosswalks and a proposal to elevate portions of I-76 when it is eventually rebuilt so that the expressway does not create a barrier between the park and the river.
"Walking under highway is not the ideal pedestrian access point, certainly, but we think it is an effective way to improve the permeability of this wall essentially," Goodman said.
Early Action & Long Term Visions
The creek-based community connectors and trail networks will happen first and happen together. The combination of clearing and signage could cost less than a million dollars.
Gateways in Strawberry Mansion, Brewerytown, East Parkside, West Parkside and at Mander Rec Center will also be built as first step, early action items. There, the plan calls for improvements like building a viewing tower, creating a new, 1.7-mile trail around the East Park Reservoir, installing a signalized pedestrian crossing where Randolph Creek meets Kelly Drive, and building a new pedestrian bridge near the base of Fountain Green Drive to connect East and West Fairmount Park.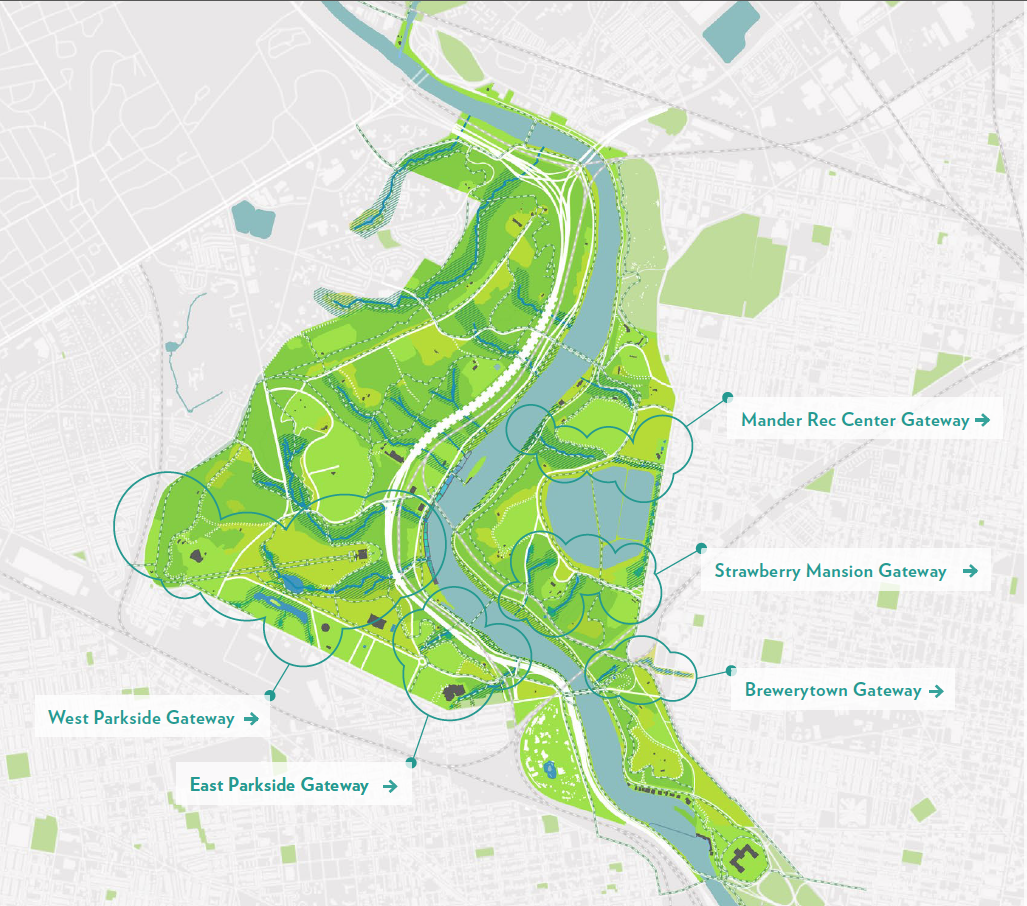 Goodman said the plan also tries to push longer term ideas "to keep people aspiring and not just settling as we tend to do in tight economic times."
"It's always about the future, but you have to start somewhere," Mayor Nutter said and promised, "We're going to do some great things."
Longer term projects could include a new public boat house, a new botanical garden in West Park, grandstands and a footbridge on Peter's Island and more.
"In the outyears, we want to create more places for people to come and recreate and enjoy the river," DiBerardinis said. "It'll improve neighborhood life, and it'll improve the competitiveness of the city."
*Disclosure: PlanPhilly is a project of PennPraxis, the applied research arm of PennDesign.
Boxers' Trail is an example of a trail that connects a neighborhood (Strawberry Mansion) to park amenities and the river

Boxers' Trail follows Randolph Creek to the Schuylkill River

Where Boxers' Trail meets the river though, it is blocked by Kelly Drive. One early action plan is to install a safe, pedestrian-activated crosswalk at this point
WHYY is your source for fact-based, in-depth journalism and information. As a nonprofit organization, we rely on financial support from readers like you. Please give today.