November 1: #SEPTAstruggle | Ride-hailing discriminiation | River Ward school tours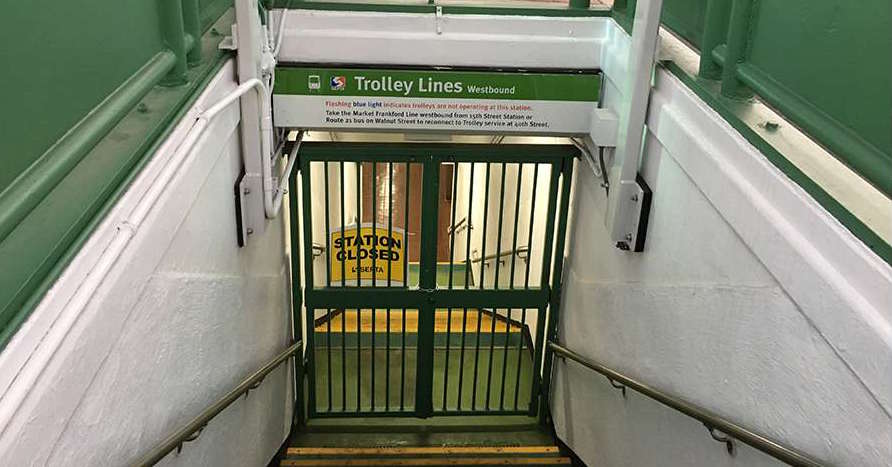 We want to know how you are dealing with the SEPTA strike: Our NewsWorks colleagues wonder what's your #SEPTAstruggle today? Did you put air in your bike tires to Bike the Strike? Are you baking a long walk into your day or making plans to carpool? Are you working from home? If you have questions or strike stories – hit up on Twitter @planphilly and follow Jim Saksa (@saksappeal) for strike updates. We'll keep you posted as we know more.
Helen Ubiñas raises hell over the city's limp response to lead poisoned kids – a press conference calling for action after this weekend's big Daily News story on how pervasive lead paint exposure is among Philly kids, especially the poorest. "If our elected leaders are standing around a City Hall microphone and talking about a problem they all readily admit they know about and have been "working" on, it can only mean one thing: We failed. We failed our kids. Again."
A study of ride-hailing services in Boston and Seattle from the National Bureau of Economic Research finds discrimination at play, partly as a function of their platform design. "A black man calling an Uber in Boston is three times as likely have his request cancelled than a white man," writes CityLab in its explanation. Additionally, Boston's female passengers faced longer, pricier trips than males between the same places. "'The additional travel that female riders are exposed to appears to be a combination of profiteering and flirting to a captive audience,' the authors note in the paper."
The Notebook reports 'Friends of' River Ward elementary schools – Adaire, H.A. Brown, Hackett, Moffett, Kearny – gave tours to real estate agents in October to build positive perceptions about neighborhood schools. "We knew, as members of these 'Friends of' groups, that great things were happening at the elementary schools, but we felt like that news wasn't getting out enough and that one of the best ways for that news to be distributed was through the very people who were helping others to move into the neighborhood," said tour organizer Laura Tepper, whose son attends Hackett Elementary.
StreetsBlog talks to Engineer Alex Epstein of the Volpe Center, a research arm of U.S. DOT, who researches how truck design affects bike and pedestrian safety about why American are trucks so deadly for pedestrians and cyclists.