No SOS: Message in a bottle washes ashore in LBI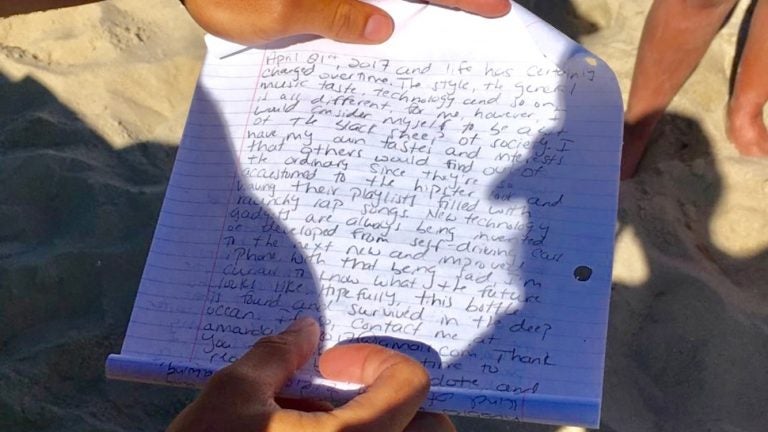 Amanda, where are you?
Lifeguards in Long Beach Island's Harvey Cedars were surprised to find a bottle containing a message in late July.
Harvey Cedars Beach Patrol spokesman Brian Devlin says the bottle, with "Not Trash Do Not Throw Away" written on it with black marker, washed ashore at the 80th Street beach.
Last week, lifeguards on 80th Street found a message in a bottle sent out to sea on April 21st, 2017 that had washed up. The email provided has not worked. Amanda from Springfield – We found your message 🍾 Unknown which Springfield though 🤷‍♂️ pic.twitter.com/rfZtG9Ixkm

— Harvey Cedars Beach Patrol (@HCBeachPatrol) July 26, 2018
Lifeguards cut through protective layers over the cap to access the two-page letter, which Devlin says "was much like a diary entry with the 18-year-old girl, Amanda, writing about her life, current trends, and how she's sort of like the 'black sheep' around her peers."
Dated April 21, 2017, Amanda wrote that she's from Springfield but didn't identify the state. There are dozens of municipalities with the name in the United States.
Devlin says another layer of the mystery is that while Amanda left an email address, it was difficult to read, and none of the addresses he used to contact her worked.
"We're hoping the story in the news may lead Amanda to find out that we found her great message in the bottle and that it survived the trip in the sea!" he said.
It's not the first message in a bottle that has washed ashore in Harvey Cedars. In early 2017, Vince Stango found one and eventually connected with its sender.
Stango said he found the bottle in an area where a storm washed away a sand dune.
He sent a message to an email address that was provided and called two phone numbers in the United Kingdom.
Stuart Brown of Yorkshire, England says he tossed five bottles while traveling aboard the Queen Elizabeth.
Brown believes Stango found one of the two bottles he tossed overboard while sailing toward New York from Southampton.
In the reverse route, a message in a bottle tossed into the Atlantic Ocean from Island Beach State Park in January 2014 reached northwestern France — more than 3,000 miles away. The note read, "Write to us about your good fortunes!"
Just to the south of Island Beach State Park, a little girl's message in a bottle that entered the ocean in Barnegat Light arrived in Ireland.
And a bottle thrown into the ocean in Ocean City in 1985 was discovered in North Carolina's Outer Banks after a 2009 nor'easter.
The note read: "Thank you for finding me!!! I am from a 'message in a bottle' contest and I was launched Monday, July 1, 1985. If you found me before August 1, 1985, please contact the public relations office, Ocean City. … You will receive a free prize if I have traveled the farthest!!"
It was part of a contest that offered a prize — saltwater taffy — for the bottle that traveled the farthest.
---
The Associated Press contributed to this report. 
WHYY is your source for fact-based, in-depth journalism and information. As a nonprofit organization, we rely on financial support from readers like you. Please give today.