NJ's Sandy recovery three years in: Progress made, but lessons left to learn
Listen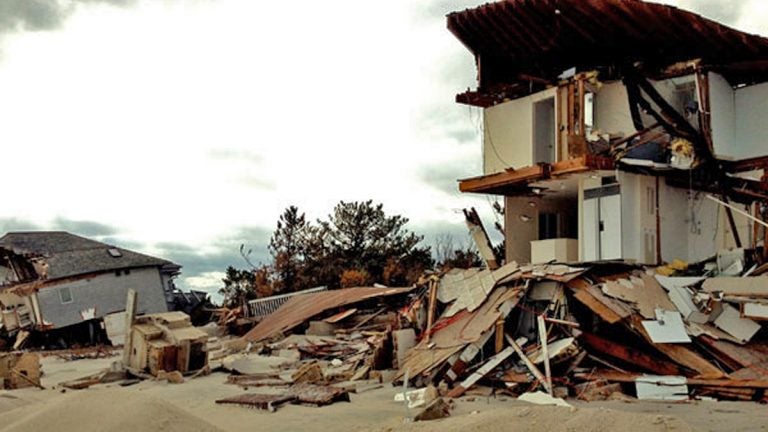 When superstorm Sandy made landfall in Brigantine, NJ, late on the evening of October 29, 2012, it was immediately clear that the state's recovery would be a long-term process. As state officials wrote in their action plan applying for aid from the federal government, more than 40,000 primary homes and 15,000 rental units had sustained "severe" or "major" damage from the storm. Boardwalks up and down the coast were replaced by piles of rubble, and damage estimates totaled tens of billions of dollars.
But despite the scene, many storm victims remained cautiously optimistic that things would work out in the end, and that the end wasn't too far over the horizon. People trusted that flood and homeowners insurance would kick in to cover their losses, and that aid money from the state and federal governments would come through to help them rebuild and get back on their feet.
Three years later, while some storm victims are back in their homes, many thousands more are still waiting to complete the process, amid being shortchanged dramatically on their flood-insurance claims, facing problems with banks and contractors, and sustaining lengthy delays in getting recovery checks from the state.
On this, the third anniversary of the storm, here's a look at where the recovery stands and some of the key lessons it's taught for how to handle future storms.
Current status of the recovery
"Three years since Sandy made landfall, the NJ Department of Community Affairs remains as hard at work as ever on the recovery effort," said spokeswoman Lisa Ryan.
"When it comes to the more than two-dozen recovery programs funded with [federal Community Development Block Grant] Disaster Recovery monies, which DCA administers, these programs have been set up, are underway, and are progressing toward their goals. We've built partnerships with many federal, state, and local governments; fellow state agencies; numerous nonprofit organizations; and with many in the private sector to advance New Jersey's recovery. We are also continually assessing the operational effectiveness of our recovery programs and improving our performance. This has resulted in positive and measurable progress that we anticipate will continue in the months and years ahead."
Though just 2,000 of the 8,000 families in the state's largest homeowner-grant program have completed construction and are back in their homes, that number has doubled in the past six months, and the vast majority of participants have received at least an initial payment. In addition, Ryan said the process continues to gather steam, with about 50 homes finishing construction and $7 million now being distributed to homeowners in an average week.
But for those still displaced from their homes, the recovery has seemed at times to crawl along. Several of them are camped out near the statehouse in Trenton this week, continuing their calls for the Christie administration to "finish the job."
A Monmouth University poll released yesterday found that some 60 percent of Sandy victims — including many who have completed construction — remain dissatisfied with the state's recovery efforts, and two-thirds said they felt that people like them had been forgotten. What's more, 12 percent of respondents considered themselves "permanently displaced," meaning they don't expect to ever be able to return home. Meanwhile, according to a Rutgers-Eagleton survey out today, more than half of New Jerseyans believe the state has still not fully recovered.
A teachable moment
Last year, for the second anniversary of Sandy, NJ Spotlight partnered with WNYC Radio and public radio station WWNO in New Orleans for an in-depth look at how disaster recovery tends to be fraught with obstacles and challenges, leading to a number of problems that were evident not just here in New Jersey, but also after previous storms like Hurricanes Katrina and Ike. After each storm, officials try to learn from the mistakes of the past and incorporate changes to ensure a smoother recovery, but new problems inevitably arise. Our reporting led to a number ofrecommendations for improvement, including reduced federal bureaucracy, more oversight for private contractors, and the proposed creation of a step-by-step "cookbook" to help states and cities better and more quickly recover.
This year, we've turned to a variety of experts and individuals involved with the recovery here in New Jersey and asked them the following question:
"Given the perspective you have three years after the storm and seeing how the recovery has progressed, what is the most important lesson that has come out of Sandy and why?"
Here are the responses we've received.
Lessons learned
Over the past three years, the Fair Share Housing Center has been a vocal advocate for poor and minority homeowners and renters struggling to rebound from the storm. It's also been a fierce critic of Trenton's handling of the recovery, taking the Christie administration to court to demand greater transparency of the behind-the-scenes workings of the state's housing-recovery grant programs.
To staff attorney Adam Gordon, many of the problems and delays that have occurred have resulted from what he views as the state's failure initially after the storm to set up processes that fairly and effectively helped people affected by Sandy get the support and resources they needed in order to rebuild.
"If you don't have a coherent strategy that works well at the start, it mushrooms into many more problems later, so it's really important to really think things through up front in terms of how the entire process was going to work and how the parts fit together," he said. "I think that the overall process was too disjointed and too much broken up into small pieces without an overall vision that focused on how each family got from being displaced to being back home."
For example, he noted that storm victims had to apply separately, multiple times for different grant programs rather than filling out a single application that could be used for various purposes. That increased the amount of paperwork, bureaucracy, and general frustration among everyone involved.
"The state had a list of everyone who was displaced at the start, but instead of tracking where they were in the recovery process, there were many hoops for many separate programs that were confusing and often contradictory. A lot of people got lost along the way," he continued. "It would have been much better for each person to have someone responsible for coordinating assistance — preferably from local, on-the-ground organizations instead of big companies brought in from outside — and organizing the effort around what it took to get each person assistance. Many more people would be back home already if the state had gotten it right the first time."
Planning and leadership
From his perspective as Legislative Committee chair at the New Jersey Association for Floodplain Management, John Miller worries that tiny towns along the coast were forced to largely fend for themselves in navigating the complicated rebuilding process, sometimes amid unclear and conflicting regulations. The main lesson for him is the need for more leadership from the top.
"Despite Governor Christie's close-knit preparation and immediate response to Hurricane Sandy," he said, "the difficulties of small municipalities to plan for and manage the recovery of a major disaster was exposed. Disaster aid was directed to individual communities, each having steep learning curves, resulting in a mix of recovery outcomes."
"While municipalities shared common risks, communities took different paths with recovery strategies, goals, and milestones," he added. "Absent were long term mitigation actions, and elected officials, with few exceptions, were focused on the immediate recovery over long-term resiliency. A coordinated coastal vision and regional approach was not realized; this has determined the vulnerability of the Jersey Shore for future disasters and for future generations."
Chris Sturm at New Jersey Future — which advocates "responsible land-use policies" — similarly agrees that the biggest lesson from Sandy is that the state needs to focus more on permanent solutions to keep people and their property out of harm's way.
"What we've been doing is defining the problem as a short-term one," she said. "We got wet in the storm, therefore let's build some walls or dunes, which are short-term solutions. This is a much longer-term problem."
"We need to be looking to science and using fact-based analysis to drive our decision-making," she continued. "We saw recently in that last storm, a lot of the new dunes or portions of them washed away. We're elevating homes in neighborhoods where the streets continue to flood at high tides. We've been looking for comfortable solutions for what, in the long-term, is really a very uncomfortable problem. So we're more prepared in an emergency, but we're not prepared for the kinds of risks we're facing.
We think we need a different kind of leadership that helps us face some hard truths about the future."
Those hard truths, she said, include facing the reality that we can't always engineer our way out of risk, and that some coastal neighborhoods might simply be too vulnerable and expensive for us to continue to rebuild after every storm.
Fixing the system
For Sue Marticek, Executive Director of the Ocean County Long Term Recovery Group, the lesson is twofold. First, she joins the chorus of angry voices demanding meaningful reforms to the National Flood Insurance Program. From her firsthand experience working with storm victims, being shortchanged on insurance claims appears to be the No. 1 reason New Jersey's recovery isn't farther along than it is.
"It is absolutely evident that policy holders up and down our coastline were systematically underpaid on their claims, resulting in millions of dollars being withheld from homeowners," she said. "The lack of properly being compensated fairly on flood-insurance claims basically cuts off homeowners at the knees for any chance of recovery. These underpayments or in some cases lack of any payouts resulted in homeowners being behind the eight ball from the start and has also had a domino effect of devastating consequences, such as emptying savings accounts, tapping into retirement funds as well as their children's college education funds, and also charging up any and all credit cards."
Help from the private sector
Marticek's second key lesson from Sandy is that involvement from private charitiesis essential for a smooth recovery process.
The storm led "fatigued homeowners down a demoralizing path filled with confusion and frustration," she said. "The nonprofits have stepped up and have been the only beacon of light in this dark tunnel. They realized early on that no one nonprofit had the means to assist homeowners alone, but that there needed to be a collaborative effort put in place so as to best coordinate services and resources that would assist homeowners. This collective community network has assisted thousands of homeowners by providing education, guidance, as well as much-needed financial assistance such as storage fees, rental assistance, and funding to fill in construction budget gaps. It is quite evident that the nonprofits have played an absolute vital role, and it is their communal effort that has woven a safety net of assistance that has kept homeowners' heads above water while helping them navigate their way through the complexities of this disaster recovery."
Active participation
Amanda Devecka-Rinear with New Jersey Organizing Project — the group of Sandy victims camped out this week near the State House — sees things from an even more local, on-the-ground perspective.
"After a big disaster, I think there's a sense that people need to be served, and they do. But actually, people also need to be active participants in determining the future of their neighborhood and communities, and that's a different thing," she said.
"We went down to New Orleans for the 10-year anniversary of Katrina. We took seven Sandy survivors. And there was this speech this pastor gave, where he said, 'You have to be involved in policy, cause if you're not at the table, you're on the menu.'"
Here in New Jersey, she said, it's been a struggle for average Sandy victims to get a seat at the table.
"Our communities that are impacted by this and experience this have an expertise that needs to be part of the process," she added. "It would be kind of amazing if there was a process by which that would happen and that that was appreciated as part of the recovery, but it hasn't been like that, so it's been a fight for us. I don't want to have a constituency meeting where they're just rubber-stamping something that already exists, a hearing where everything has already been decided. We want to actually be included in the decisions. Doesn't that seem like a good idea?"
_________________________________________________________________
NJ Spotlight, an independent online news service on issues critical to New Jersey, makes its in-depth reporting available to NewsWorks.
WHYY is your source for fact-based, in-depth journalism and information. As a nonprofit organization, we rely on financial support from readers like you. Please give today.