Next Exit Shore Guide (week of July 10-16)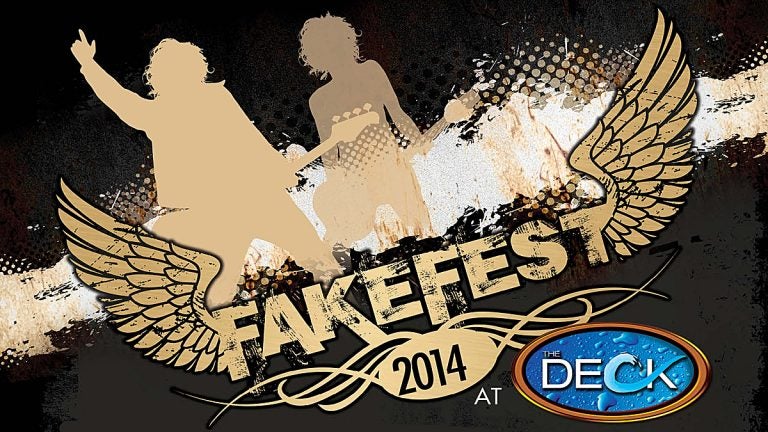 Now that summer is in full gear, folks heading to the shore will find all kinds of activities to supplement their fun in the surf and sand.
If you missed last weekend's Independence Day festivities there are still plenty of chances to view fireworks, as a few towns will be putting on weekly pyrotechnic displays for the remainder of the season. Seaside Heights' weekly fireworks will happen each Wednesday at 9:30 p.m., Point Pleasant's will take place on Thursdays at dusk and Wildwood's on Fridays at 10 p.m. Ocean City will set off its second of two new fireworks displays this Wednesday at 10:30 p.m.
Mock rock
Tribute bands are the Diamonique of the music world. For those who either never got the chance to see the likes of Jimi Hendrix or who cannot afford to see U2, tribute bands can be a fun substitute for the real thing. Atlantic City's Golden Nugget Casino is bringing the opportunity to experience four days of rhinestone rock with Fake Fest. Attendees can catch tribute acts replicating the sounds of bands like Van Halen, Chicago, Stone Temple Pilots, Kiss and others. One group, Bon Journey, performs a combined tribute to two 80s mega-rockers, Journey and Bon Jovi. Thursday, July 10, 8 p.m. and 9:45 p.m. shows; Friday, July 11, 7 p.m. to 12:30 a.m.; Saturday, July 12, 1:30 p.m. to 12:30 a.m.; Sunday, July 13, 1:00 p.m. to 11:30 p.m.
Barbecue and blues
America is probably the only country where barbecue is taken to the level of competitive sport. And this weekend in North Wildwood offers a chance to savor the delicious showdown that is the New Jersey State Barbecue Championship. The three-day outdoor event is being held in combination with the Anglesea Blues Festival.
Tasty licks of both the culinary and guitar variety are on the menu for attendees. Besides feasting on barbecue fare, festival-goers can also learn a trick or two from live cooking demonstrations.
On Friday, Client Nine plus Mike Guldin and Rollin' & Tumblin' perform on the main concert stage. Saturday's line up features Blue Jay Slim & the Tone Blasters, Dockta D & the Infirmary, the James Supra Blues Band and the Mark May Band. Bev Conklin will perform on Sunday.
Championship contenders will compete for over $10,000 in cash and prizes for the best barbecue chicken, pork, ribs and brisket. Winners will advance to the invitational world barbecue championship, American Royale in Kansas City as well as the World Food Championships in Las Vegas. Friday, July 11, 4-11 p.m.; Saturday, July 12, 10 a.m. to 11 p.m.; Sunday, July 13, 10 a.m. to 6 p.m. – Olde New Jersey Ave. between 2nd and Spruce Aves., North Wildwood, N.J.
For the sports fans
If you've caught World Cup fever and can't get enough footy (aka soccer to us Yanks), then why not watch the Ocean City Nor'easters as they take on Reading United AC this Friday? The Nor'easters all-time leading goal scorer, Byron Carmichael will be the team's first inductee into the Nor'easters Hall of Fame. The first 150 attendees will receive a retro Ocean City Barons' scarf as part of "Retro Night". Tickets are $10 for adults and $7 for children. Friday, July 11, 7 p.m. – Carey Stadium. 6th and Boardwalk, Ocean City, N.J.
Philadelphia Flyers fans will have an opportunity to check out the team's future players at the annual Trial on the Isle in Stone Harbor. Prospects will be engaged in team building and conditioning exercises on the beach. Afterwards, fans can meet the players and get autographs. Monday, July 14, 10 a.m. to 4 p.m. – 96th beach, Stone Harbor, N.J.
Family fun
Every parent thinks they have the cutest child EVER and want to share it with the world. These days, it tends to be through a deluge of shared snapshots on Instagram (um, guilty…) and Facebook. But good old fashioned baby parades still exist.
Stone Harbor will again hold its annual Al Cunard Baby Parade this Monday. Named for the founder of South Jersey's Cunard Family of Clowns, the late Al Cunard, who, in 2001, revived a Stone Harbor tradition which had dated back into the 1920s. Cutie pies from birth through 12 years can participate and trophies will be awarded for Cutest Boy and Girl, Best Float, Best Walking, Best Riding (strollers and bikes), plus Judges and Mayor Awards. The parade commences at the Wharf parking lot on 96th St. where judging will take place at 6 p.m., then gets underway at 6:30 p.m. Monday, July 14, 5:30 p.m. (rain date July 15) – 370 96th St., Stone Harbor, N.J.
Proud parents can enter their children ages 10 and under in Sea Isle's Baby Parade on Wednesday. Parade participants gather at 32nd St. and the Promenade staging point where judging will occur at 6:15 p.m. The cavalcade of cuteness will then proceed along the Promenade between 34 and 44th Streets. Pre-registration is required by 4 p.m. on July 14. Wednesday, July 16, 6 p.m. to 7 p.m. (rain date July 17) – 32nd and the Promenade, Sea Isle City, N.J.
But before parents parade their little darlings around town, they might want to reinforce some good behavior.
He could vacation anywhere in the world, but come summer Santa Claus likes to relax at the Jersey Shore. On Tuesday, old St. Nick will be sunning in Sea Isle City. Parents, if your precious angels have been bouncing off the walls from eating too many sugary summer treats, then a visit with Santa just might be in order. After all, even on holiday he still actively compiles his naughty and nice lists. The kiddos can enjoy Christmas-themed activities as well and an outdoor movie screening of Rudolph and Frosty's Christmas. Tuesday, July 15, 6:30-8:30 p.m. – Excursion Park, JFK Blvd. and Pleasure Ave., Sea Isle City, N.J.
Let the wind end your summer evening on a high this Wednesday in Seaside Park by joining the free Kites on the Beach event. All ages are invited to fly their kites on the beach, between 7th and 9th Aves. Wednesday, July 16, 5 p.m. to 9.p.m. – Seaside Park Beach, between 7th and 9th Aves., Seaside Park, N.J.