New report on Pa. charter school growth finds 'stranded costs' linger five years later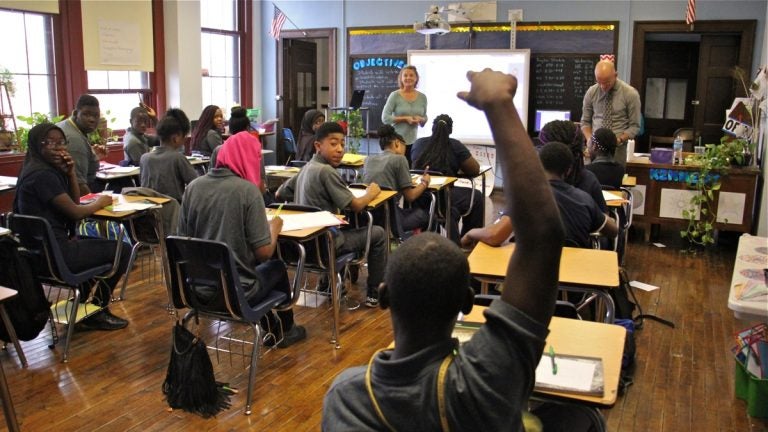 A new study finds that expanding the charter school sector in Pennsylvania creates a significant toll on traditional public school systems, which, based on an array of fixed costs, can't downsize at the same rate that students leave.
The report, authored by the Philadelphia-based non-profit Research for Action, delves into one of the central questions of Pennsylvania's charter school debate.
The key finding here, though, is not new. Past studies of the issue in Pennsylvania and elsewhere have consistently found that charter schools pose a negative fiscal threat to traditional systems. But those efforts have often raised more questions than answers, as their methodologies were not presented openly and transparently.
RFA's study seeks to reverse that trend by offering a public tool that makes plain its assumptions and calculations, a tool designed to help school districts better understand and prepare for the effects of authorizing new charter school seats.
To understand the report, a little background is required.
When a student leaves a district school for a charter, most of the money allocated for that student is transferred to the charter school as a "tuition payment." But just because a district has one less student, doesn't mean it can easily save a corresponding amount of money. That difference — between the money that leaves and the actual savings realized — is known as a "stranded cost."
RFA says districts feel those stranded costs most acutely in the first year after a new charter expansion.
In the six Pa. districts analyzed, RFA found that stranded costs ranged between about $8,000 and $17,000 per pupil in the first year, depending on the size of the district and the rate of the charter growth.
"In order to maintain their own services at a relatively similar level, there's limits to how much [districts] are able to cut," said David Lapp, director of policy at RFA.
Over time, the fiscal impact of those student departures is sharply reduced, but remains substantial. Even five years down the road, RFA finds no district comes close to breaking even.
"By year five in our fastest growth scenario, districts will only be able to recoup between 44-68% of the cost of charter tuition for each student that leaves," said the report.
The report relies on analysis of the 2015-16 budgets of six different school districts across the state — small and large; rural, urban and suburban — projecting hypothetically five years into the future. The districts surveyed were: Philadelphia, Oxford Area (Chester Co.), Mahanoy (Schuylkill Co.), Central Bucks (Bucks Co.), South Western (York Co.), and Quaker Valley (Allegheny Co.).
RFA's research stands out for a few reasons. Calculations were made using both short and long term outlooks, as well as at several varying rates of charter expansion. This variability combined with the fact that RFA collaborated with a diverse set of school districts using actual budgets lends the research a scope unseen in past efforts.
RFA's public-facing Charter Impact Calculation Tool helps make plain that the only way districts can shed substantial stranded costs is to undertake aggressive cost-savings efforts such as staff layoffs, downsizings and school closures.
And so underlying the report is a fact that often fails to be clearly articulated during debates about charter school expansion: within a district where overall public school enrollment stays steady, advocating for the creation of new charter schools often ultimately means, good or bad, advocating for the closure of existing traditional schools.
For instance, in its analysis of Philadelphia, assuming a robust four percent rate of charter expansion over the next five years, RFA estimates it would cause 47 school closures, 1,200 teacher layoffs, and cuts to 500 administrators.
But, under that hypothetical, Lapp says those cuts still wouldn't allow the School District of Philadelphia to make ends meet.
"Even in that scenario, there remains in our model significant fiscal impact," he said.
RFA actually doesn't expect that districts would ever break even on stranded costs unless charter expansion stagnates.
Because cuts always lag behind enrollment declines, by the time cuts are made, charter expansion continues, and more students leave — which exacerbates the issue.
"So you never quite get out of that imbalance," said Jay Himes, executive director of the Pennsylvania Association of School Business Officials, which participated in the creation of the report.
RFA believes its estimates are conservative. It's analysis doesn't assume any migration from private schools to charter schools, a phenomenon which inflicts an even higher cost on traditional districts.
Charter school advocates, though, express little sympathy for districts on these findings.
"The school district has a mandate to figure out how to cut those costs," said David Hardy, the now-retired founder of West Philadelphia's Boys' Latin Charter School.
Hardy was one of the charter advocate stakeholders who gave input on the report. He doesn't quibble with RFA's numbers, but says districts have historically been too slow moving in facing reality.
Over the past two decades, The School District of Philadelphia lost more than a third of its students to charters. Over the past few years, it closed more than 30 schools, drastically cut its central office, and has often struggled to provide students with adequate numbers of teachers, counselors and nurses.
Hardy said the district should have moved sooner and smarter.
"Yeah, they did some closures, but it certainly didn't right-size the district," he said.
Uri Monson, chief financial officer in the Philadelphia district, could not be reached for comment.
Larger questions, reimbursements a memory
The report did not take up the central question in the larger charter school debate, one that's much harder to quantify: does the charter sector writ large add enough value to its students to justify the fiscal pain that occurs in the traditional system to the students who remain?
RFA says that question is one it specifically sought to avoid, hoping its narrow focus on fiscal impact could anchor a more thoughtful policy debate among lawmakers and advocates.
The Pennsylvania Coalition for Public Charter Schools disagrees with that tack. Although the coalition says it "participated in good faith" in RFA's research, it says the end product leaves it with "grave concerns."
"If we are only talking about the cost side of charter expansion, we are failing to address the value families are receiving for this cost and districts' responsibilities to taxpayers to cut their costs," said PCPCS executive director Ana Meyers.
Both sides of the debate agree that the tension between the sectors could be lessened if state government — which created the charter school law in 1997— acknowledged the added costs that charters put on traditional schools.
In fact, for more than a decade, Pennsylvania did just this by offering a special reimbursement for districts where students left for charters.
But, in 2011, under former Governor Tom Corbett, the state zeroed out this budget line as a $219 million cost saving measure in the wake of the Great Recession.
It hasn't come back since, which has been a huge blow to districts with many charter school students.
Statewide, charter growth has more than doubled, growing from about 64,000 students in 2008 to nearly 135,000 in 2015. The majority of these students attend brick-and-mortar schools in a handful of Pennsylvania districts, but about 30,000 from all over the state attend cyber charter schools.
In Philadelphia, the district has annually missed more than a $100 million based on the charter reimbursement cut.
The state's new school funding formula gives some weight to districts with charter school students, but, applied only to new funding increases, it offers support at a far lower rate than previously enjoyed.
WHYY is your source for fact-based, in-depth journalism and information. As a nonprofit organization, we rely on financial support from readers like you. Please give today.