New Payment Tech: SEPTA's Key to going green
PlanPhilly will regularly report on the progress SEPTA is making in developing and implementing its new payment technology. Stay tuned.
For most riders, the best part of SEPTA finally scrapping its token, ticket and transfer system for the single SEPTA Key fare card system will be the great leap into the 21st Century.
But green riders will have another reason to celebrate: SEPTA Key won't just be easier on the passengers, it'll be easier on the environment. By the time the transition to SEPTA Key is complete, SEPTA will be out of the token repackaging and ticket printing business, saving tons of paper and plastic, not to mention quite a bit of cash, too.
In 2013 and 2014 combined, 13,354,350 tokens were packaged – placed back into plastic bags in groups of 2, 5 or 10 tokens. When tokens are finally phased out, all those little plastic bags will stop filling our trashcans or falling out of our pockets.
SEPTA will also stop printing the 9.2 million passes and 11.2 million paper transfers it currently orders every year. Based on some extremely rough, back of the envelope, just-a-step-above-making-things-up calculations assuming that a single tree provides 10,000 sheets of paper and that you'd get six transfers or passes out of a single sheet of paper, that's 340 trees a year SEPTA will start saving from the chainsaw.
Regardless of the exact number of trees receiving stays of execution, this move will clearly translate into cleaner streets, says Michelle Feldman, executive director of Keep Philadelphia Beautiful, a non-profit that supports litter prevention and waste reduction. "There is a wide network of city agencies, nonprofit community based organizations, and individuals working every day to combat litter in Philadelphia," Feldman wrote in an email statement. "Eliminating the 11.2 million paper transfers and 9.2 million passes printed annually will aide in those efforts to create and sustain cleaner neighborhoods, which we know are safer and more prosperous neighborhoods."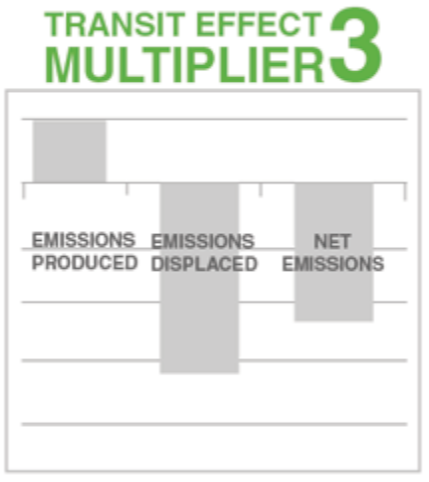 Riding public transportation is already a pretty green way of getting around, at least compared to driving. SEPTA estimates that its impact on the reduction of greenhouse gas emissions is a factor of three: for every unit of greenhouse gas that its buses and trains emit, three units are displaced throughout the region. As part of its sustainability initiative, the authority wants to improve its performance on that and other environmental issues, such as reducing its energy use. Reducing the paper and plastic consumption will be a cherry on top of the smug environmentalist sundae regular riders already enjoy: their carbon footprints are going to get that much smaller (some green-types compare carbon footprints the way fashion models compare waist sizes, leading both to eat more salad).
GOING GREEN WILL SAVE SEPTA SOME GREEN
SEPTA spent $631,011 repackaging those tokens. According to SEPTA's Chief Officer of Revenue, Advertising and Sales, Dennis Hiller, there are about 15.4 million tokens in circulation. The last time SEPTA ordered new tokens, they cost about 8 cents per token to mint – an occasional cost that SEPTA will never incur again. The transportation authority plans to scrap the tokens when the transition to SEPTA Key is complete. There are no estimates yet on how much the authority will get for all that metal, given that commodity prices change constantly.
The magnetic strip passes used for daily, weekly and monthly passes cost SEPTA $733,000 annually. Tickets and on-board fare receipts for the regional rail cost $150,000 a year. In total, SEPTA will save well over $1.2 million a year just in material costs.
But the materials are only half the cost-saving story. "The process of printing, distributing, cutting, and selling the transfers is labor intensive, and a non-green way of doing business," said Leslie Hickman, Deputy Chief Officer of SEPTA Key Integration. "I, personally, am looking forward of getting out of that business."
SEPTA employees that currently handle a lot of those tasks will eventually move onto other tasks, once the transition to SEPTA Key is final.
In addition, the over 300 subway cashiers and dozens of regional rail ticket office employees will take on new roles. The cashiers will step out from behind their bunker-like bulletproof booths to help customers use the SEPTA Key kiosks and provide general rider assistance.
As a result of this change, hundreds of SEPTA employees will be able to focus on core functions rather than ancillary fare instrument operations, which should lead to a more efficient transportation agency.
This move will help Philly move towards Michael Nutter's goal, laid out in his 2008 inaugural address, to make Philly the greenest city in America. But unfortunately for the outgoing mayor (and the rest of us), it probably won't happen until he's out of office: SEPTA Key won't launch until later this year, and the transition period will last at least a few months, if not longer. SEPTA won't say yet how long it will take because they will base the length on how quickly the public adopts the new fare technology.