New Neighborhood Gardens Trust launches this week with goals to better target garden preservation, protect more land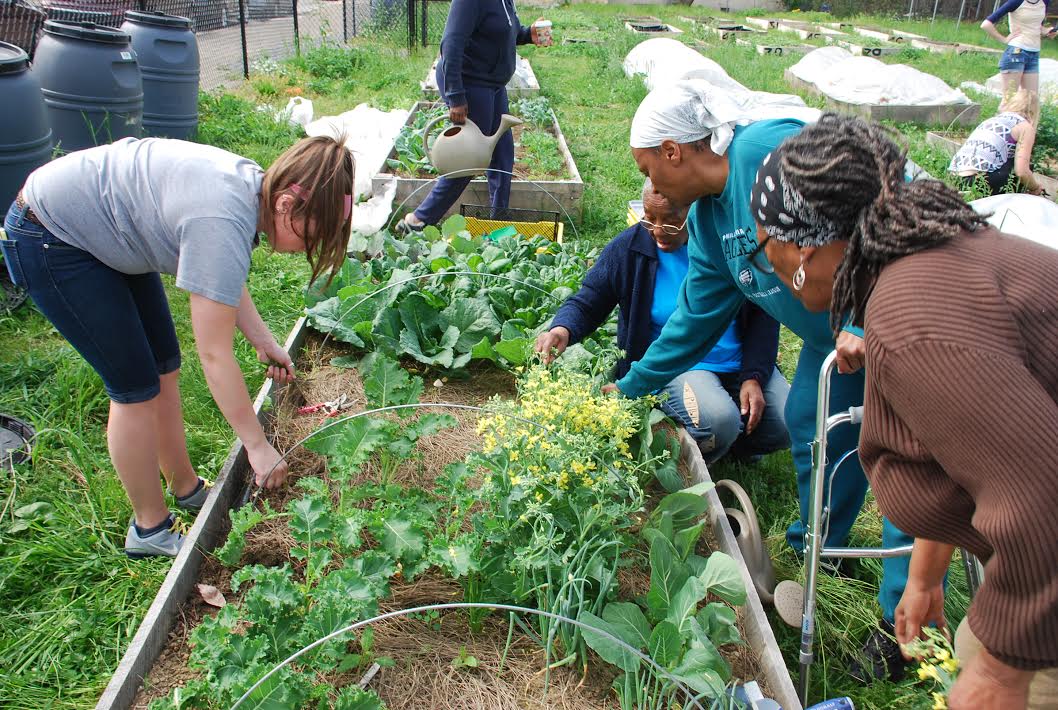 The revamped community garden advocacy organization Neighborhood Gardens Trust will make its official debut this week, armed with a new board of directors, a tighter alliance with the Pennsylvania Horticultural Society (PHS), and a $50,000 state grant to help assess which Philadelphia neighborhoods most need their help.
Neighborhood Gardens Trust (NGT) rose out of the now defunct Neighborhood Gardens Association (NGA), which was founded in 1986. Like its predecessor, NGT's mission as a land trust is to preserve community gardens and open spaces in Philadelphia to improve quality of life in the city, said Board President Margaret McCarvill, who also served on the former organization's board.
McCarvill said NGA stumbled in 2010 and 2011 after being hit with the double-whammy of dried-up non-profit funding stemming from the recession and the serious illness of their former executive director, who had mostly run the business functions of the organization, including fundraising, single-handedly.
NGA always had a relationship with PHS, McCarvill said. PHS provided free office space, for example. But in that difficult time, the board sought a stronger bond.
PHS was definitely interested, said spokesman Alan Jaffe*. "A major mission of PHS to support community gardens," he said. "A lot contribute to the City Harvest program – one of our most important initiatives – by donating a portion of their harvest to a food cupboard in those neighborhoods with the least access to locally grown food."
It was decided that a new organization would be created as an official affiliate of PHS. In May 2012, the former NGA board members resigned as part of the process of dissolving the former organization. PHS sought and appointed new board members, and in October 2012, asked McCarvill, with her institutional memory, to become one of them.
NGT will have its own executive director, and the search for that person is expected to end with an announcement soon. It maintains its own non-profit status, and also has its own budget of about $100,000, McCarvill said. That includes the $50,000 Department of Conservation and Natural Resources grant, she said. The budget includes about $17,000 to cover the new part-time executive director's salary and $21,000 for project expenses, which includes the cost of protecting new gardens. The remainder covers things like insurance – a big benefit for member gardens – advertising and events.
PHS's contributions are big, but will be mostly of the in-kind variety, not cash, McCarvill said.
In addition to having office space at PHS, NGT now benefits from the flower power's staff. Grant writing, donation solicitation, accounting services, community outreach and public relations are among the in-kind services PHS will provide, said McCarvill.
Professionally, she's the principal of the MMM supply chain, information technology and finance consulting firm. The benefits of the PHS/NGT partnership are analogous to a corporate-world merger, McCarvill said. "You don't need two CFOS and two marketing directors," she said.
Setting future goals
NGT currently owns, or in a few cases leases, the land on which 34 community gardens sit, thus protecting those spaces from development and preserving community gardeners' right to grow food and flowers there on a piece of the property that they pay a fee to cultivate. That fee varies from garden to garden, McCarvill said. Many community gardens also have jointly-tended portions, such as orchards.
McCarvill said she hopes the new organization, with the increased backing of PHS, will protect more gardens in less time than its predecessor. The goal is to have 90 or 100 by 2016, she said.
In addition to the 34 gardens already protected, about 15 are currently in some stage of seeking protection, she said. And NGT has been talking to the Philadelphia Parks & Recreation about another 10 or 15 gardens, some of which are on property owned by the city which the city might like to transfer to NGT. Others' ownership status may be unclear, but they've been cultivated by neighbors for years. Putting more gardens into the community land trust will offer long-term stability.
An RFP for the consultant who will help NGT with a study to determine where community garden preservation and new community gardens are most needed will soon be issued, she said.
The firm will work with community groups, civics and other stakeholders, and it will examine the city's vacant properties.
It will try to determine which neighborhoods have swaths of vacant land – some of which may already be sprouting fruits, vegetables and flowers planted by neighborhood residents – that are most in danger of having something built on them. In other words, the neighborhoods with the most development pressure.
The report may also determine NGT should focus efforts on the neighborhoods with the least access to fresh produce, McCarvill said.
Looking at a map of community gardens, McCarvill notices some neighborhoods have a good concentration while some have hardly any. "We've got a lot of gardens in South Philly up through Grays Ferry. A Bunch in West Philly and a bunch in Germantown. We've got nothing in the Northeast. Why is that?" The study will look at the reasons. It could be that some neighborhoods don't need community gardens, she surmised. In the Northeast, people have bigger yards, she noted. Maybe interested gardeners do their planting at home.
Since the group's reformation as NGT, four new community gardens have been acquired and protected.
Details on these, the organization's new website (where you can see a map of current gardens and a list of board members), new partnerships, and plans for the first Philadelphia "Community Gardens Day" will be unveiled 10 a.m. Wednesday at a public NGT launch celebration at the Summer Winter Garden, 33rd and Race streets.
Madeline Arrington, a board member of the Mantua Civic Association, is thrilled to be digging in one of the newly protected spots: Mantua Urban Peace Garden, which was preserved by NGT last October. The garden was established with the help of many partners, including Drexel University.
Arrington has already planted collard greens and kale, and can't wait to start eating her own organic beefsteak tomatoes. If all grows well, "they will taste better than the ones from Whole Foods, and theirs are way too expensive," she said.
Mantua Urban Peace Garden has brought residents who might not otherwise know each other together, she said. A wide variety of people share a love for gardening, Arrington said. "Older guys that you'd least expect to want to garden want to grow their own vegetables," she said. She's met people she never knew, and noted that people who've gotten involved with the garden frequently want to get involved in the community in other ways, including through the civic association. "It's been a real ripple effect," she said.
Less tangible than veggies but every bit as important to Arrington is the peace she feels at the garden. As a housing renovation consultant for HUD, she assesses properties all over the region. "When you travel outside into a peaceful place like New Hope, serenity takes over your body," she said. "You don't realize you've been living in such chaos, with such a noise level. But when I go to the garden, I get that same little peaceful vibe."
Working the dirt makes her part of the environment, she said, so it's even better than going to the park.
The space where Arrington's tomatoes will grow had been nothing but vacant land for years, Jaffe said.
From neighborhood-claimed vacant land to protected garden status
NGT is a community land trust, as was its predecessor. It owns the title to the ground most of its gardens sit on. In some cases, the city owned the land, in other cases it was in private hands.
Most of these gardens became protected when people gardening in them sought help from NGT or its predecessor. Sometimes the trust received money to acquire properties, McCarvill said. In some cases, the gardeners already bought the property by paying off the back-taxes owed on it, and donated the deed to the organization for the benefit of organization training programs, support and insurance. The city and city agencies have also donated land.
The first step is often sorting out just who owns the property, McCarvill said. In some cases, tracking down that owner is challenging. Even when its a city agency or two that has claim to the ground.
The process from inquiry to preservation can take eight months to a year, she said. But if the land is donated by the community group, private owner or the city, the cost of preservation itself is relatively low, she said – $700 to $800 for title transfer
"Up until now, 90 percent of the gardens are some version of a community group or set of people coming to the trust and saying we'd like to be protected," she said. "We want to, in the future, be more proactive" about seeking parcels to protect, but requests from the community are still likely to be the main mechanism, she said.
New tools of protection
Easements are another tool that land trusts use to protect property. Simply put, the ownership of the property remains in private or public hands, but the right to develop the property is donated to, or purchased by, the trust.
Now that two attorneys lawyers with relevant experience on the board NGT is "open" to approaching preservation in that way as well, McCarvill said.
Those attorneys are Amy Laura Cahn, director of the Public Interest Law Center of Philadelphia's Garden Justice Legal Initiative, and Gregory P. Duffy, whose work at Duane Morris includes a focus on real estate law.
The city's new Land Bank – a public authority designed to streamline sale of vacant properties by making the process of sorting out ownership and tax issues – will prove a "wonderful new tool" in NGT's garden preservation goals, Jaffe said, and PHS advocated strongly for council to pass the legislation.
Just having all of the vacant land in one data base would be a godsend, McCarvill said, and streamlining the land transfer process would enable the trust to do its work easier and faster.
*Alan Jaffe is also a PlanPhilly contributor.
Aspen Farms, one of the city's most established community gardens, photo courtesy PHS

Another view at Aspen Farms. Photo courtesy PHS

An Aspen Farms gardener. Photo courtesy PHS
WHYY is your source for fact-based, in-depth journalism and information. As a nonprofit organization, we rely on financial support from readers like you. Please give today.