New Jersey bicyclists could get 3 foot buffer zone from cars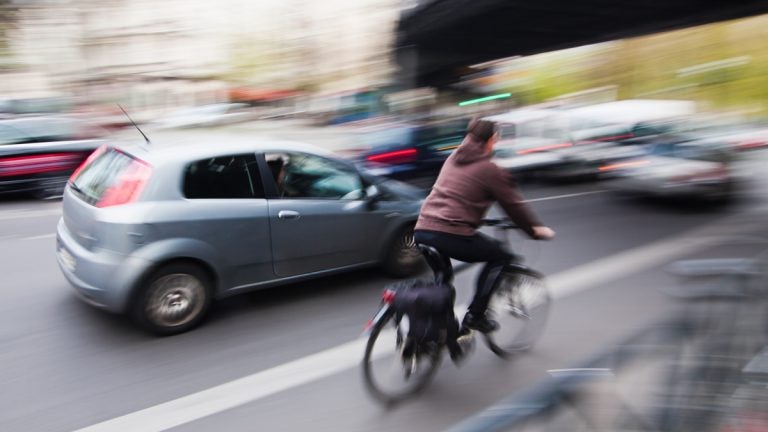 A bill attempting to make the roads safer for pedestrians and cyclists would require drivers to keep at least three feet between their car and a bike rider was moved out of its state Assembly committee on Thursday.
It was just one of three total bills released last week that attempt to address bicycle and pedestrian safety. Another would fine drivers $500 if they commit a road violation that causes an accident with a cyclist, and a third would require cars to slow down or move over when approaching a cyclist or pedestrian.
All three bills carry a maximum $500 fine.
These laws would be the first of their kind in New Jersey. Right now, drivers are required to be vigilant of cyclists and to observe basic motor vehicle rules, but New Jersey's Title 39, which focuses most closely on cyclists, does not contain specific rules for drivers to follow when interacting them. These bills would provide these laws.
All three bills were moved out of the Assembly Transportation and Independent Authorities Committee on Thursday; Assembly Speaker Vincent Prieto will next decide whether to bring them forward for a floor vote.
Assemblyman Christopher J. Brown (R-Burlington, Atlantic, Ocean), who sponsored the bill that would fine drivers for hitting a cyclist, said a constituent's call moved him to push the law forward. The state's congested roads, Brown said, were further impetus.
The laws are well intentioned, according to bicycle safety advocates. But they said they must be regarded as a first step.
"A three-foot (passing) rule is a good starting point," said Trenton Cycling Revolution Chairman Dan Fatton, whose organization promotes bicycle safety and ridership in the New Jersey city. "It sounds like a positive step. But it's not quite far enough."
Pennsylvania, for comparison's sake, has a four-foot passing law signed into law in 2012. This is the strictest measure, though, that any U.S. state has passed. The National Conference of State Legislatures said that 33 states had similar laws on their books as of this January, and the vast majority of them have three-foot passing laws. New Jersey would become part of that trend if its law is passed.
The Philadelphia Police Department said a total of 836 citations have been issued for the four-foot passing law in the city since it was implemented.
Fatton said his organization generally supports these measures. But when put in perspective, he said, it becomes more clear that these laws don't quite go far enough. "[When it comes to] serious bodily injury or drastically hurting a bicyclist – is $500 sufficient to compensate for that?" Fatton asked. "It sounds like a slap on a wrist."
Educating drivers is particularly important, according to Fatton. The state Division of Highway Traffic Safety (DHTS) runs educational programs for drivers that focus on their requirement to yield to pedestrians in crosswalks, but the federal funding that allows those efforts to happen does not cover how cars should interact with cyclists, according to DHTS spokesman Zach Hosseini.
This often means that other organizations must step in and lead the educational efforts. Transportation Management Associations (TMAs) work with other regional associations to encourage transportation solutions. Cross County Connection, which is South Jersey's TMA, runs a Safe Routes to School program, which essentially advocates for pedestrian and bicycle education efforts.
Cross County Connection TMA Executive Director Bill Ragozine emphasized the importance of changing the way drivers think about others on the road.
"Bicyclists don't necessarily belong on a shoulder," Ragozine said. "Having a shared bike lane with traffic such as what you see in Center City Philadelphia – that is something that is probably where the commuting public should go."
Any ultimate goal, according to Ragozine, should encourage people to drive less and to make it easier for people to commute without cars.
Bill Feeney already does that. He commutes by bike to work two to three times a week, as he takes his bike on a New Jersey Transit bus for most of the way and then bikes the final five miles to his destination.
Feeney said he supports these efforts. The "bike law in New Jersey is either severely lacking or murky at best, and laws like these are long overdue," Feeney wrote in an email. "These new bills will help shine a spotlight on bike riders' rights to ride on the same roads as motorist and hopefully educate them on the dangers of passing a bike rider too quickly or too narrowly."