New initiative coordinates services for homeless in Camden County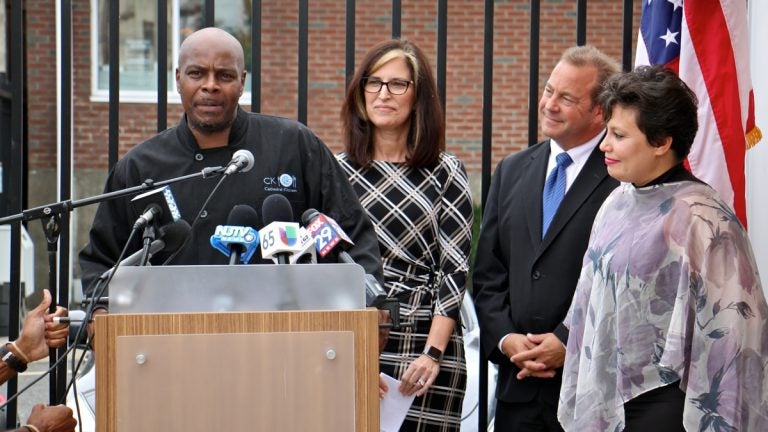 At a resource fair for homeless citizens in Camden Wednesday, fair-goers were treated to a hot breakfast, a hot shower if they needed it and a pop-up thrift shop to procure a clean set of clothes. Agencies also provided plenty of information, from addiction services to advice on how and where to pay child support.
The one-stop resource fair might be a way to imagine the Camden County freeholders' new plan to address homelessness, one that's never been tried before.
The initiative brings together all of the local service organizations that provide shelter, job training and mental health and addiction treatment for the 500 to 600 people who may be homeless on any given day in Camden County.
Freeholder Carmen Rodriguez knew there had to be a better way. She heard story after story of people who tried to access services they qualified for, but couldn't access because of a disjointed, disorganized system that left them confused and ready to give up.
"We have hundreds of people who are couch surfing or staying in motels that could lose the roof over their heads at any given moment," Rodriguez said. "If you ask them to come to this appointment on such-and-such a day and go to this place on such-and-such a day … if you're asking them to go from place to place, you're introducing another hurdle."
It's easy for a homeless person — or anyone on the brink of homelessness — to give up trying to get back into the mainstream, Mark Woodall said. Woodall works as a cook at Cathedral Kitchen, the largest emergency food provider in Camden. As a two-time drug violator, Woodall says he never would have had a chance to become a productive citizen if not for the culinary program the kitchen provided.
"I had no idea what I would do when I got out of jail," said Woodall, who started out volunteering at the kitchen while living in a halfway house. "You need money to survive. If there's no employment for you, people who sell drugs will go back to doing what they do best."
Officials say better coordination will enable agencies to break down silos to work more effectively. One of the key components of the new plan is a navigation program to identify those who need services.
"We don't want people to feel like they have to go to a particular place," Rodriguez said. "If anything, we want to find them."