New homes for those struggling with addiction set for heart of Philly opioid crisis
In heart of Philadelphia's opioid epidemic, new home rising for those in recovery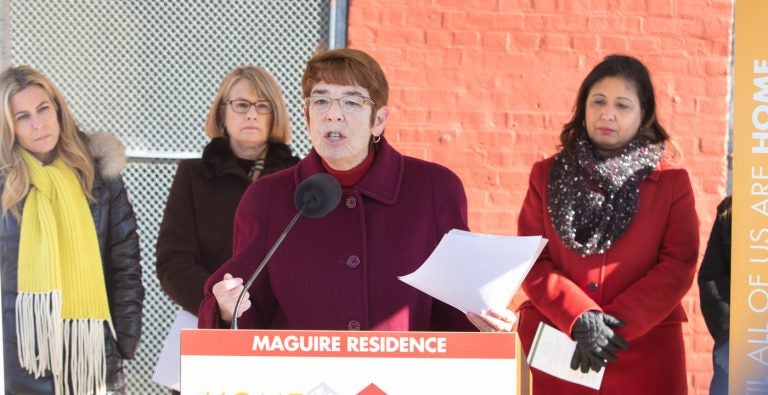 A new residential project for those struggling with addiction will rise at the epicenter of the opioid crisis — Philadelphia's Kensington neighborhood.
City officials, community members and leaders of Project HOME — a nonprofit that helps individuals permanently break the cycle of homelessness — donned hard hats and held up hammers, paint brushes and shovels Tuesday to mark the beginning of the Maguire Residence. With 42 apartment units, the facility will also offer onsite employment opportunities and recovery services.
The location makes this housing different from the organization's 17 other residences throughout the city, said Sister Mary Scullion, co-founder of Project HOME.
"This project is particularly important because of the devastation of the opioid crisis right here in Kensington. You only have to walk down the street to see people living in tents and in encampments," she said.  
The building is a former elementary school, a few blocks from McPherson Square Park, now known as Philly's "Needle Park."
"This building that used to be an elementary school will continue to be a place of growth and learning and hope," said Megan Maguire Nicoletti, president and CEO of the Maguire Foundation.
The public-private partnership includes city, state and federal dollars. The Maguire Foundation is the main funder of the initiative, along with the Maguire family.
Katie Dougherty, a Project HOME resident for seven years, joined the dignitaries Tuesday to formally launch the construction.
After being prescribed Percocet for severe back pain 13 years ago, Dougherty said she gradually became addicted to the medication.
"Within a few years, I went from being a wife and a mother with a comfortable life in the suburbs to homeless and lost in the streets of Philadelphia," she said. "I ended up just a few blocks from here at Huntington and Kensington doing whatever I had to do to numb the pain."
She almost died in 2012, then spent a month in the hospital. At that point, she was ready to get help and turned to Project HOME.  
"This is truly a dream come true for me to see a supportive housing program come to this neighborhood at the heart of a crisis," she said. "It is so moving to see that the very place that was the last stop for me can be a new start for others.  
"I know from experience that Project HOME has the ability to not just transform the lives of its residents but to transform entire communities."
Philadelphia Councilwoman Maria Quiñones-Sánchez, who represents the 7th District, said the community also must "make sure that we are being forceful in saying that we are not going to normalize what should never be normalized. And creating trauma not only for children and for residents, but for a community that is on the world stage."
Partners also include MPower, a Project HOME community investment partnership created by Leigh and John Middleton.
Project HOME's outreach staff saw the need in Kensington for years, Scullion said.
"The city and others turned a blind eye to Kensington, actually. And this didn't happen overnight. This has been years in the making and," Scullion said. "Our outreach workers actually advocated for us to try for us to establish a presence here — especially creating opportunities for hope and for recovery for the many people that were suffering and devastating lives, devastating families, devastating communities."
Greg Heller, executive director of the Philadelphia Redevelopment Authority, said the agency's focus is to leverage city assets for revitalization, but also create and preserve affordable housing.
"We focus on social impact. When we sell land, we don't sell it to the highest bidder. We sell it for the project that has the greatest social impact," he said. "It's no longer a school, but it's still a signature anchor building for this community and will continue to be for a long time."
Just one thing is holding up the official launch of the redevelopment, Scullion said Tuesday.
"We're ready to get under construction … We need one piece of paper signed by HUD. And because of the government shutdown, we're waiting for that one piece of paper to be signed," she said.  
The permanent housing is part of The Project Home Recovery Initiative and is one of three new residences dedicated to individuals who are suffering from addiction.
WHYY is your source for fact-based, in-depth journalism and information. As a nonprofit organization, we rely on financial support from readers like you. Please give today.