Neighbors protest SEPTA building plans near Frankford Transit Center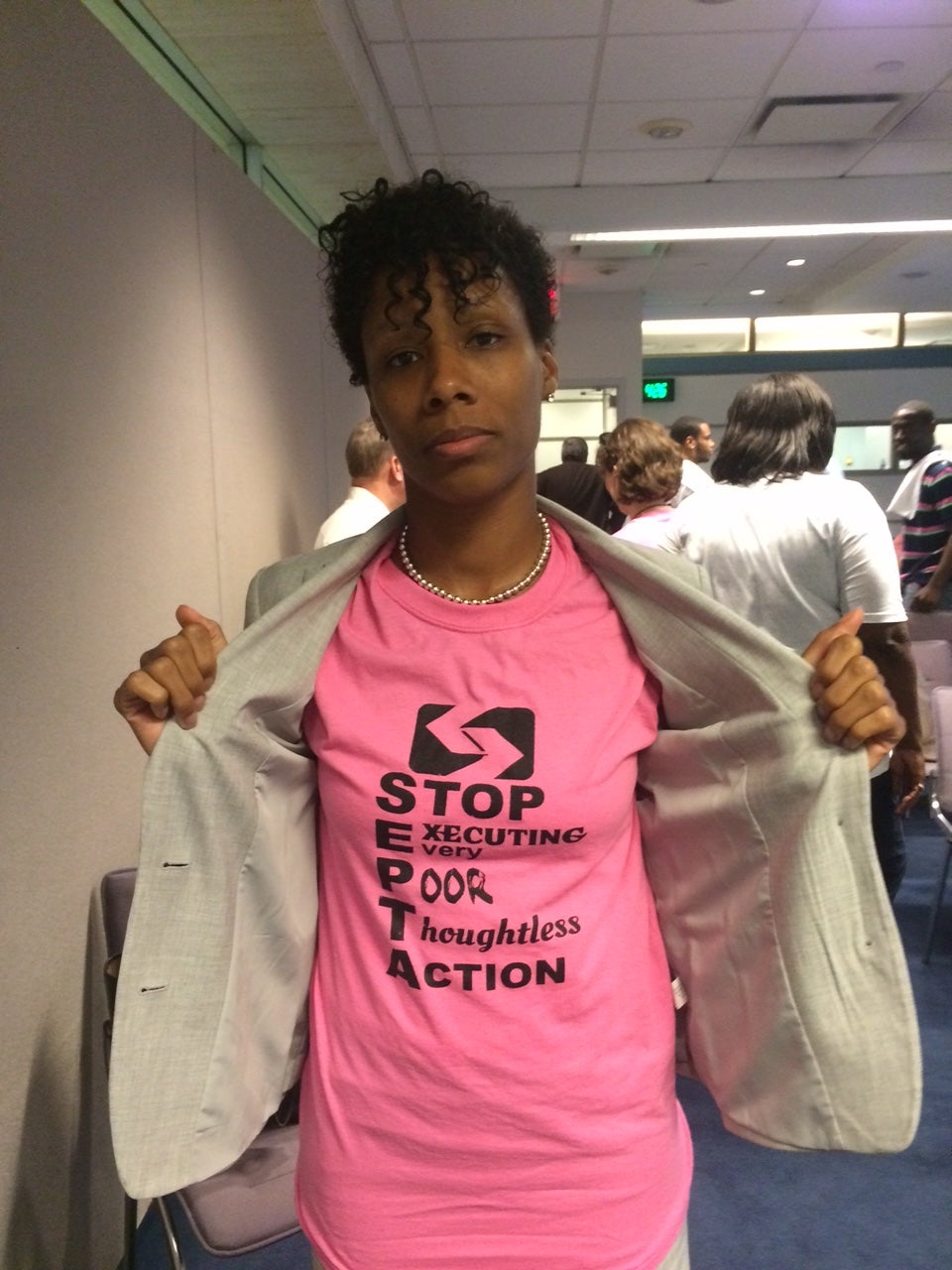 As she started her comments before the SEPTA Board, Kimberly Washington, the executive director of the Frankford Community Development Corporation was calm, cool, even.
But with every word, her voice filled with more passion. And following a short back-and-forth with SEPTA Chairman Pasquale Deon, that passion turned to anger.
"You've hurt us. You've made promises and you've broken them," Washington began.
"I've dealt with Francis Kelly, I've met with Bob Ludd, I've met with Frances Jones, I've met with Mauricio Silva, I've met with Alan Greenberger, I've met with Councilwoman Sanchez, I've met with Dwight Evans, I've met with John Teller," Washington said, rattling off the names of politicians and officials from SEPTA and the city, and punctuating her list with: "We are fucking tired of meeting!"
Following the otherwise sedate-as-usual board meeting, SEPTA's Assistant General Manager of Public and Government Affairs Fran Kelly and CEO Joe Casey held an impromptu, hour-long meeting with Washington and over 30 Frankford residents, listening—but not necessarily agreeing— as the long-neglected community expressed their frustration with a transportation authority that they accused of repeatedly betraying their trust and ignoring the neighborhood's needs.
And the catalyst for this splenetic SEPTA rap session? Seemingly benign plans to build a one-story employee break-room and back-up command center on an oddly shaped lot that has sat empty for twenty years next to the Frankford Transportation Center.
COMMUNICATION BREAKDOWN
Washington said the community first heard about SEPTA's plans for the property in March, but was under the impression that nothing was set in stone then. On Tuesday, a SEPTA project manager discussing a mundane ADA-compliance project at the Arrott Transportation Center let it slip that SEPTA was planning to break ground on construction in the next week or so. The neighbors felt blindsided, and Washington promised they would picket construction.
Washington said the CDC isn't opposed to SEPTA building a break room or the ancillary command center. They just want something more, something that the community needs, something that could spur additional development or provide jobs. By all means, Frankford CDC says, build the facility; just build it on top of some needed retail or professional office space.
SEPTA's proposal would place a small building fronting on Grissom Street, leaving a small L-shaped parcel fronting Frankford open to small storefront developments under the El.
Zoned CMX-3, a developer by right could place a fairly large, mixed-use building there; the Philadelphia City Planning Commission's Lower Northeast District Plan, approved in 2012, calls for placing a multi-story health center there.
But the Market Frankford Line's elevated rails and support beams jut across the lot's frontage onto Frankford Avenue, and a small row of check cashiers and empty storefronts line Pratt Street to the north, limiting the lot's development potential.
Over the years, some developers approached SEPTA about building the sort of dense, mixed-use development befitting of a lot next to Philadelphia's second busiest transit station and the 16,000 passengers passing through it each day. But for various, mundane reasons, none of those deals came to fruition.
And all those proposals came during SEPTA's lean years before Act 89 improved transit funding in 2013. After twenty some odd years of trying to unload the property, SEPTA now had the funds to build a long-demanded break room and much needed back up command center. SEPTA placed the building's design and construction on its 2014 capital budget with construction planned for "2015-2016". It secured federal resilience project funds for the command center. The authority publicized requests-for-proposals and the board approved contracts at public board meetings.
But SEPTA didn't go out of its way to reach out to Frankford. Washington said the CDC understood a change to the lot's zoning as clearing the way forward for the kind of dense, mixed-use development proposals the neighborhood wanted. SEPTA thought it was obvious that those changes were the final hurdle to building their facility.
Further complicating the matter, Frankford's only supermarket, a Thiftway across Frankford the lot, is pegged for demolition, with plans for a Rite–Aid in its stead. While that Rite-Aid wouldn't take up the entirety of that space, it wouldn't leave enough room for another market. Frankford CDC had hopes that the empty lot could house a replacement market, and had brought in supermarket operators to look at the site, as well as a SEPTA-owned parking lot behind it (which lacks access roads large enough for the tractor-trailers used by food distributors).
Frankford residents repeatedly expressed their distrust as SEPTA officials tried to mollify the crowd, speaking of broken promises for improvements to the transportation center and nearby Arrott Transportation Center. Some of the grievances occurred over twenty-five years ago. But in a long-suffering neighborhood now facing the loss of its only supermarket, old wounds run deep.
That mistrust exacerbated what might have been just a misunderstanding. SEPTA's Kelly and Washington have been speaking about this development and the potential for other developments nearby, including the redevelopment of a surface parking lot adjacent to the proposed break room facility.
But what SEPTA understood as a promise to work on developing its parking lot and the remaining empty parcel of its empty lot, Frankford CDC understood as a promise to work on creating a completely new proposal for the empty lot.
Kelly told PlanPhilly that SEPTA couldn't consider allowing mixed-use development at the back up command center site, given the risk that other tenants or the landlord could compromise the security or cause a fire. SEPTA's Headquarters at 1234 Market Street has a deli, Pastrami & Things, on its lower level.
Under state law, SEPTA can only build transportation facilities, and would need to enter into arrangements with other agencies or non-profits for a mixed-use development.
Besides, SEPTA says, the authority has reached the point of no return. Construction contracts have been signed. If SEPTA decided not to build, they'd breach the contract and owe the builders the profit they would have made. And SEPTA would need to return the federal grant funds, which were used to pay for the design work. It would cost millions.
Still, there is a glimmer of hope for a happy solution. SEPTA CEO Casey suggested offering Rite-Aid the remaining parcel on the lot for its proposed pharmacy, leaving the Thriftway location open for Thiftway to remain or another supermarket to come in. According to Washington, Rite-Aid expressed a willingness to consider alternatives to its current plans.
Regardless of where SEPTA officials merely miscommunicated with the community or engaged in something more mendacious, the years of unhappy interactions have bred intense distrust. The meeting ended with an agreement for SEPTA and Frankford CDC to meet again soon to hammer out a solution… and a promise from Washington that the community would continue to fight the new facility's construction until concrete steps toward such a solution were made.
Kimberly Washington speaking to SEPTA Board

(Jim Saksa/PlanPhilly )
WHYY is your source for fact-based, in-depth journalism and information. As a nonprofit organization, we rely on financial support from readers like you. Please give today.