Neighborhoods in Flux: A Resource Kit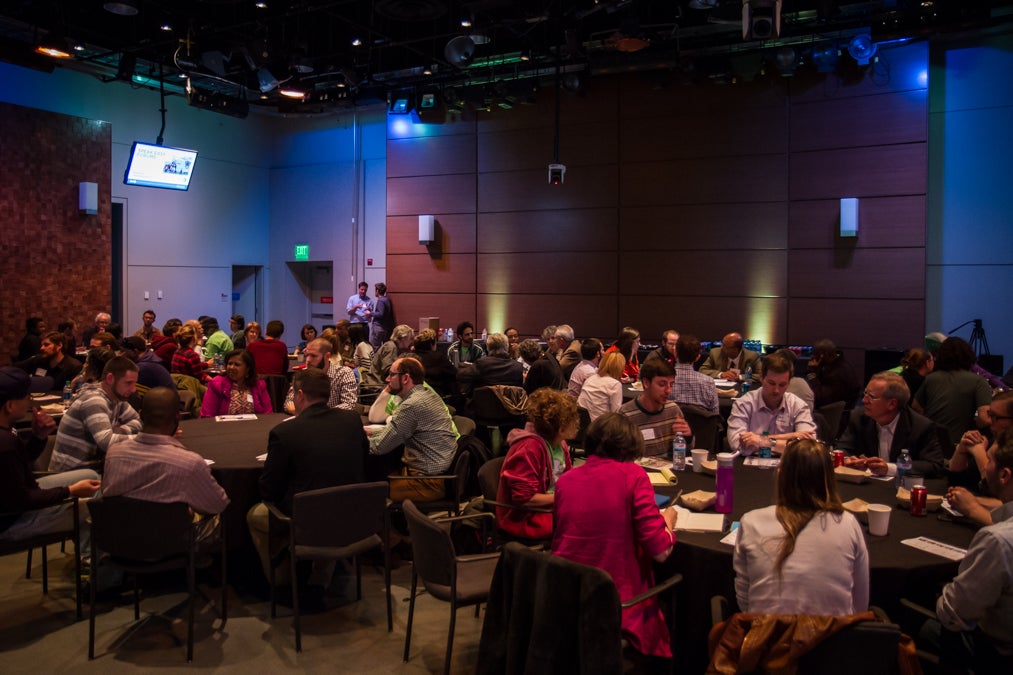 On Tuesday night, WHYY hosted a public conversation about Philadelphia's changing neighborhoods: how to improve them, how to stay in them, and how to treat your neighbors, whether they're new to the neighborhood or lifelong residents.
Unlike some conversations about the topic, this one seemed to be conducted in a spirit of inquiry, rather than one of instruction and counter-instruction. The consensus, if I had to summarize: neighbors and neighborhoods need to work together to make sure that change benefits everybody. To that end, here are a few tools.
JOINING A COMMUNITY ORGANIZATION OR STARTING YOUR OWN
Philadelphia's zoning code—the list of rules about who can built what, where, and how—recognizes certain Registered Community Organizations. It requires that these groups be notified when projects pop up in their neighborhoods, and gives them the right to meet with developers who are seeking exceptions to the zoning rules. These groups wield varying degrees of control over construction projects. If you'd like to get involved in your local RCO, you can access the city's map of neighborhood groups, or read through a list maintained by the City Planning Commission.
The Planning Commission also has periodic open-enrollment periods for new Registered Community Organizations, the next of which is in June. If you're interested in starting your own group, you can get more information here. You can also email RCO@Phila.gov, or call 215-683-4685.
One of the panelists from Tuesday night's event, Jill Betters of Fishtown, talked about the importance of various neighborhood groups working together. The Philadelphia Crosstown Coalition of Civic Associations has had some success in organizing groups around problematic proposals, like Mayor Nutter's Actual Value Initiative, which overhauled the property-tax assessment system. To find out more about the coalition and how to get involved, click here.
FINDING PROGRAMS AND SERVICES
As Philadelphia's population has grown modestly over the last few years after shrinking for decades, and especially after Mayor Michael Nutter overhauled the property-tax assessment system, the city has enacted various programs and policies that help long-term residents stay in their homes. At WHYY's Speak Easy event Tuesday night, a number of attendees lamented the fact that these programs tend to be unknown to many residents who might benefit from them.
The programs include tax freezes and deferrals for seniors and homeowners whose neighborhoods are rising sharply in property value. They also include payment-plan programs for people who fall behind in their property taxes. Read more about some of these programs here.
TESTIFYING AT THE ZONING BOARD, PLANNING COMMISSION, OR CITY COUNCIL
Whether or not you're part of a Registered Community Organization, you can still weigh in on projects in your neighborhood that come before the Zoning Board of Adjustment, the City Planning Commission, City Council, or the Civic Design Review Committee. There's nothing in the city's laws that says those various boards and commissions should value RCOs' opinions over individuals'. So if you've got a convincing case to make about why a project should be approved or rejected, go to it.
City Council meetings are held every Thursday morning in City Hall, Room 400, at 10 a.m. Anyone can speak for three minutes on any item under consideration, and you can monitor Council's agenda here. If you want to weigh in on zoning legislation, you might have better luck at the committee phase, when Council members hear from various interested parties and consider amendments. Zoning bills go through Council's Committee on Rules.
The Planning Commission meets on the third Tuesday of every month on the 18th floor of the City of Philadelphia building, at 1515 Arch Street. The Civic Design Review Committee, which weighs in on the public impacts of major development projects, meets in the same room on the first Tuesday of every month. Members of the public are invited to speak at both meetings. You can monitor the Planning Commission and CDR Committee calendar here.
The Zoning Board of Adjustment has the final say over whether to permit developers to build projects that don't comply with the zoning code. Theoretically, the board is supposed to base those decisions on whether the developer makes a compelling case that the property can't be used under its current zoning designation, but they listen to neighbors, too. ZBA hearings are held every Tuesday and Wednesday at the City of Philadelphia building, 1515 Arch Street, on the 18th floor. You can monitor upcoming cases, organized by your City Council district or your RCO's boundaries, on this calendar.
CONTINUING THE CONVERSATION
If you care about the development of the city or how your neighborhood is changing, share your perspective. PlanPhilly's Eyes on the Street blog and NewsWorks' Speak Easy blog both publish commentary from civic leaders and neighborhood folks on a wide range of topics. If you've got something to say, you can email Ashley Hahn at Eyes on the Street (ahahn@planphilly.com) or Eric Walter at Speak Easy (ewalter@whyy.org).
You can also visit Speak Easy right now to read commentary from Tuesday night's panelists: