Over two months after Philly arrests, Starbucks gets a list of next steps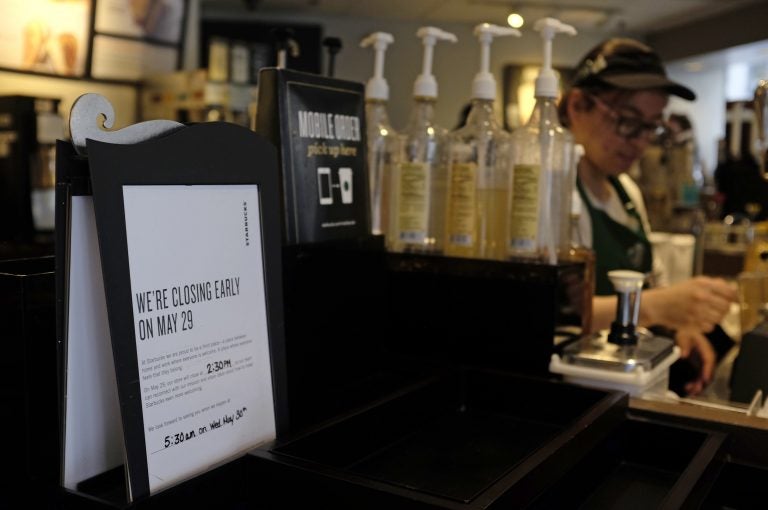 Two days after two black men were arrested inside a Starbucks in Center City Philadelphia, CEO Kevin Johnson issued an apology, calling the April 12 incident "reprehensible."
Less than a week later, the coffee shop company announced it would be closing all 8,000 of its stores for one day so nearly 175,000 employees could participate in racial bias training.
But now what?  As the company moves from crisis mode to attempts at making a permanent change, a pair of consultants is recommending that Starbucks take a different tact: slow down.
"To truly incorporate racial equity and inclusion into all aspects of the business, a company like Starbucks will have to commit to a multi-phase, longer-term holistic process," write Demos' Heather McGhee and the NAACP Legal Defense and Educational Fund's Sherrilyn Ifill in "Toward a Vision for Racial Equity & Inclusion at Starbucks: Review and Recommendations," a wide-ranging report released Monday.
Before developing and implementing any more trainings, McGhee and Ifill say Starbucks needs to understand "the extent and shape of the problems and disparities." As a starting point, they say the company should look inward and conduct a pair of audits with the help of experts.
The first audit would be in-store to see if customers are being treated differently because of their backgrounds or identities, and, if so, in what way. The report also suggests that Starbucks perform a civil rights audit to see if there's bias baked into any of the company's policies and processes.
And when the company is ready to deploy new trainings tackling diversity and anti-discrimination, McGhee and Ifill say Starbucks needs to hire "expert facilitators, who can help defuse conflicts and, importantly, act as real-time coaches."
The one-day training on May 29 was largely virtual, and didn't have facilitators at each site around the country. Instead, employees moved through each section of the day using an iPad loaded with the training materials.
Monday's report also calls on Starbucks to make changes about when police should — and should not — be called. "Police officers," write McGhee and Ifill, "are not a private security force, nor dispute resolution experts."
The report recommends that Starbucks clarify that police should only be called "to address criminal activity or threats to public safety."
McGhee and Ifill also say the company should develop a system to track calls to police from their stores. They say five or more calls to police in a "given period of time" should lead to a review at the regional level.
The report also suggests that "every store should have one officer who they know, who understands the company culture, who knows the district manager, the store manager and the store itself." And that Starbucks create a local list of people, including social service providers, who can be called instead of police if, for example, there's an issue with a homeless person, panhandling, or drug abuse.
Right now, Starbucks policy lays out certain circumstances – including a robbery, medical emergency, or gas leak – that automatically trigger a 911 call. Otherwise, the decision is left up to the store manager, such as when someone is panhandling or being verbally abusive.
Employees are instructed to try to talk to the customer who is being disruptive to see if they can get him or her to stop. If the customer won't and the situation becomes unsafe, Starbucks says to call 911.
During the April 12 incident in Rittenhouse Square, a white manager called the cops on Donte Robinson and Rashon Nelson, two black men waiting for a business meeting to start. Police said Nelson and Robinson were allegedly trespassing because they refused to make a purchase or leave. They were arrested and escorted out of the store not long after being surrounded by six officers.
Nearly two months after Robinson and Nelson were arrested (and later released with no charges against them), the Philadelphia Police Department issued a new policy on defiant trespassing. Cops still have a fair amount of discretion, but there's a number of things that have to happen before someone can be arrested and taken into custody.
The first step is de-escalation. Before making an arrest, officers have to witness a person refusing to leave. They also need to get approval from their supervisor, and the store owner or manager must sign paperwork saying they want to press charges.
McGhee and Ifill say Starbucks also needs to adopt and create a "customer bill of rights" to be prominently displayed in each store. The document would be "consistent with new policies regarding use of Starbucks facilities and anti-discrimination protections."
"Starbucks has an opportunity to provide a model for other corporations across the country – to assess, learn and address the ways racism is impacting their businesses and the communities in which they work," McGhee and Ifill wrote.
Neither were made available for comment.
"We appreciate the recognition from Ms. McGhee and Ms. Ifill that we tried to respond quickly and with an unequivocal commitment to address racial bias and discrimination," a Starbucks spokesperson said in a statement. "We also recognize that we will always have more work to do, and we know that it will take deep and thoughtful engagement to get there. As we previously shared, May 29 was just the beginning for Starbucks."
The report comes as more incidents similar to what happened at the Philadelphia Starbucks have made headlines around the country, forcing other companies to grapple with allegations of discrimination.
On Father's Day, a black Philadelphia man was stopped by police at Dorney Park because he allegedly fit the description of a man who was "going through purses and bags," according to The Philadelphia Inquirer. He was later released, but banned from the amusement park for six months after allegedly cursing and causing "a public inconvenience" as he was escorted through the park.
And the home improvement chain Lowe's has ended its practice of checking customers' receipts at certain stores after another black man from Philadelphia questioned why his receipt was checked at a location in West Philly, but not at a store in the suburbs.
—
Update: This story has been updated to include comment from Starbucks.