Anti-bias training day for Starbucks
Listen
4:59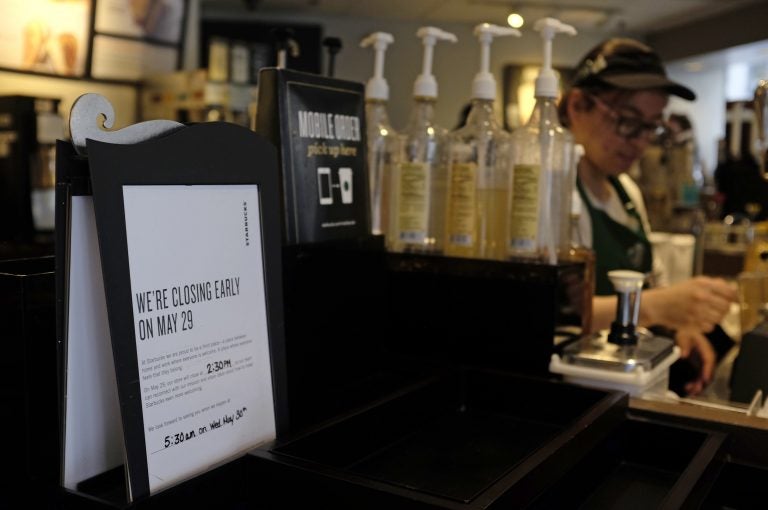 Don't count on Starbucks for your afternoon caffeine fix Tuesday. Six weeks after Philadelphia police arrested two black men at one of the coffee chain's locations in Center City, the company is temporarily closing all of its U.S. stores so thousands of employees can complete anti-bias training with the goal of rooting out discrimination of all kinds at Starbucks.
The identical, four-hour sessions will happen inside 8,000 company-owned stores. It'll be part history lesson, part personal exploration, part refresher course on company policies and guidelines.
Employees will learn about segregation during the civil rights movement, but also spend time discussing and dissecting their own experiences with bias. Starbucks is billing the training as a starting point for a longer, ongoing conversation about making everyone feel welcome at its stores.
"Success for today would look like over 100,00 employees saying they felt that they understood why non-discrimination is essential for the company that they work at to be successful. And I also think it will be a success if there's a hunger and a clamoring for more," said Heather McGhee, one of the advisors who helped Starbucks decide what to include in Tuesday's training.
Similar to any business that relies on low-wage workers, Starbucks contends with employee turnover. In Philadelphia, more than a couple locations are staffed by millennials who may not be committed to staying in the city, let alone being a barista at Starbucks.
McGhee, president of Demos, a public policy organization that fights against inequality, said that shouldn't make it hard to get buy in from employees. While the training is certainly aimed at making Starbucks better, it's also an opportunity for employees to take home skills they can apply to their lives in general, she said.
"These issues are fundamental, not just to being a good employee, but to being a good person, a good citizen in a country that is quickly becoming more and more diverse," said McGhee.
It's hard to say if Starbucks employees in the Philadelphia area share the sentiment. All of the baristas and shift supervisors WHYY contacted over the last two weeks declined interviews, if they responded at all.
Gene, who worked at a Starbucks in Center City until a few months ago, said he would feel "resentful" if he had to go through Tuesday's training. To Gene, a pseudonym to protect his real identity, Starbucks is "trying to pass the buck."
"They're trying to be like, 'Look, we're trying to solve the problem, we're doing the thing, we're taking care of business, we're not racist. And we're going to fix it by making sure our employees aren't racist.' They're avoiding the actual work that they need to do, which is find alternatives to calling the police," said Gene, referring to the incident at the Starbucks in Philadelphia last month.
On April 12, Donte Robinson and Rashon Nelson, two black men in their early 20s, headed to a Starbucks 18th and Spruce Streets for a business meeting. Nelson asked to use the bathroom. According to an incident report obtained by NPR, the store manager told police that Nelson and Robinson cursed at her after she told them the bathroom was for customers only. While they were waiting for a third person to show, the manager approached and asked if they wanted to buy water or start a drink order. After they declined, the manager then asked the men to leave, but they refused, according to the report.
What happened next sparked outrage and created an avalanche of news coverage. Shortly after speaking with Robinson and Nelson, the former manager called 911, telling a dispatcher that there were "two gentlemen" that were "refusing to make a purchase or leave."
Less than a 30 minutes later, Robinson and Nelson were on their way to police headquarters for allegedly trespassing, according to a recording of the 911 call released by the Philadelphia Police Department.
A few days later, after cell phone footage of the arrest when viral, Starbucks announced the racial-bias training.
In the weeks since, Starbucks has apologized to Nelson and Robinson, its employees and customers, vowing in a letter penned by CEO Kevin Johnson to "learn from this and be better." (Philadelphia Police Commissioner Richard Ross also apologized, telling reporters that it was wrong for him to have said that his officers "did not do anything wrong" during a Facebook Live video, even if what they did was legal.)
Starbucks also reached a financial settlement with Nelson and Robinson for an undisclosed amount, and changed its bathroom policy. In a nod to what happened to Nelson and Robinson, the company decided to make its restrooms available to everyone. They used to be just for customers, though store managers had a lot of discretion.
Gene, the former employee, hopes the company also changes a policy for calling 911.
Right now, there's a set of circumstances – including a robbery, medical emergency, or gas leak – that triggers that call automatically. Anything outside of that – for example, if someone is panhandling or being verbally abusive – is where the decision becomes more subjective. Employees are instructed to try to talk to the customer who is being disruptive to see if they can get him or her to stop. If the customer won't and the situation becomes unsafe, Starbucks says to call 911.
"Maybe this training will result in some employees speaking up louder against the policy itself of calling the police when there's someone who they consider to be a threat and is also a person of color – like maybe they'll think twice about it and decide not to follow this policy," said Gene.
Starbucks declined requests for comment prior to Tuesday's training.
Next month, McGhee and other advisors will hand Starbucks a report with recommendations and expectations they hope will serve as a "blueprint" for the company as it considers next steps, including what policies need to be reviewed.
"For the level of consciousness that we need to have in a society that is as diverse as we're becoming, and has been as intentionally racist as it has been in the past and present, of course it's going to take more than a day, but we have to start somewhere," said McGhee.