Murphy vs. Ciattarelli: No winner, no loser yet in New Jersey governor's race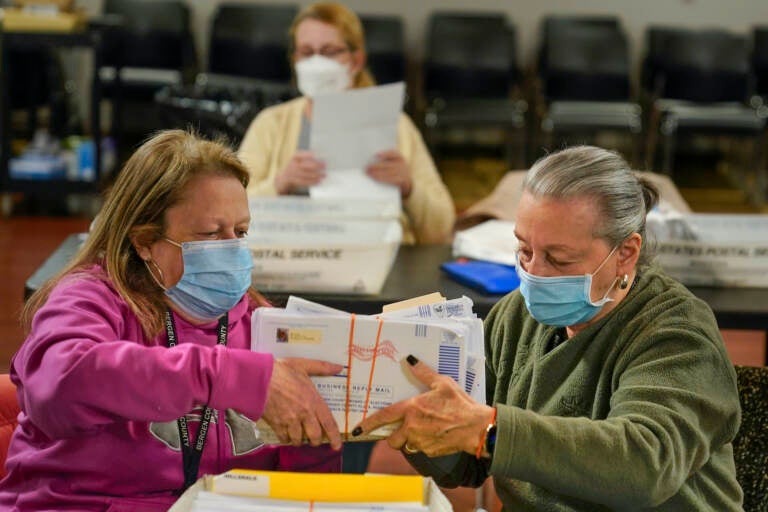 A contest once seen as a race between an incumbent with more supporters, more money and more chances to win against a little-known challenger remains undecided.
Gov. Phil Murphy and his Republican challenger Jack Ciattarelli remained separated Wednesday by only thousands of votes out of more than 2 million cast.
Both men urged supporters to remain patient and wait for results now being counted from across the state. Election officials have until next Tuesday to complete that count. Also outstanding and left to be counted are any provisional ballots, ballots cast by voters whose ability to vote may have been in question.
The unknowns
Exactly how many votes remain, and who will win them are open questions.
Another unknown that many had assumed would have been easily answered by Tuesday's results: How powerful will Democrats be in the Legislature? Senate President Steve Sweeney appeared to be trailing to an unknown Republican challenger in his South Jersey district.
With close to 98% of precincts reporting shortly after noon Wednesday, Ciattarelli was ahead of Murphy by 122 votes, with the margin virtually tied at 49% for each candidate.
Many expected Murphy to be reelected as governor, by beating Ciattarelli and assuring continued one-party control of the State House for at least the next two years.
Ciattarelli defied the polls and predictions and stands close to winning a shocking victory against Murphy.
'We're going to have to wait'
"We're going to have to wait a little while longer than we had hoped. We're going to wait for every vote to be counted, and that's how our democracy works," Murphy told supporters just before 12:30 a.m. "We're all sorry that tonight could not yet be the celebration we wanted it to be, but as I said, when every vote is counted and every vote will be counted, we hope to have a celebration."
In traditionally Republican counties, voters turned out overwhelmingly for Ciattarelli, especially in Monmouth and Ocean counties. Ciattarelli also gained ground in other suburban counties.
For most of the night, votes from Essex County were not posted, giving Murphy supporters hope that the state's largest concentration of Democratic voters would be enough to wipe out Ciattarelli's gains. When the returns came in after 11 p.m., they weren't. But by 2 a.m. after remaining ballots were counted in Bergen County, Murphy jumped ahead with a lead of 4 percentage points in that county after trailing Ciattarelli by 5 percentage points. That was enough to draw the margin to within 2,000 votes out of more than 2 million cast statewide.
"I'm here to tell you that we're winning, we're winning," Ciattarelli said. "We've got to have time to make sure every legal vote is counted and I'm confident — I'm confident — that when they are, I can stand before you and not say 'we're winning,' I can stand before you and say 'we've won.'"
"You can watch us closely over the next week or so in order for us to do what needs to be done to certify this win. The great news, guys, is we have sent the message to the people of New Jersey … and although it was not my intention, we have sent the message to the entire country."
Taxes, pandemic
While most voters approved of Murphy's handling of the COVID-19 pandemic, the coronavirus was no longer dominating the campaign by mid-October, Monmouth University Polling Institute surveys found. But polls also showed almost all voters felt some of the public health restrictions harmed small businesses, a sentiment Ciattarelli sought to tap into. Undecided voters also appeared willing to blame Murphy for the high rates of COVID-19 deaths in nursing home, another issue Ciattarelli sought to exploit during his campaign.
Some indications of the race's tightening may have been revealed in recent public-opinion polling that indicated voters' focus starting to shift somewhat away from the pandemic and toward the tax issue, which is always a simmering concern for New Jersey residents. Murphy hiked several taxes since taking office in early 2018 to support a series of hefty spending increases, and local property-tax bills also rose consistently throughout Murphy's tenure.
Ciattarelli and his allies pounded away at the tax issue in recent ads, including some highlighting comments Murphy made in 2019 during an event at Rowan University that were portrayed as being dismissive of concerns about high taxes.
The issues they ran on
Registered Democrats outnumber registered Republicans by more than 1 million. And through the end of day Sunday, more Democrats voted early than Republicans, the unaffiliated and independents combined. Turnout in state elections historically has been notoriously low.
Murphy, who partnered again with Lt. Gov. Sheila Oliver, largely ran on his progressive record, including a higher minimum wage, police and prison reforms and a push for 100% clean energy by 2050, and says he wants to keep making the state "stronger and fairer." A Rutgers-Eagleton poll released Monday said national political views and party loyalty were contributing to support for the governor. Other supporters and opponents of Murphy's cited his handling of the pandemic as a reason for their votes.
Ciattarelli campaigned saying New Jersey is broken and offered a plan that included tax cuts, a new school funding formula that would shift some aid from the cities to the suburbs and no COVID-19 mask and vaccine mandates. A Fairleigh Dickinson University poll released late last week said voters were sympathetic to Ciattarelli's criticisms of some of Murphy's police reforms but that wasn't what prompted most of those polled to choose a candidate.
The campaign for governor set a record for the largest amount spent by independent organizations — almost $27 million for the general election through last Friday, an amount bound to rise once all the spending is tallied — according to the state Election Law Enforcement Commission. Most of that was geared toward reelecting Murphy. Murphy was outspending Ciattarelli by about $100,000 as of the latest ELEC reports on Oct. 19 and had five times more money in the bank for the last leg of the race. Combined, the two had laid out $25 million with two weeks left in the campaign.