Mural of the story: In clutch situation, Eagles overpower Brady
Philly artist hopes to go bigger with Super Bowl mural that went viral.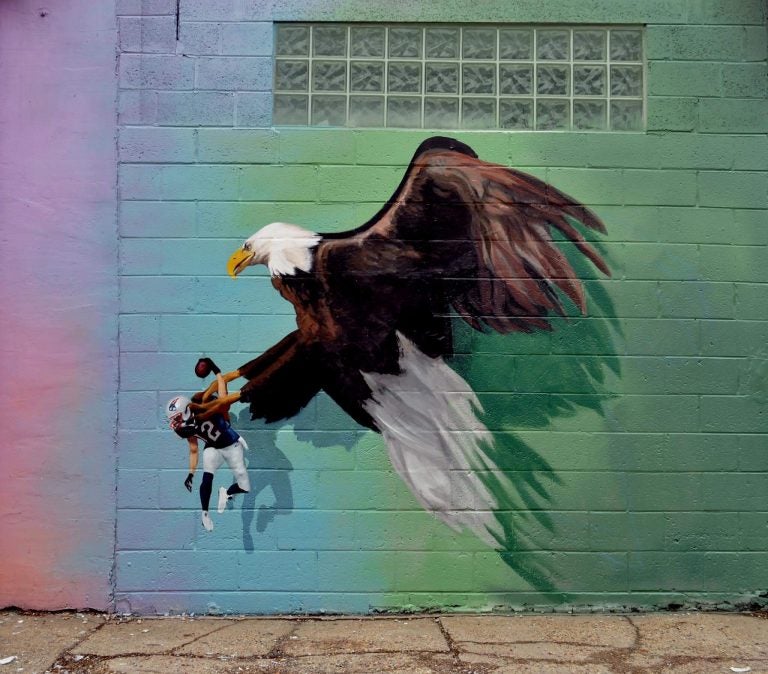 Street artist Meg Saligman always knew that she would paint a mural in tribute to her beloved Eagles if they ever made it to the Super Bowl.
So when they did, she started brainstorming. Painting an eagle was a no-brainer, but in what context?
"I was sitting in bed with my husband, flipping through pictures of birds," she said. "We thought maybe the bird's holding the football, and my husband said, 'How about Tom Brady?' And I said, 'Oh my God!' "
That's how the mural, aptly titled "Bird Feed," took wing.
It depicts an enormous eagle swooping down, with the Patriots quarterback, football in hand, floundering helplessly in its talons. It instantly went viral among Philadelphia social media users in the days leading up to the Super Bowl.
"It's a Philly type image. It's got a little naughty in it," Saligman said. "It's about as mean-spirited as we'll get, but it's poking humor … and reverence for our Eagles this year."
Right now, the mural is about as tall as quarterback Nick Foles and currently adorns the side of Saligman's South Philly studio.
But anybody who knows the acclaimed muralist knows she likes to go big or go home.
You may know her work from the "Common Threads" mural that graces the northwest corner of Broad and Spring Garden or "Our Flag Unfurled" at 500 N. Columbus Blvd. Larger than life images, they have become part of the fabric of the city.
Saligman sees the Eagles victory mural as a crucial representation of the city. She recently launched an Indiegogo campaign to raise $60,000 to fund a multistory version of the mural on a centrally located city wall for maximum exposure.
"This should be big," she said, "and seeing how we love to do big, if people want it, we hope it will be funded, and we will be honored to paint it."
And because she installed the mural the Wednesday before the Eagles won the big game, Saligman wants to add some embellishments and verbiage showing that the Eagles are Super Bowl champs.
"I'm thinking we'll install Queen's 'We Are The Champions,' and blare it through the city from 3 to 10 every evening," she said, half-jokingly.
WHYY is your source for fact-based, in-depth journalism and information. As a nonprofit organization, we rely on financial support from readers like you. Please give today.