11 killed, 6 injured in Pittsburgh synagogue shooting; FBI investigating as hate crime
An ambulance arrives at the Tree of Life Synagogue where a shooter opened fire Saturday, Oct. 27, 2018. (Gene J. Puskar/AP Photo)

Michael Eisenberg, immediate past president of the Tree of Life Synagogue, talks to a reporter on the phone a few blocks from the Tree of Life Synagogue where a shooter opened fire Saturday, Oct. 27, 2018, injuring multiple people, including three police officers. (Gene J. Puskar/AP Photo)

People gather on a corner near the Tree of Life Synagogue in Pittsburgh, Pa., where a shooter opened fire Saturday, Oct. 27, 2018, injuring multiple people. (Gene J. Puskar/AP Photo)

First responders surround the Tree of Life Synagogue, rear center, where a shooter opened fire Saturday, Oct. 27, 2018, wounding three police officers and causing "multiple casualties" according to Police. (Gene J. Puskar/AP Photo)

A SWAT team arrives at the Tree of Life Synagogue where a shooter opened fire injuring multiple people, Saturday, Oct. 27, 2018. (Gene J. Puskar/AP Photo)

Tree of Life Synagogue in Pittsburgh, Pa. (Google Maps)
Updated: 4:52 p.m. EST
Officials in Pittsburgh say 11 people were killed Saturday when police say a man opened fire during a baby-naming ceremony at a synagogue in Pittsburgh. No children are among the dead.
Six people were injured, among them four police officers, but not including the suspect, said Pittsburgh Public Safety Director Wendell Hissrich. Two officers are in stable condition, as are two SWAT team members.
Bob Jones, the FBI Special Agent in Charge of Pittsburgh, said the investigation is in its early stages, and called it "the most horrific crime scene" he'd seen in his 22 years of working for the bureau.
Officials identified the suspect in the attack at the Tree of Life Congregation in Pittsburgh's Squirrel Hill neighborhood as Pittsburgh resident Robert Bowers, who is in custody and was taken to a hospital. The city's Public Safety Director Wendell Hissrich said Bowers is in fair condition with multiple gunshot wounds.
Jones said investigators believe Bowers acted alone and was in the synagogue for approximately 20 minutes.
Jones said investigators believe Bowers acted alone and was in the synagogue for approximately 20 minutes. An assault rifle and three handguns were used in the shooting, Jones said.
His voice breaking, Hissrich said it was a "very horrific crime scene."
"It's one of the worst that I've seen and I've been on some plane crashes," Hissrich said. "It's very bad."
Dr. Don Yealy with the University of Pittsburgh Medical Center says the six people injured were taken to three hospitals, including a 61-year-old woman, some with multiple gunshot wounds. A 70-year-old man underwent emergency surgery, and two of the six injured are in critical condition, Yealy said.
BREAKING: Suspect in shooting at Pittsburgh synagogue is in custody, according to Pittsburgh police. Three officers were shot, and multiple casualties. https://t.co/5FjPA5h1Ia pic.twitter.com/an5UiyHqhg

— ABC News (@ABC) October 27, 2018
The synagogue is located at the intersection of Wilkins and Shady avenues. The tree-lined residential neighborhood of Squirrel Hill, about 10 minutes from downtown Pittsburgh, is the hub of Pittsburgh's Jewish community.
In 2010, Tree of Life Congregation — founded more than 150 years ago — merged with Or L'Simcha to form Tree of Life (asterisk) Or L'Simcha.
The synagogue is a fortress-like concrete building, its facade punctuated by rows of swirling, modernistic stained-glass windows illustrating the story of creation, the acceptance of God's law, the "life cycle" and "how human-beings should care for the earth and one another," according to its website. Among its treasures is a "Holocaust Torah," rescued from Czechoslovakia.
Its sanctuary can hold up to 1,250 guests.
Pittsburgh Mayor Bill Peduto said a hotline has been established for the victims' family members and a center has been set up at Chatham University.
A hotline has been established for victim family members 412-432-4400 – a center has been set at Chatham University – 106 Berry Street. Multiple fatalities, 6 wounded including 4 Officers. FBI in charge, due to nature of hate crime.

— bill peduto (@billpeduto) October 27, 2018
Law enforcement is requesting all neighborhood residents to stay inside their homes until further notice.
Though police have asked residents to stay inside, I've noticed a few passersby, some with groceries, going about their Saturday mornings. @905wesa

— Lucy Perkins (@lucyeperk) October 27, 2018
Jewish leaders shocked, concerned
While the motive of the perpetrator is not yet known, one Philadelphia Jewish leader said he sees the shooting as part of a disturbing trend.
"I think that the stoking of hatred and divisiveness in our country by some of our leaders creates an atmosphere where some people who are on the edge feel commissioned to do hateful things," said Rabbi Mordechai Liebling, a Philadelphia activist and member of the faculty at Reconstructionist Rabbinical College in Wyncote.
Liebling, who said his parents were both survivors of the Holocaust, was among the clergy members who descended on Charlottesville, North Carolina last August to protest the rally organized by white supremacist groups.
"I heard the folks in the alt-right say, 'Jews will not replace us,' " he recalled. "After that, when the president refused to condemn those people, that was shocking."
Jeff Finkelstein of the Jewish Federation of Greater Pittsburgh told WPXI that organization's security officer has notified all JCC synagogues and that they are on modified lockdown.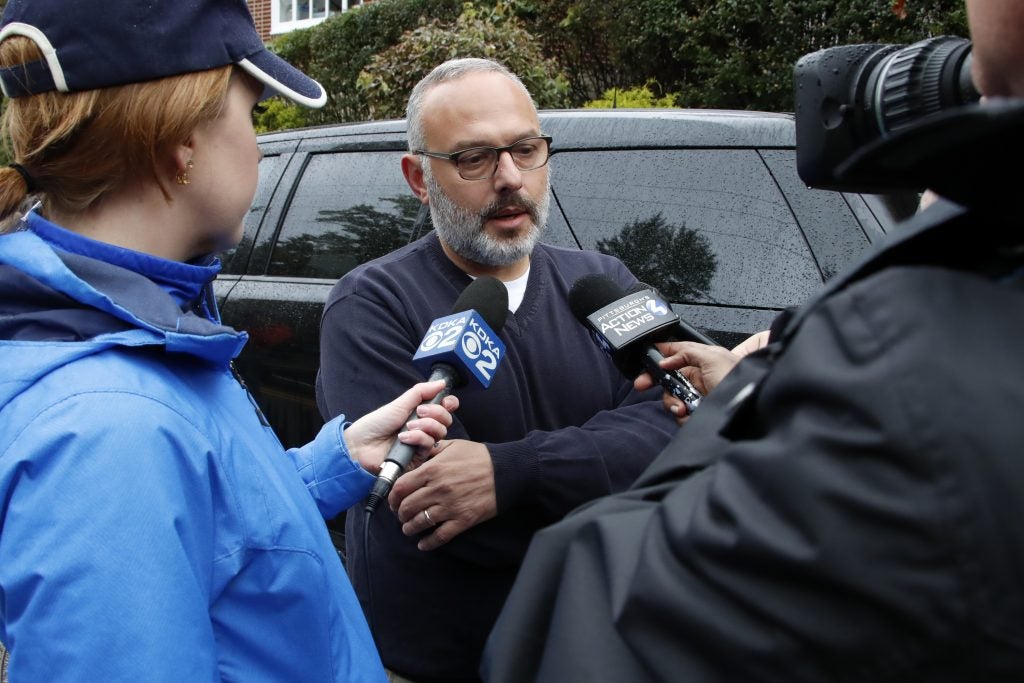 The congregation's president declined to comment.
Minister Naftali Bennett, Israel's Cabinet minister for diaspora affairs, said he is "following the news with concern," and has instructed the ministry to prepare to assist the community in every possible way.
"Our hearts go out to the families of those killed and injured," he said. "May the memory of the murdered be blessed."
Finkelstein said local synagogues have done "lots of training on things like active shooters, and we've looked at hardening facilities as much as possible."
"This should not be happening, period," he told reporters at the scene. "This should not be happening in a synagogue."
Trump: 'They didn't have any protection'
President Donald Trump said he has been monitoring the shooting. In a tweet, Trump encouraged people to shelter in place.
In another, he said the outcome would have been different with an armed guard at the synagogue.
"They didn't have any protection," he said.
BREAKING: Trump says outcome at Pittsburgh synagogue would have been different with armed guard: "They didn't have any protection."

— The Associated Press (@AP) October 27, 2018
Late this afternoon, Trump made a statement broadcast on Twitter, condemning anti-Semitism and any form of religious or racial hatred or prejudice.
"This wicked act of mass murder is pure evil, hard to believe, and frankly, something that is unimaginable. Our nation and the world are shocked and stunned by the grief. This was an anti-Semitic act. You wouldn't think this would be possible in this day in age, but we just don't seem to learn from the past. Our minds cannot comprehend the cruel hate and the twisted malice that could cause a person to unleash and such terrible violence during a baby naming ceremony — this was a baby naming ceremony — at a sacred house of worship on the holy day of Sabbath.
"Anti-Semitism and the widespread persecution of Jews represents one of the ugliest and darkest features of human history. The vile hate filled poison of anti-Semitism must be condemned and confronted everywhere and anywhere it appears. There must be no tolerance for anti-Semitism in America or for any form of religious or racial hatred or prejudice."
As you know, earlier today there was a horrific shooting targeting and killing Jewish Americans at the Tree of Life Synagogue in Pittsburgh, Pennsylvania. The shooter is in custody, and federal authorities have been dispatched to support state and local police… pic.twitter.com/WqO7GfPyMT

— Donald J. Trump (@realDonaldTrump) October 27, 2018
WESA's Lucy Perkins reports Pennsylvania Gov. Tom Wolf arrived on the scene just before noon.
"The shooting in Pittsburgh this morning is an absolute tragedy," Wolf said in a statement. "I have spoken with local leaders and my administration and the Pennsylvania State Police will provide any resources to assist local law enforcement and first responders.
"These senseless acts of violence are not who we are as Americans. My thoughts right now are focused on the victims, their families and making sure law enforcement has every resource they need.
"We must all pray and hope for no more loss of life. But we have been saying 'this one is too many' for far too long. Dangerous weapons are putting our citizens in harm's way.
"And in the aftermath of this tragedy, we must come together and take action to prevent these tragedies in the future. We cannot accept this violence as normal."
No updates yet but gov wolf just arrived @905wesa pic.twitter.com/6RFCI01Bpl

— Lucy Perkins (@lucyeperk) October 27, 2018
"No one should ever fear for their safety because of their religion. The news that a gunman bent on sowing terror targeted the Jewish community in Pittsburgh, on the Sabbath, is simply jarring," said New Jersey Governor Phil Murphy in a statement.
"Our thoughts are with all the families of Tree of Life Synagogue, the people of Pittsburgh, and the Jewish community. We also keep members of law enforcement in our prayers, especially those officers who were shot in the line of duty.
"We must recommit to ending the scourge of gun violence and to restoring respect for freedom and diversity of religions upon which our nation is based."
Rabbi posted column on death three days earlier
Just three days before the shooting, Rabbi Jeffrey Myers posted a column on the congregation's website, noting that people make time to attend funerals, but not for life's happy occasions.
"There is a story told in the Talmud of a wedding procession and a funeral procession heading along parallel roads, with the roads intersecting," Myers wrote on Wednesday. "The question asked is: when they meet at the fork, which procession goes first, funeral or wedding? The correct answer is wedding, as the joy of the couple takes precedence. In fact, the funeral procession is to move out of sight so that their joy is not lessened."
Myers ended his column with words that now seem all too prescient.
"We value joy so much in Judaism that upon taking our leave from a funeral or a shiva house, the customary statement one makes (in Yiddish) is 'nor oyf simches' – only for s'machot," Myers wrote. "While death is inevitable and a part of life, we still take our leave with the best possible blessing, to meet at joyous events. And so I say to you: nor oyf simches!"
This breaking news story will be updated.