Menendez, Toomey back bill to stop the flow of deadly fentanyl from China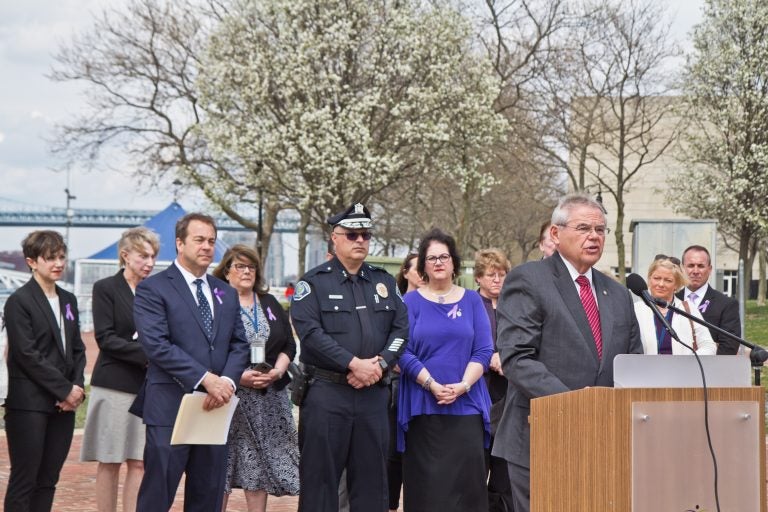 Lynda Bascelli, the chief medical officer at Project H.O.P.E — a Federally Qualified Health Center in Camden— can provide medication-assisted treatment to 275 people experiencing opioid addiction at any one time.
Two of her advanced practice nurses can treat 100 patients at a time, while her newest nurse can only treat 30 patients at a time.
Still, Project HOPE gets about 10 calls a day from people seeking treatment, according to Bascelli, and the crisis isn't abating.
"We can treat and treat and treat," Bascelli said. "But until we sort of plug the hole, we're just going to keep treating and treating and treating. It would be nice if the flow of the problem would stop… or at least be decreased. "
Fentanyl, which is 50 times more powerful than heroin, has been playing a more prominent role in spurring the crisis in recent years.
That's why Bascelli welcomes a new bill introduced in Congress that would place sanctions on Chinese drug manufacturers that knowingly supply fentanyl to traffickers.
"There is no heroin out there that is not unadulterated with fentanyl," said Bascelli. "It's what we see in our urine drug screening every day. It's what patients tell us. It's the desperation that they come in with that they need treatment right this very minute."
In 2018, more than 3,000 people died of drug overdoses in New Jersey.
"At the end of the day, we have to stop the fentanyl from coming into the city and we don't have the ability to do that," said Camden County Metro police Chief Scott Thomson.
Democratic New Jersey U.S. Sen. Bob Menendez sponsored the bill along with Republican U.S. Sen. Pat Toomey of Pennsylvania and five others.
"We can't simply take China's word for it when they say they'll crack down on fentanyl manufacturers, especially when American lives are at stake," Menendez said during a press conference Monday on the Camden waterfront.
The backdrop was the Port of Philadelphia where federal authorities seized 110 pounds of fentanyl coming from China last summer.
Under the proposal, bad actors from China and other countries would be barred access from U.S. banking and real estate markets.
The legislation calls for a commission on Synthetic Opioid Trafficking to monitor the flow of these drugs from other countries, and Menendez said he hopes the Trump administration will bring concerns of drug trafficking from China while negotiating on trade.
The bill also aims to allocate almost $1 billion across the U.S. Department of the Treasury, Department of State, and Department of Defense over five years.
"I think when we look at the incredible cost to our healthcare system, the incalculable costs in lives, and family consequences, that we will have strong support for the type of monies we're looking for," said Menendez, adding that he takes it as a good sign that some of the most conservative spenders in the Senate have backed the bill, including Toomey, and Sens. Marco Rubio of Florida and Tom Cotton of Arkansas.