Man arrested for taking grenades to Franklin Mills theater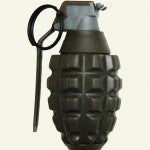 Police have arrested a 39-year-old man for bringing two hand grenades into Franklin Mills movie theater.
Kevin Michael took a bus to the mall wearing two World War II-era MK2 hand grenades strapped to his belt, and walked into the 5 p.m. movie. Patrons began running in every direction when the saw Michael, and police arrived to arrest him.
The 6'4″, 230-pound man struggled with officers, police said, and was then taken outside to a a staging area where the Bomb Squad was present. The grenades proved to be inert, and could not have blown up, but patrons at Franklin Mills could never have known that.
Michael has been charged with recklessly endangering other people, terroristic threats and possession of an instrument of crime. He has 20 prior arrests.