'Mamma Mia!', still rocking the jukebox at Walnut Street Theatre
The show that spurred a spate of live jukebox musicals remains a standout.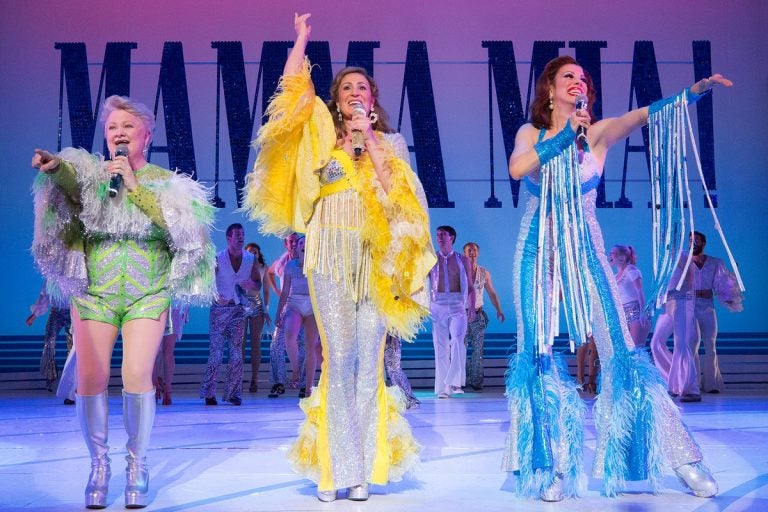 The last 10 minutes of "Mamma Mia!" at Walnut Street Theatre gloriously carry on a tradition started when the show opened in London in the late '90s: The story is finished, but the party continues. The characters up the ante, taking to the stage in outrageous finery – at the Walnut, Gail Baldoni's gold-boot and colorful bell-bottomed costumes look like confections good enough to eat.
The dancing cast springs into a medley of songs. The audience at the Walnut's opening night Wednesday responded on its feet, the way audiences do all over the world, clapping and tapping out the beat.
This all happens after the last curtain call, and it's the most jubilant finale I know. (And the only post-finale.) It's a fitting crescendo to the Walnut's co-production with Riverside Theatre in Florida — on a trajectory that began awkwardly with dancers moving behind a scrim to dance steps that seemed forced, and with a hammy first few minutes of acting.
But Richard Stafford's choreography picked up steadily and so did his direction of "Mamma Mia!"
In the middle of the first half, athletic guys in a chorus line flop on stage in flippers and snorkeling gear to the music of "Lay All Your Love on Me" – a perfectly performed number you won't soon forget – and Stafford's dance tricks have you hooked.
By now, the history of "Mamma Mia!" is musical-theater legend: the way Catherine Johnson took songs already recorded by the Swedish group Abba, whose sort-of disco, sort-of bubblegum songs had sold 350 million records (least of all in the United States) and stitched them together from a disjointed jumble into a coherent story; how the buzz about the show in London and Australia led to a huge advance ticket sale in New York before the 2001 Broadway opening weeks after 9/11; how cool it was that anyone could tie together threads this way and build a creative team that made it all seem preordained.
The upside: Jukebox musicals, which, aside from "The Buddy Holly Story" had largely been confined to films ("Yellow Submarine," anyone?), now became a category of musical theater and gave us some top-quality entries — "Jersey Boys" and the Carole King story "Beautiful," still strong on Broadway. The downside: "Mamma Mia!" also led to plenty of lifeless drek.
Because "Mamma Mia!" skillfully creates its own fantasy out of songs from a jukebox — rather than tracing the history of a singing groups or performers with a run through their hits — it remains the best of its lot. The show's been reinterpreted constantly with more oomph in the dancing and more on-stage work from the chorus, which strongly backs Abba's catchy tunes at the Walnut in this story of a 20-year-old young woman raised by her mom on a Greek island where she's about to be married. The bride-to-be doesn't know who her father is, but wait! She's found a 21-year-old diary written in Mom's hand that details three trysts in a single summer. Without telling her mother, she's invited all three men to the wedding.
While heavy emotions come and go quickly in the plot, they introduce the unquestionably catchy Abba songs that carry the show. "The Winner Takes It All," is delivered beautifully by Anne Brummel to one of the possible dads, played by Eric Kunze; Brummel's stymied-by-events performance reminds me of Meryl Streep's in the 2008 movie of the musical. "Does Your Mother Know?" is another song-and-dance head-turner, delivered by mom's gal-pal (the alluringly slinky Lyn Philistine) to her young pursuer (Brett-Marco Glauser, full of sexy-guy dance moves). "Take a Chance on Me" is a hoot, a comic declaration from the delightful Charis Leos to another of the possible dads, played by Christopher Sutton.
Jonas Cohen portrays the third possible father and I leave, as my own finale, the bride- and groom-to-be 'til last. They are the candy-sweet Laura Giknis, at her best in serious moments when she's on stage with her mom or a prospective dad, and super-buff Schyler Conaway, who gets little chance to shine on his own. But he clearly controls the role, having performed it in 11 countries.
—
"Mamma Mia!" is extended through July 22 at Walnut Street Theatre, Walnut Street between Eighth and Ninth streets. 215-574-3550 or walnutstreettheatre.org.
WHYY is your source for fact-based, in-depth journalism and information. As a nonprofit organization, we rely on financial support from readers like you. Please give today.