Lower Delaware faithful rally to support Donald Trump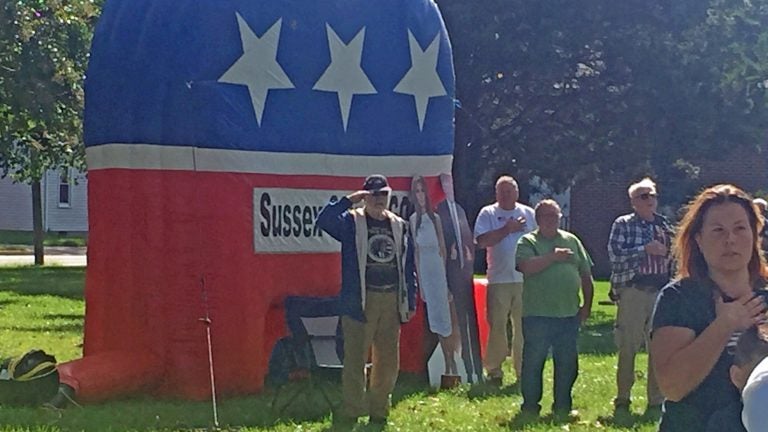 Carrying signs with slogans such as "Go Go Trump" and "Bikers for Trump" a small but loyal group of southern Delawareans sang the president's praises Saturday in Georgetown.
The two-hour rally sponsored by the Sussex County GOP drew about 125 of the Trump faithful to a neighborhood park, where a picnic-like atmosphere prevailed and country music blared from the loudspeaker.
A handful of Republican leaders praised Trump as a leader who has cracked down on illegal immigration, stood strong against North Korea and opposed members of Congress from both parties, especially when it comes to Delaware's three-member Congressional delegation. All three members are democrats.
Unlike rallies in other parts of the country, Saturday's event was peaceful. Three dissidents who were mostly ignored roamed the lawn at North Bedford Street Park, carrying signs against the often-abrasive billionaire developer with no political experience who won the presidency with the campaign slogan, Make America Great Again.
Read one opposition sign: "When will we learn to heal instead of hurt only then will we be great." Said another: No Trump, No KKK, No Fascists USA" During the rally, calls from a couple of passing cars criticized the president. "Trump sucks," shouted one man. At a home across the street, a few other dissidents also help up signs: "Make America Gay Again," one read.
Trump's nearly nine months in office have had their controversies, but Billy Carroll, Sussex County's GOP chairman, said the president was elected to "drain the swamp" and "he's remaking the face of Washington, D.C. and how politics works."
The rally was held, Carroll said, at the request of new residents to the county and the Delaware GOP. "They felt we weren't doing enough to support Donald Trump. So that prompted this."
Carroll, a transplant himself who hails from New York, echoed other speakers in saying he hopes the rest of the state takes the lead from Sussex, which for the last year has had more Republicans than Democrats. Today there are 62,291 registered Republicans in Delaware's southernmost, fastest-growing and most conservative county, compared with 59,058 Democrats.
In New Castle and Kent counties, however, the GOP is the minority party, giving Democrats a staggering 120,000 voter advantage statewide.
So, while those numbers are a reality fact-check to speakers such as Sussex County Councilman Rob Arlett, who predicted that Republicans are "very close" to becoming Delaware's majority party, little could dim the ardor or the admiration on display Saturday for Trump.
Under one tent, Trump's trademark red Make America Great Again baseball cap were being sold. Life-size cardboard cutouts of the president and First Lady Melania Trump rested against a red, white and blowup elephant emblazoned with the words Sussex County GOP.
Attendees said they were not bothered by Trump's first months in office, including the multiple investigations into whether Trump's presidential campaign colluded with Russian operatives during the election.
"It's a non-issue," Carroll said. "If there was something, we would have heard about it."
Nor did any lay blame Trump for failing to repeal or replace Obamacare as promised, or other divisive issues, such as his criticism or firing of several top aides.
None said they were bothered by his statements – reviled by politicians from leaders both major parties – that seemed to give equal blame to both white supremacists and counter-protesters after violent clashes last month in Charlottesville, Va.
Some said they didn't want to raise the debt ceiling but said they understand why Trump sided with the loathed Democrats this week to do just that.
Instead, they praised what they considered major accomplishments — his nomination and the Senate's approval of the newest Supreme Court justice, Neil Gorsuch, his review of trade agreements they contend hurt America, his withdrawal of the United States from the Paris Climate accord.
They also applauded his move last week to end predecessor Barack Obama's Deferred Action against Early Arrivals (DACA) program, arguing Trump was right and justified in telling Congress to figure out a legislative fix to that aspect of the immigration debate.
Elizabeth Cassutto said Trump is simply the right leader to guide America through troubling global times.
"What President Trump has done well is execute and show the ability to lead," she said. "We all know what's going on in North Korea. We all know what's going on in Russia. We know what's going on this country."
Retired school custodian Ronald Wootten loves Trump for being something of a renegade.
"I voted for Trump because he's an outsider. I know the man's not perfect," Wootten said. "I like him because he's reversing all the regulations in this country. It's stupid, just like global warming."
Lynnda Fath said Trump is truly trying to protect America.
"He's trying to take back America's power and to support his own people," she said. "He's looking out for our best interests."